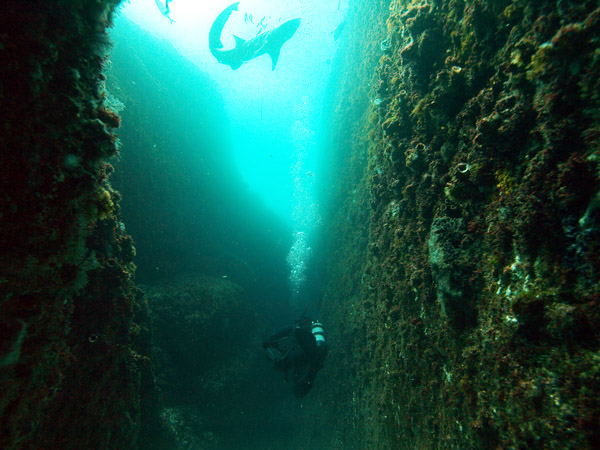 After almost a week of bad weather, we finally got out to South Solitary with some reasonable conditions. Sea was a bit bumpy but nice and protected around the northern side of the island.
First Dive for the advanced divers was starting in Manta Arch, where we found a lonely Grey Nurse Shark with a Lionfish underneath, using her for shelter. Cruising through to Cleaner Station mooring we found another Nurse and then another again hiding in the Cave entrance of Cleaner gutter. A couple of Bull rays and more lionfish were also seen.
Dive two from Shark Gutters to South Boulder saw another Grey Nurse in the shelter of Shark Gutters as well as lots of fish on the Wall. Big Black Cod were also quite placid today as the divers swam by.
Pic by Rob in Shark Gutters with Jarad in the foreground
Vis 10 mtrs
Temp 19c