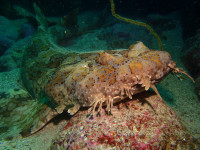 15th April 2015 – Mid week diving at South Solitary Island!!
[vc_column width="1/2"]South Solitary Island put on a great display of marine life today!! There was still a decent SE swell present so Dive 1 was at Shark Gutters where our divers seen a few Green Sea Turtles, Lionfish, very strange looking nudibranchs in Cleaner Station Cave and loads of Surgeon Fish hanging high in the shallows.…
12 April 2015 – Spectacular conditions at the Solitary Islands
[vc_column width="1/2"]What a stunner of a day at South Solitary Island!! The glassy surface conditions made it a super fast trip out on Wild Fin !! All divers were dropped in at Manta Arch for the first dive, only 4-5 Grey Nurse Sharks were spotted in the Arch lots of Silver trevally in there too. Dive…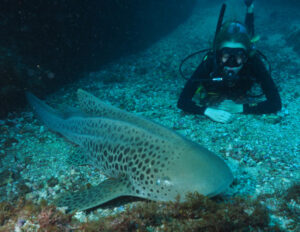 8th April 2015 – Leopard Sharks roam South Solitary Island!
[vc_column width="1/2"]Again the diving conditions at South Solitary island were fantastic today! Protected from the NW breeze, dive one was held at Manta Arch. As our divers descended down under the arch they encountered four Grey Nurse Sharks and a mob of Silver Trevally. Dive two began at Shark Gutters. With zero current our divers were…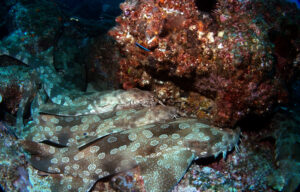 6 April 2015 -25m visibility for Mikes birthday dive!!!
[vc_column width="1/2"]Beautiful conditions today meant an easy trip out to South Solitary Island for a double dive. Dive one was at Manta Arch, we could just see the bottom from the surface!!! Around eight Grey Nurse Sharks in the Arch, Black cod, Slipper Lobsters, Nudibranchs, and an Octopus near the mooring line. Dive two had us…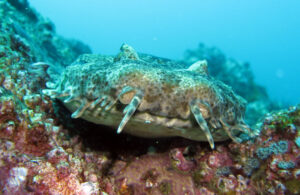 5 April 2015 – Easter Sunday Diving
[vc_column width="1/2"]This morning's rainy weather turned into a beautiful day for diving! Dive 1 for certified divers was a swim from Manta Arch to Cleaner Station where divers spotted the usual suspects - Grey Nurse, Turtles and Wobbegongs galore! Dive 2 was spent at Shark Gutters for both certified divers and students, where the sun decided…
4th April 2015 – Easter Saturday Dives!
[vc_column width="1/2"]Easter Saturday provided us with some great diving despite the rough weather. Dive one was a leisurely swim from manta Arch to the Cleaner Station. There was so many Silver Trevally under the Arch the Sharks had to hustle for room. Sheltering from the freshening southerly we chose Shark Gutters for our second dive. Turtles,…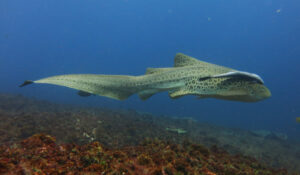 03 April 2015 – Leopard Shark at South Solitary Island
[vc_column width="1/2"]Easter Weekend kicked off beautifully with yet another spectacular day at South Solitary Island!!! Dive one was from Manta Arch to The Gantry via The Gap while dive two was from Cleaner Station to South Boulder along the wall. Loads to see on both dives including Grey Nurse Sharks, Bullrays, Nudibranchs, Diamond Trevally, Lionfish, Turtles,…
2nd April 2015 – Blue and Warm at South Solitary Island
[vc_column width="1/2"]The Boulder Wall at South Solitary Island was the place to be today! Schools of fish as far as the eye could see! Black Cod, Turtles, Groper, Eagle Rays and "Scooter" the Shovel Nose Ray were all spotted by our divers! Much nicer on top today. Temp 25C Vis 25m [vc_column width="1/2"]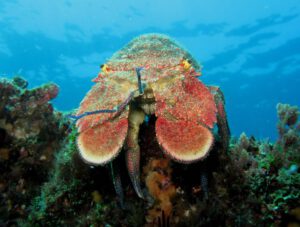 1st April 2015 – Jetty High Open Water Dive Course
[vc_column width="1/2"] 1st April 2015 After a day off from diving it was great to get back into the water at South Solitary Island today, 1st of April 2015. Arriving at the Island we were all super excited to see the crystal clear water. We saw octopus, Black Cod, Green Turtles, Eagle Rays, Slipper Lobster and…