Category:
Local Dive Report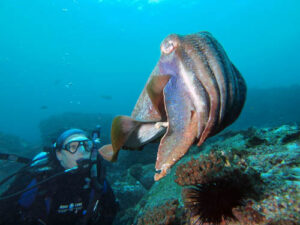 28th June 2018 – Fantastic Vis At South Solitary
After a nice boat ride out to South Solitary Island it was decided dive one would be at Shark Gutters. Vis was at least 30 meters, heaps of fish life and Sharks everywhere! Our Divers even spotted a big Green Turtle who was having a nap in the Cleaner Station Cave. After a pleasant surface interval…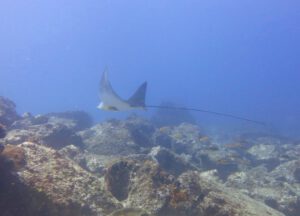 26th June 2018 – Sharks, Rays and So much more!!!
After a bumpy ride out to South Solitary Island, divers were keen to get into the water as surface conditions weren't the best. The visibility was at least 20 meters, so Shark Gutters was decided for the first dive. What a dive! Our Open Water Students saw Grey Nurse Sharks, Eagle Rays and Turtles on there…
24th June 2018 – Great Vis at South Solitary
After a nice boat ride out to South Solitary watching Whales breach, our first dive today was Manta Arch. Not as many Grey Nurse Sharks as yesterday, but still over 20 were spotted. After a pleasant surface interval it was decided dive two would be a drift dive from Shark Gutters to South Boulder. The Boulder…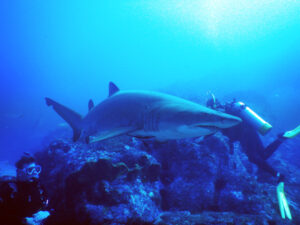 23rd June 2018 – "Fantastic Dive" 70+ Grey Nurse Sharks at Manta Arch
Conditions at South Solitary Island were fantastic for a winters day! Clear water and an amazing amount of sharks at Manta Arch along with 20 odd sharks at Cleaner Station where the divers finished their first dive. Dive two did not disappoint as well with more sharks all along the Northern side of South Solitary Island,…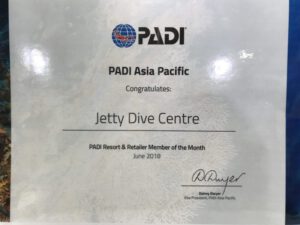 21st June 2018 – PADI Resort and Retailer Member of the Month
Jetty Dive Centre has been awarded the PADI Resort & Retailer Member of the Month!!! We always strive for high customer service and education and it is amazing to know that Jetty Dive Centre was the best in all of Asia Pacific for this month. Thank you to everyone who made this happen and the customers…
Tuesday 12 June – Blue Water At South Solitary
It was a pleasant trip out to South Solitary this morning, our divers even spotted a pod of Humpback Whales on the way. Plenty to see underwater too. Manta arch didn't disappoint, one group of divers spotted at least fifteen Grey Nurse Sharks. Dive two was a swim from Cleaner Station to South Boulder. Our student…