Category:
Local Dive Report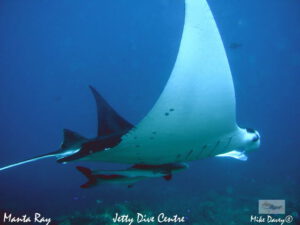 Monday 8th January – Manta Monday at South Solitary Island
February and March are months of the year when we are more likely to see Manta Rays at South Solitary Island. Arriving a little early, we were pleasantly surprised to see our first Manta of the year cruising the shallows of the Gantry. Other highlights on today's dives included Grey Nurse Sharks, Black Cod, Turtles and…
7th January 2018 – Hammer Heads hanging around at South Solitary
Today's dives at South Solitary Island were amazing!!! With both boats full and ready to go we arrived to a welcoming 22C and 20-30m visibility. All the divers today seen lots including Turtles, Porcelain Crabs, Painted Crayfish, Grey Nurse Sharks, Black Cod and a few of our divers were lucky enough to see 20 Scalloped Hammer…
Saturday 6th January – Manta Ray and Hammerheads just some of the highlights!
Today's spectacular sea conditions allowed us to dive at North Solitary, North West Solitary and South Solitary Islands. Some our divers were lucky enough to spot Hammerhead Sharks at both North and South Solitary Islands while a Manta Ray was the highlight at North West Solitary. Visibility was a glorious 20-25m and water temp between 23-24c.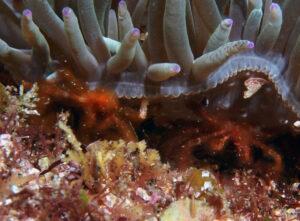 3rd January 2018 – Orangutan Family make South Solitary Island Home
We had Wildfin and 2Wild completely packed today with Students and certified divers, once at South Solitary Island the northern end was the suitable site due to a steady southerly winds blowing. Dive one our divers saw lots of schooling fish, Bullrays, Blue Spotted rays, Grey Nurse Sharks, a large Kidako Moray Eel and some beautiful…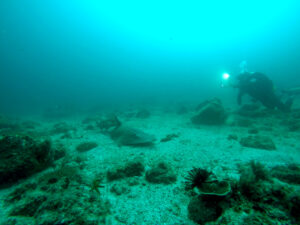 2nd January 2018 – First dive of the new year
For the first dives of 2017 2018 we loaded up both boats and headed out to South Solitary. After a pleasant ride out, our divers dropped in at south boulder for the first dive. the divers from Wildfin saw Grey Nurse Sharks, a large Shovelnose Ray, a Jawfish, Balling Catfish, Turtles and a Sandbar Shark. Dive…
31st December 2017 – Beautiful end to 2017
The last day's diving of 2017 was brilliant!! Dive one all divers slipped into Shark Gutters and descended onto a number of Grey Nurse Sharks, our divers went on to see Black Cod, Batfish, Lionfish, Boxfish, nudibranchs and an Orangutan Crab. After a brief morning tea/surface interval our divers dropped in at Shark Gutters for a…