Category:
Local Dive Report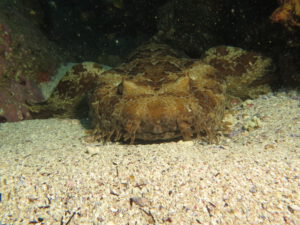 19th July 2020 – Back in the Water!
After a week of windy weather and high seas, the ocean cleared up for our divers and we headed out today to South Solitary Island. For our first dive, we headed down into Cleaner Station. For this dive we saw a little grey nurse, at about 1m length, and heaps of Wobbegongs. There was an orangutang…
13th July 2020 – Monday Funday!
Today on the 13th of July, we took 2 Wild out to South Solitary for our double dive, and it was a lovely trip! On Dive 1 we headed down into Manta Arch to Cleaner Station. Here there were heaps of sharks, 25+ Grey Nurses and plenty of Wobbegongs. There were also heaps of Eagle Rays,…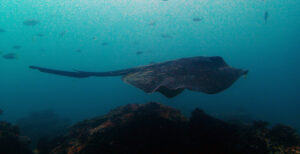 12th July 2020 – Easy like Sunday Diving!
For Sundays diving we headed out to South Solitary Island in 2 Wild. For our first dive we headed down into Cleaner Station to head to South Boulder . Here we spotted 25+ Grey Nurses, Bull Rays, and turtles amongst schooling fish. There was an octopus, and so many Bullseyes had formed their own "wall" across…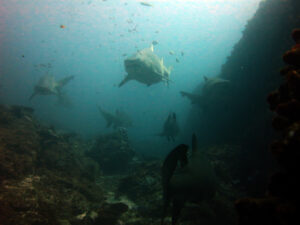 11th July 2020 – Sharky Saturday
Today on the 11th of July we took out 2 Wild full of divers to South Solitary for a double dive. For the first dive we descended into Manta Arch, greeting 40+ Grey Nurses once getting to the arch. There were also eagle rays, eels and lionfish, and 2 bullrays! For the 2nd dive we did…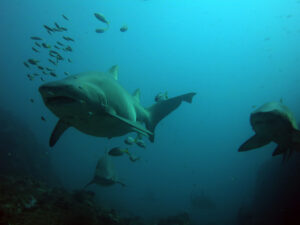 10th July 2020 – Continued amazing condtions!
Another beautiful day at South Solitary Island! For our first dive we dropped our divers in at Manta Arch, where we were greeted with amazing visiblity once again! It was around 25m, enabling us to see all the way through the arch when dropping down the mooring line. Here there were large amounts of Grey Nurses…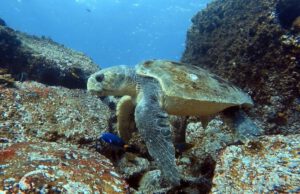 9th July 2020 – Beautiful 30m Visibility blue South Sol!!
Today our divers headed out to South Solitary Islands for a double dive! For the first dive, our certified divers dropped into Manta Arch and drifted to Cleaner Station. Here they spotted 50+ Grey Nurse Sharks in blue, blue waters of over 30m visibility - wowee! On our second dive we took Cleaner Station to South…