Category:
Local Dive Report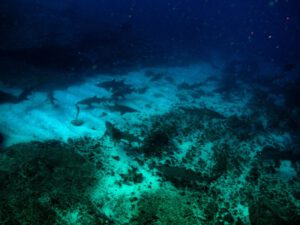 1st October 2019 – 25m Visibility and Sharks Galore
We had 2Wild full of keen divers this morning as we ventured out to South Solitary Island!! Dive one the Advanced Open Water Divers got in at Manta Arch where they completed their Deep Dive amongst the Grey Nurse Sharks in 30m of water, we had a few Black Cod around, Moray Eels and some schools…
30th September 2019 – Top conditions at South Solitary!
Great conditions above and below at South Solitary today. Our divers were in awe as they descended into a frenzy of marine life on dive one. Grey nurse sharks, cownose rays, turtles and black cod inundated the dive site along with large schools of trevally and tarwhine. No current made for a one way swim along…
29th October 2019 – Plenty to See at South Solitary!
Our divers were blessed with some spectacular diving conditions at South Solitary Island today. Plenty of grey nurse were spotted throughout both dives along with a squadron of cownose rays and schooling trevally. Turtles, black cod, wobbegongs and lionfish also added to the highlights. Congratulations to Alex and Sarah on completing your PADI Open Water Course…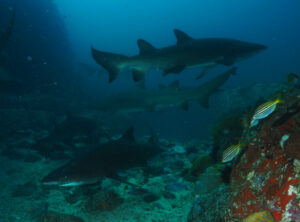 28th September 2019 – Awesome Dives at South Solitary
28th September 2019 - Dive Report Our boat "2 Wild" was loaded up with students today on the 28th September, 2019 as we took off to South Solitary Island. For our first dive, we jumped in at the Gantry. We got up close and personal with Bullrays, Moray eels and some Turtles hanging in the shallows…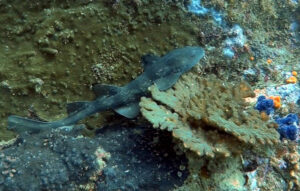 22nd September 2019 – Split Solitary Island
22nd September 2019 - Split Solitary Island On Saturday the 22nd September 2019, the wind had picked up earlier than we had expected this morning so it was decided Split Solitary Island would be the best place to dive so we could hide from the wind. Dive One and Two were from Turtle Cove. On dive…
14th September 2019 – Plenty to see plus a whale too!
Despite the vis dropping to about 10m, the diving at South Solitary Island was nothing short of amazing today. Grey nurse sharks, eagle rays, turtles and black cod were out in big numbers while there was plenty of schooling fish life too. Shortly after hopping in for dive two, some of our divers were lucky enough…