Category:
Local Dive Report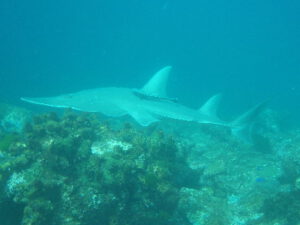 15th January 2019 – Big day for little stuff
With surface conditions easing from yesterday TooWild cruised out to South Solitary for our dives. on arrival at Cleaner Station we were greeted by a school of Hammerheads. On dropping in we found the visibility had dropped overnight, making for some interesting navigation and an awesome macro dive. Dozens of Nudibranchs, along with Spanish dancers, Lionfish,…
14th January 2019 – Painted Angler enjoying South Solitary Island
Cleaner Station at South Solitary Island was the first pick today followed by a one way swim from the top end around to The Gantry. Both dives had plenty to see including Black Cod, Giant Cuttlefish, Lionfish, Grey Nurse Sharks, loads of Nudibranchs, a few Bullrays and Turtles near the gap and our new local the…
13th January 2019 – Blue Water at South Solitary Island
With both boats full of excited divers and snorkelers we headed out to South Solitary Island in search of blue water. Arriving at the island we were pleased to find blue water and the temp had gone up too, Wildfin divers dropped in at Shark Gutters and Two wild divers dropped in at Buchanan's wall. All…
12th January 2019 – Certified PADI Freedivers at South Solitary Island
Surface conditions today were rather pleasant and the improved visibility made it a cracker of a day!! While Wildfin had all the scuba divers 2Wild had the snorkelers and Freedivers, their was plenty to see throughout the day by everyone on both boats including Grey Nurse Sharks, Hammerhead Sharks!! Bullrays, Black Cod, Moray Eels, Turtles, Painted…
11th January 2019 – Glassy Water and Good Diving
Diving conditions at South Solitary are continuing to improve with glassy conditions and visibility at a fairly steady 10m today. Cleaner Station, Shark Gutters and Boulder Wall were all home to Grey Nurse Sharks, Black Cod and even more Nudi's! Our resident Angler Fish and Giant Cuttlefish are also still hanging about! Visibility: 7-10m Water Temperature:…
10th January 2019 – Visibility on the improve!
Diving conditions at South Solitary are on the improve with visibility ranging from 10-15m today. Water temp has also risen slightly to 22c. Shark Gutters, Cleaner Station and Boulder Wall were all home to Grey Nurse Sharks, Black Cod, Eagle Rays and some pretty cool Nudi's. Our resident Angler Fish and Giant Cuttle are also hanging…