Truk Lagoon Wreck Dive Trip April/May 2024
Truk Lagoon Wreck Dive Trip, Postponed to 2024
Going back to the best wreck diving again!
Our latest agenda is postponed from 2022 to May 2024, hopefully!
Includes 12 dives, 8 nights accommodation and airfares for a price TBA *. The resort and diving are booked and now waiting on the Airlines to open up the cheaper flight path and flights to be determined.
Why do we keep going back? Well Wreck Diving doesn't get any better than at Truk Lagoon!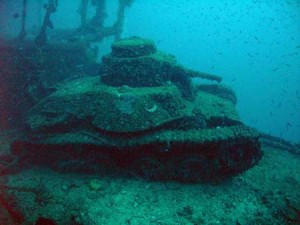 We keep saying it but diving Truk Lagoon is one you "Must Do" in your life!… It must be on your Dive "Bucket" List!
Book your spot on the Truk Lagoon Wreck Dive Trip in May 2023. Truk lagoon would have to rate as the best warm water (30c) wreck diving in the Pacific- no, the world! 60 WWII Japanese wrecks underwater with amazing corals and marine life.
Since the forced cancellation of our May 2020, 2021, 2022 and 2023 trips, we already have a group of divers rebooked for 2024, whilst there is still spots available, there is a limit, so don't delay your booking if you are keen to go.
This is a popular destination, and understandably why, it is just amazing diving. Whilst the thought of just wrecks may not be appealing to everyone, you need to understand that most of these wrecks have so much coral and fish-life on them, they could be mistaken for pristine coral atolls.
In saying that, couple up the amazing history of these wrecks and the artefacts that are all still there, it is just fantastic diving, turning non wreck divers into wrecks enthusiasts!
So it is on again, Truk Lagoon Wreck Dive Trip ,May 2024!
If you are a diver that has thought you will get there one day. Make that day in 2024. The wrecks will not last forever, so do it while you can.
Truk Lagoon is now accessible from Brisbane, via PNG to Truk. It sounds a long way, but is a more reasonable flight than before. We are planning to stay in twin share accommodation at Blue Lagoon Resort, a lovely outlook over the islands of Truk Lagoon.
There is over 30 wrecks to dive
The Wrecks vary greatly from shallow ones with Coral galore, like this picture of Deb on the Fujikawa Maru. It shows the typical soft corals that are growing on the decks and rigging of these wrecks, sometimes, with all the growth of coral, it's hard to pick that it is a wreck!
The deeper wrecks are not hard to dive, it's like diving in a warm swimming pool when in Truk lagoon, so, other than watching no-deco limits, it is no different to shallow wrecks.
The deep ones do hold some fantastic relics though, from Planes and Tanks on the decks of the Nippo and San Francisco Maru to a Bulldozer and Tray-top utes in the Hoki Maru. There is quite a lot of fish life on the wrecks, the deep ones usually have patrolling sharks and Pelagics, whilst the shallow ones have lots of colourful topicals.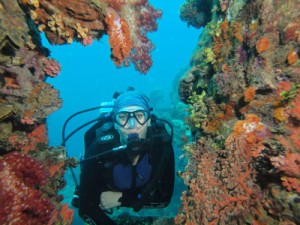 "We have done 7 previous trips. Prior knowledge of the area and Blue lagoon Dive Shop is important if you want to dive the good wrecks."
We saw first hand, a couple of divers on their own, diving some of the less interesting wrecks, whilst we enjoyed the best wrecks. "After 7 trips, we make the call on the best wrecks to dive", not just easy wrecks to dive.
The local guides are great, and now trust us to make the call on which wreck we dive, unlike those divers that are new to them. That is why coming with us will be your best chance to see it all!
The Blue Lagoon resort is not 5 star, but very comfortable, only minutes away from the dive sites (no need for live-aboard boats). Meals are good, and reasonably priced. The twin share rooms are set in lovely lawn and garden grounds, sheltered by palm trees. There is a small amount of snorkelling around the area, Kayaks are free to use and paddle to some local above water wrecks too.
"Some of the easiest Deep dives we've done"
The diving is so easy, all guided by local Divemasters, there is no currents, no hard swimming and great short boat rides. It is important to note that some of the wrecks are Deep, so having experience in deep dives is important, and understanding the use of computers and No-Deco limits is essential. If you are not confident in that, we can assist you and get you prepared for the depth.
If you are after world class WRECK diving you can't miss this trip. Or if you are a WWII history buff – this trip also will hold a special memory for you for the rest of your life.
If you think you want to go in 2023 we are taking bookings and followed up by a deposit in advance to the trip. Covid 19 restrictions and vaccination rollout will play a major part in decisions for the trip, and will be monitored through the year leading up to the trip.
Click here for the Dive Adventures Online Booking Form
*The costs may vary with the variation in the currency (all Truk Lagoon is $USD) and airline fare changes. cost is a guideline at this stage. Covid 19 Restrictions may prevent this trip departing.
The Trips to Truk Lagoon include:
Return flights Brisbane- Port Moresby – Truk – (flying with Air-Nugini).
8 Nights twin share acc. at "Blue Lagoon Resort" – Truk.
Return airport transfers in Truk.
12 boat dives in Truk incl. tanks, weights, belts & dive guide services. (Based on 2 dives / day and inc 1 bonus dive)
Welcome drink upon check-in
Use of a Kayak
Snorkelling between dives
Complimentary lunch on last day of stay in Chuuk.
Australian departure tax
NOT INCLUDED:
Truk Departure Tax USD $40 (payable upon departure in Truk)
Truk Lagoon Dive permit USD $50 (payable in cash in Truk)
Travel Insurance, personal spending money
Meals and Drinks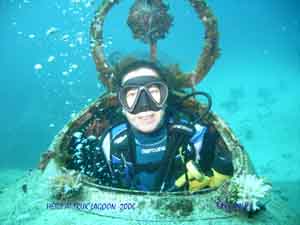 Pics from our Trip in 2015 at Truk Lagoon!