South Africa Dive and Safari Trip – Feb 2022
South Africa Dive and Safari Trip – Feb 2022
February 10th to 24th, 2022 -15 days for Diver $8,841* and Non Diver $7046*
This trip is truly an Ultimate African Experience. Join us and share that experience!
Here is a trip that includes African Land Safaris with fantastic Dive experiences and the cultural explosion of Swaziland, all in one trip. A great way to experience the best of Southern Africa's land and sea.
We are hosted by Nomad Africa Adventure Tours, using their 24 seater Overland Trucks, perfectly suited for the tour accross the African countryside to the National Parks and Dive destinations. Most meals (not all) will be provided on the tour, with accommodation within the Wildlife Parks and Motels on the coast.
The Kruger National Park is one of the most renowned game parks in Africa, where you can experience the wonder of seeing wild animals in their natural environment. After you search for the Big 5 animals of the land, you will cross the border into the colourful and vibrant Kingdom of Swaziland, to the Hlane Royal National Park, a delight to behold with it's close-up Rhino and even Lion tours. Our third Safari adventure includes a game tour at and a boat cruise at St Lucia Wetlands Park.
Next we head down to Durban and dive the world famous Aliwal Shoal and Protea Banks. The 10 dives will give you ample opportunity to immerse yourself in the underwater world of South Africa and it's many shark, ray and dolphin species. this tour will tick all the boxes and leave you wanting more!
This Kruger, Swaziland and Shark tour includes:
Duration 13 nights/14 days ex Brisbane/Sydney
It begins in Johannesburg and ends in Durban.
Adventure Truck/ Vehicle Safari.
13 Breakfasts/ 11 Lunches/11 Dinners
SAFARI TOUR HIGHLIGHTS Kruger and Hlane Royal National Parks
DIVING TOUR HIGHLIGHTS Diving Protea Banks and Aliwal Shoal
TOUR SNAPSHOT
Arrive – Johannesburg-Early evening- overnight at Johannesburg
Next morning- start travelling to Kruger National Park
Enjoy Kruger National Park – 3 nights.
Swaziland – Hlane Royal National Park – 2 night.
St Lucia – UNESCO World Heritage Site – 2 nights.
KwaZulu Natal South Coast – Durban – 6 nights. Diving Aliwal Shoal and Protea Banks.
SAFARI DETAILS:
KRUGER NATIONAL PARK
Stretching over more than two million hectares, the Kruger National Park is one of the world's largest game reserves and a truly remarkable destination. Owing to its exceptional size, visitors are able to experience fantastic diversity – from changing scenery and ecosystems to an impressive array of animal, plant and bird life. The park is home to over 130 mammals and over 500 bird species. Visitors can look forward to learning about the area's prehistoric past, enjoying a host of accommodation options and viewing abundant wildlife including the famed big 5. The diversity and sheer density of wildlife makes Kruger National Park an unforgettable and potentially life-changing experience. Icludes a Full Day 4wd Safari Tour, Morning Bush Walk and Half Day Panorama tour and Sundowner Game Drive
HLANE ROYAL NATIONAL PARK
Situated in Swaziland's Lumbombo Region, Hlane Royal National Park is the country's largest protected area covering 30,000 hectares of Swazi bushveld. The landscape is Characterised by ancient hardwood vegetation, shallow pans, and lowveld grasslands. The park is home to native African mammals, including Lions, Elephants, White Rhinos and Leopards. You will also see an array of beautiful and diverse bird life, including the highest density of nesting white backed Vultures in Africa. Accomodation is in quaint Stone Huts where you can hear the Lions roar at night. Along with the 4wd Safari tours, a bush walk to find the White Rhinos is also planned.
iSIMANGALISO WETLANDS PARK
Staying at the coastal holiday town of St Lucia, we have a 4WD Game tour in the morning followed by a Riverboat Cruise along the wetlands area. Wild Hippos are a common sighting in the water along with Crocodiles and amazing birdlife.
SCUBA DIVING DETAILS
ALIWAL SHOAL
We travel to the KwaZulu South Coast to stay at the Blue Marlin Hotel. Here we stay for two nights and have two days diving the Aliwal Shoals (4 dives). This divesite is very extensive and offers great drift dives and includes a Baited Shark dive. Depending on conditions, a range of sharks including Ragged Tooth (Grey Nurse), Oceanic Black tip, Bull Sharks and even Hammerheads.
PROTEA BANKS
We travel further south to stay at Albatross Guest House in Margate. This area is a popular holiday area with shopping and restuarants. The diving is out at the Protea Banks. Here we have again the possibility of Hammerhead Sharks amounst others. Mid-range depth drift dives are the common practice and a range of marine life both tropical and sub-tropical inhabit the banks. Another baited Shark feed dive is included in the 6 dives here.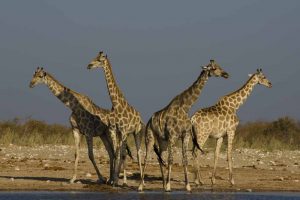 Click here to download PDF details on our trip!
* Price of trip is based on current flight indications and may vary once Covid 19 restrictions are lifted.
To book your South Africa trip click the Online Booking Form