Oxygen Provider Course in Coffs Harbour
PADI Emergency Oxygen Provider Course.
22575VIC "Course in basic oxygen administration for first aid"
The Oxygen Provider Course is a course designed to teach you how to provide Oxygen in an Emergency Situation. First Aid for Diving emergencies can be greatly assisted by Oxygen Administration. It is this reason, all commercial dive boats carry Emergency Oxygen, and workplace Scientific Diving requires the training in Oxygen Administration.
Whilst the task of delivering Emergency Oxygen is not difficult, there is safety aspects of handling 100% Oxygen and how the equipment is used, so it is important that correct procedures are used.
It pays to be properly trained as an Oxygen Provider..your life may depend on it!
The PADI RTO 22575VIC "Course in basic oxygen administration for first aid" is run under the auspices of PADI RTO.  RTO No. 6729.
The PADI Oxygen Provider Course introduces you to the specific Oxygen Therapy equipment, and involves the assembly and administration of Oxygen in a number of situations. It requires the use of CPR, of which is a pre-requisite that the student is current in Apply First Aid (within 3 years) and CPR (within 1 year). The CPR course can be conducted at the same time as the Oxygen Provider course if required.
This PADI Oxygen Provider Courses is suitable as a prerequisite for the PADI Scientific Diver .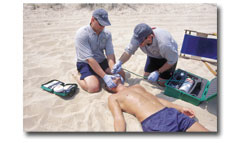 Oxygen Provider Course content:
Independant study of the Emergency Oxygen Provider manual.
Classroom Theory exercises and Assessments.
Practical training exercises in the setting up and administration of Oxygen and using Oxygen with CPR.
Assessment of the Administration of Emergency Oxygen provision.
Optional PADI O2 Specialty Certification Card (additional charge).
As a specialist provider, we also offer Diver and Workplace Approved Apply First Aid Courses.
When can I Start?
Now! Courses are run regularly. You can start your independent study of the course textbook and then attend one of our regular practical sessions.
Oxygen Provider Course Pricing.
PADI RTO 22575VIC "Course in basic oxygen administration for first aid"     $120.00.
CPR course cost if conducted with Oxygen Provider course add $20.
What's Included in the Oxygen Provider Course?
The PADI Course Manual.
All training resources.
Knowledge and Skills Development Workshops.
PADI Wall Certificate.
Oxygen Provider and CPR Refresher courses are also available. Please contact us to discuss the requirements of your course.
Jetty Dive Centre delivers nationally recognised and accredited training in partnership with and under the auspices of PADI RTO #6729