Learn to Dive in our genuine PADI

Open Water SCUBA Diver course!
 Wow! Scuba Diving… imagine.. Underwater… Breathing… Another World is waiting for you right here in New South Wales! The PADI Open Water Scuba Diver course is your ticket to the underwater world, and no better place in NSW to learn than, at Jetty Dive. Get your PADI Here!
---
What will
our

PADI Open Water Scuba Diver course let you do?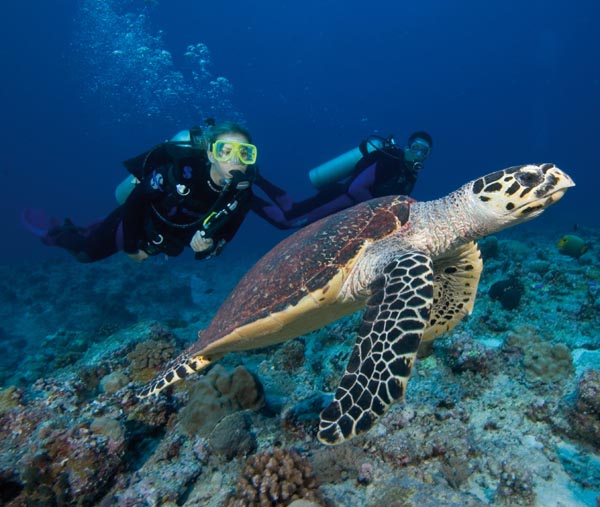 The PADI OPEN WATER SCUBA DIVER course will give you the ticket to SCUBA Dive anywhere in the world.
After you are certified, you will have the skills to Scuba Dive without supervision! You won't need a Instructor to lead you.
Our training involves equipment that is used in cooler water, learning Scuba skills with our high level of training will make tropical diving so easy as well!
Learn to Dive with Tropical and Temperate fishlife!  Northern New South Wales has warm water like the southern Great Barrier Reef, but still has some influence of the cooler waters. The Solitary Islands are loaded with Fish from both worlds.
Our award winning PADI Instructors pride themselves with high quality training.  We are a PADI 5 Star Dive Centre and teach only the

Genuine PADI Open Water Scuba Diver course

Book your OPEN WATER DIVER COURSE Online Here
 When can I Start my PADI Open Water Scuba Diver course?
START TODAY!* It takes 3 Days plus the Theory using either PADI E-Learning, PADI Open Water Touch (IPad and Android based theory) or home study using Textbooks….
Covid 19 requirements:
We are a "Non Essential Retail Outlet" legally requiring entry for vaccinated or medically exempt only!
Please use entry QR code and show proof of vaccination when joining us.
Yes, contact us for your PADI E-learning code and Log-in and START TODAY! Not always able to go online? You can use the PADI Touch theory (IPad and Android) or the PADI Textbook (both PDF and paper copy) to start the Theory now too!
LEARN TO SCUBA DIVE Now, become a PADI Diver! 
How it works!
Step 1. Learn the theory using PADI e-learning at your home. You need to do this step before you start your skills training.
Step 2. Learn the skills of SCUBA Diving in local confined sea water or pool location. This is completed on Day 1
Step 3. Conduct 4 SCUBA dives with your Instructor. This is at our magnificent Solitary Islands Marine Park. This makes our course outstanding! Diving some of the best diving in Australia!
Contact the Dive shop on 02 66 511611 or Book your OPEN WATER DIVER COURSE Online Here
 Other Courses are available including Freediving and Advanced specialty dives. Certified Diver friends are welcome to use Jetty Dive Boats for equipment delivery and dive with you too!
How much is the PADI Open Water SCUBA Diver course?
PADI Open Water SCUBA Diver  course……  $595.00 per person.. 
PADI E-learning or Textbooks,  4 Dives, SCUBA equipment use and Fun are included
(If you have already paid online to PADI for the "PADI E-Learning" deduct $100 from our course price. Please avoid doing this method as cost for E-learning with PADI website payment  is over AUD$200! Obtain a code from us and the E-learning is included)
Book your OPEN WATER DIVER COURSE Online Here The Booking start date is your Pool skills training day. 
PADI Open Water Course Schedule
Choosing PADI E-learning, PADI touch or Home-study, you need to complete this before Day 1 of the practical. The theory is comprehensive so you will need to allocate adequate time to complete it (approx 6 hours)
If using our Classroom theory method, you start your course learning all the theory in one day before Day 1 of the Practical. (must be pre-aaranged as no longer a standard method)
Once your PADI E- Learning or theory is complete..
Day 1 Start your SCUBA Diving! The fun begins in the Pool with all your SCUBA skills and orientation of Scuba Diving. We also show you the gear, what to choose or not choose, and what is right for you. You start at 8.00am at the shop.
Day 2 It's in the water for Open Water Dive 1 and 2 at the Soliatry Islands. You will do some skills assessments. The Solitary Islands has some great fishlife and perfect depth for these two dives.
Day 3 It's in the water again for Open Water Dive 3 and 4 at the Soliatry Islands. You will do some skills assessments, but most of the dives you will be looking at the amazing fishlife of the New South Wales north coast.
Prerequisites
The ability to swim 200 metres or snorkel 300 metres (with mask, snorkel and fins), and stay afloat for 10 minutes is required. You need to be healthy and Medically Fit to Scuba Dive.
Medical Considerations Prior to starting a PADI Open Water Scuba Diver course, you are required to complete a Divers Medical questionaire. If you have any medical conditions that are listed in the Medical Statement.
(PLEASE NOTE THIS IS NOT THE DIVE MEDICAL THAT WE REQUIRE, THE MEDICAL FORM WE REQUIRE TO BE USED BY YOUR DOCTOR CAN BE FOUND IN THE LINK BELOW) , you are required to complete an approved Scuba Diving Medical Certificate (AS 4005.1) with a Medical Physician.
 You can download a copy of AS4005.1 Medical Form here.
These medicals are available from a wide number of selected practitioners. Locally in Coffs Harbour we can assist with locating a Dive Medical Doctor
Booking Conditions… the fine print!
Bookings require a $100.00 deposit per student. Online bookings are paid in full
Book your OPEN WATER DIVER COURSE Online Here
When using PADI E-Learning, it is recommended that a Medical Statement  is done before you start as the Padi E-Learning component is not refundable if you fail the medical requirements.
No refunds will be given if the customer cancels within 48 hours of the course start date.
If the student fails to attend part of the course without sufficient prior arrangement, the cost of providing that part of the course is required to be paid as an extra cost by the student. (refer to part 29 of our Terms and Conditions for more details)
Why dive at Coffs Harbour?
The Solitary Islands Marine Park is where the Tropical Fish from the Great Barrier Reef meet the huge schools of fish from Temperate waters. You can see

Nemo

and

Dory

along with the friendly Grey Nurse sharks, rare Black Cod and Turtles, there is so much to see.
The Solitary Islands dive-sites are offshore! Close enough to be a quick trip and yet far enough to get clean, pristine water which you can't get inshore. You may even see Whales in season, on the way!
The Solitary Islands Marine Park is Pristine! We have vibrant corals and over the top, wall to wall Fish! We dive in Marine Sanctuary Zones that are just action packed.
It may be just your boat out there! There is no crowds, like the larger boats at the Great Barrier Reef. It could be just you or your small group learning to dive!
The water temperature is the same as the southern Great Barrier Reef, not to cold, and with our wetsuits, great for all year round.
Genuine quality PADI courses. We teach in small groups and make sure you have the training and skill to dive anywhere in the world.
What is the Solitary Islands Marine Park?
"Coffs Harbour is the Gateway to the magnificent Solitary Islands Marine Park. The Islands are magnets for the mixture of fish from the Barrier Reef and the Southern Ocean. They all meet here! It truly rivals the Barrier Reef for the variety of fish and corals (Yes we have them too!) IT BEATS the Barrier Reef for the volume of fish that are in the Sanctuary Zones we dive in. 
The shore diving is not as spectacular as the Island diving, so Jetty Dive Centre offers boat diving at the Solitary Islands only, for all of our PADI courses. Whilst the cost of a course is reasonable and not the cheapest, the diving is nothing short of spectacular and worth every cent!
South Solitary Island is our main choice of dive sites and has sanctuary zones around it and offer some of the most prolific fish life in New South Wales. It has a unique blend of tropical fish, (like Nemo!) and subtropical fish life. During the year we have a shifting population of Grey Nurse Sharks along with huge and endangered Black Cod to amaze the first time Discover Scuba diving and Open Water Divers. Our courses are typically in small groups, whilst there is some time spent conducting skills, the majority of the dive is spent diving amount the schools of fish." 
---
Want to know more or Book on to a PADI Open Water Scuba Diver course.?? Click here and Email Us! or Phone us 0n 02 66 511611
---
Check out this cool video from PADI and see why we love Scuba diving!
PROUDLY A PADI 5 STAR DIVE CENTRE for over 20 Years!
The only
PADI 5 Star Dive Centre

on the Banana Coast at Coffs Harbour, in fact from Foster to Byron Bay on NSW's north coast! Hey we've been here on the Coffs Coast longer than that! We are proud to be PADI Centre for 24 years! And a Dive Shop for over 35 years!