PADI Shark Diver and Shark Awareness course
We sat motionless and watched as 5 Grey Nurse Sharks circled in a gutter only metres from us. The PADI Shark Diver and Shark Awareness course makes you think differently about the amazing, adrenaline filled experience!
---
What is the PADI Shark Awareness Course?
The PADI Shark Awareness Course is perfect for those wanting to know more about sharks and how they are an essential part of the ocean! Learn more about the causes of declining shark populations. Most importantly, discover the actions you can take to become a kowledgable and passionate shark defender! Help diffuse misconceptions, and protect sharks – they need you!
Learn the correct techniques of Shark Diving, as well as aspects about their behavior and habitat. Exciting & Educational!
Jetty Dive's Shark Awareness Course Includes:
Your Shark Awareness Certification, registered in the PADI database, and digital certification card (E-Card)
Shark Background knowledge
Two beautiful boat dives at the Solitary Islands Marine Park, aboard our world-class boats.. No carting your heavy dive gear from the beach into the water!
Option to add another 2x dives for additional cost!
Small group, 5-Star PADI training, for a more personal experience.
Plenty of fun and adventure!
Why learn about sharks in Coffs Harbour with Jetty Dive Centre?
During winter months, our Grey Nurse Shark population is huge! Don't take my word for it, watch the videos on this page of Grey Nurses at The Solitary Islands Marine Park!
The Solitary Islands Marine Park is pristine! We have vibrant corals, and wall to wall fish! We dive in action packed Marine Sanctuary Zones full of fishlife!
The Solitary Islands Marine Park is like no other! The only place where the Tropical Fish from the Great Barrier Reef meet the huge schools of fish from temperate waters. You can see Nemo and Dory along with the friendly Grey Nurse sharks, rare Black Cod and Turtles. Not to mention the seasonal creatures like Leopard Sharks during the summertime, rarer sights of Hammerhead Sharks near October and the occasional Manta Ray in March-April. There is so much to see!
The Solitary Islands dive sites are offshore. Close enough to be a quick boat trip from Coffs Marina, and yet far enough to get clean, pristine water that you can't get inshore. Additionally, in season you may even see whales on the way.
The water temperature is the same as the Southern Great Barrier Reef, ranging from 18°C in winter to 25°C in Summer. With our wetsuits (provided in your course, in options of 3mm, 5mm, and 7mm) it's a comfortable temperature all year round.
It may be just your boat out there! Unlike the Great Barier Reef there are no crowds.
We teach in small groups and make sure you have the training and skill to dive anywhere in the world.
We provide only genuine, high quality PADI courses.
Jetty Dive Centre is Ecotourism Australia Advanced Ecotourism Certified. This means we are internationally certified as following best practice environmentally conservative procedures. Therefore, our top focus is on ensuring we preserve the environment through all of our practices. Read more on our blog on Our Ecotourism Australia Certification.
PADI Shark Diver and Shark Awareness Course content:
Join us diving on our favourite Grey Nurse sites at Manta Arch and Shark Gutters, we take you into the realm of this endangered species, the Grey Nurse Shark. Other sharks like the Wobbygong Shark, are also studied and observed.
Learn appropriate diving techniques with the recognised protocols, and how to identify genders and shark behaviour. Help record and identify sharks for research.
When can I start my Shark Awareness Course?
Courses can be conducted any day we can dive the Solitary Islands. Some days, due to the sea and weather conditions will suit diving the Grey Nurses better than others.
The time of the year is also a factor for how many sharks are able to be seen. We are lucky enough to see Grey Nurse Sharks all year round, but the best time to dive with them, is between the months of May and October.
Bookings are Essential!
To find out more about current conditions and shark numbers, email or give us a call. Sharks can be seen every dive at the Solitary Islands Marine Park, however conditions can determine which site is will be dived.
How much is the PADI Shark Awareness Course?
Aware Shark Conservation Diver Course with 2 dives- $ 295.00
Optional additional two dives- $190 extra.
Prerequisites for the PADI Shark Diver and Shark Awareness course
For the course without dives, no pre-requisites are required.
The course with dives, a minimum certification of Open Water Diver or Equivalent is required to complete this course. It is preferred that Advanced Open Water level is held for the deeper dives of Manta Arch.
Minimum age is 12.
A sense of adventure and of course a love of sharks helps!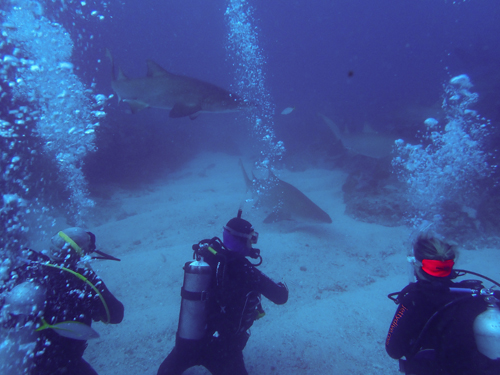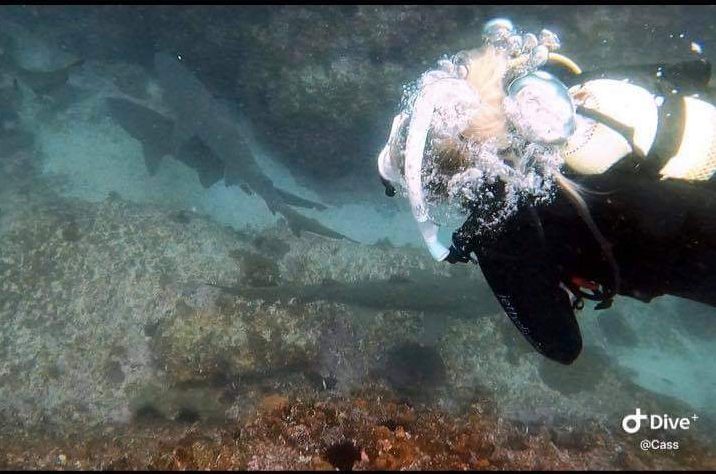 The PADI Shark Diver and Shark Awareness course counts towards your MASTER SCUBA DIVER RATING.
---
Booking Conditions
The Solitary Islands half day Dive Trips rely on minimum numbers, and have maximum limits too, so prior bookings are essential! Be early in busy times!
A deposit is required to secure your booking. Deposits are fully refundable if 48 hours notice before the trip change of date or cancellation is given. (If we cancel trip due to weather we can also provide a full refund. Refer to part 29 of our terms and conditions for more details)
Trips are weather dependent, and may be cancelled if unsuitable sea conditions prevail. This is a decision made by Jetty Dive Centre Staff, we will not go ahead if conditions are unsafe. Rain does not constitute for bad weather – it can often lead to better diving with more abundant fishlife!
Plan for SeaSickness! Even if you do not usually experience sea-sickness, we recommend taking travel sickness medication as it is better to be safe than sorry. We do not recommend using ginger. We CANNOT provide any medications.
We have adopted a 'Reef-Safe Sunscreen Only" policy for our trips. If you will be getting in the water, please ensure you wear only reef-safe sunscreen. For more guidance, and to check your sunscreen, please read our post about our Reef-Safe Sunscreen Policy.