PADI Shark Diver and Shark Awareness course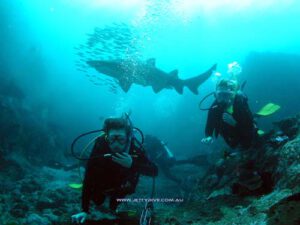 We sat motionless and watched as 5 Grey Nurse Sharks circled in a gutter only metres from us. The PADI Shark Diver and Shark Awareness course makes you think differently about the amazing, adrenaline filled experience!
Learn the correct techniques of Shark Diving, as well as aspects about their behavior and habitat. Exciting & Educational!
PADI Shark Diver and Shark Awareness Course content:
Join us diving on our favourite Grey Nurse sites at Manta Arch and Shark Gutters, we take you into the realm of this endangered species, the Grey Nurse Shark. Other sharks like the Wobbygong Shark, are also studied and observed.
Learn appropriate diving techniques with the recognised protocols, and how to identify genders and shark behaviour. Help record and identify sharks for research.
The PADI Shark Diver and Shark Awareness course includes Shark background Knowledge and your choice of 2 or 4 Shark Dives at the Solitary Islands with an accredited Shark Diver leader.
When can I Start?
Courses can be conducted any day we can dive the Solitary Islands. Some days, due to the sea and weather conditions will suit diving the Grey Nurses better than others.
The time of the year is also a factor for how many sharks are able to be seen. We are lucky enough to see Grey Nurse Sharks all year round, but the best time to dive with them, is between the months of May and October.
Bookings are Essential!
To find out more about current conditions and shark numbers, email or give us a call. Sharks can be seen every dive at the Solitary Islands Marine Park, however conditions can determine which site is will be dived.
Course Pricing
Aware Shark Conservation Diver Course with 2 dives- $ 245.00
Aware Shark Conservation Course without dives- $85.00
Optional additional two dives- $180 extra.
What's Included?
PADI Gold Shark Awareness Diver Certification Card
2-4 Dives at South Solitary Islands aboard our comfortable dive boat.
Background Aware Shark Conservation information
Donation by Jetty Dive to Project Aware supporting shark conservation.
Equipment Hire NOT included – $55 extra – if required.
Prerequisites for the PADI Shark Diver and Shark Awareness course
For the course without dives, no pre-requisites are required.
The course with dives, a minimum certification of Open Water Diver or Equivalent is required to complete this course. It is preferred that Advanced Open Water level is held for the deeper dives of Manta Arch.
Minimum age is 12.
A sense of adventure and of course a love of sharks helps!
The PADI Shark Diver and Shark Awareness course counts towards your MASTER SCUBA DIVER RATING.