PADI Sidemount Diver Course

PADI Sidemount Diver Course
The Padi Sidemount Diver Course lets you experience the adventure, thrill and excitement of twin tanks diving without the pain of heavy tanks on your back. Your training will include this different way to configure your cylinders and let you experience the difference with this style of diving.
Look at what Sidemount diving offers:
Sidemount diving is an alternative way to streamline in the water.
It is easier equipment transportation when topside with Sidemount.
Sidemount diving reduces lower back strain with no weight directly on your back.
Sidemount diving provides redundant gas supply.
Sidemount gives you the ability to monitor all equipment easiliy, because it's in front of you.
Sidemount gives you increased gas supply for longer dives. With Sidemount Diving you move the cylinders from your back to your side, it instantly takes the pressure off of your back and gives you more flexibility to move and enjoy your dive. Plus, you don't have to walk to the dive site with the cylinders on your back. You can enter the water and clip them on and go.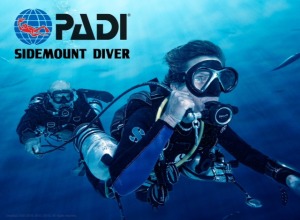 PADI Sidemount Diver Course content
You learn about Sidemount dive planning and equipment.
Set-up and configuration of Sidemount equipment.
Conduct air management "gas switch" procedures.
Develop correct positioning in open water.
Practice emergency procedures.
You practice these on three dives, after your training using the equipment.
COUNTS TOWARDS YOUR MASTER SCUBA DIVER RATING.
When can I Start?
Courses are run on specific trips with prior arrangement. Bookings are Essential.
Course Pricing.
PADI Sidemount Diver Course – $ 695.00.
(cost of course can be reduced if a group is completing the course).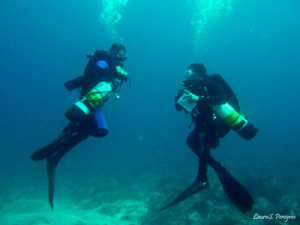 What's Included?
PADI Sidemount training dive in pool or confined water.
Three Dives at the Solitary Islands Marine Park aboard our Dive Boat.
Additional dive on Sidemount if pool session conducted.
Knowledge Development and Equipment Set-up Workshop.
PADI Gold Sidemount Diver Certification Card.
Dive Equipment Hire NOT included – $60 extra per day; if required.
Prerequisites.
No Dive medical is required provided you are medically fit, proof of medical fitness is required. A minimum certification of PADI Open Water Diver or Equivalent is required to commence this course. The dive depth will be based on Qualification level. We recommend the PADI Advanced Open Water Diver course
Check out this Hollis sidemount video featuring the Hollis Regulators and SMS BCDs system.