PADI Self-Reliant Diver Course
The PADI Self-Reliant Diver Course lets you identify and and develop self-reliance and independence while diving. This course is great to develop the skills of planning and carrying out dives without a partner when preferred or necessary, and to sharpen skills of diving self-reliance, which in addition makes you stronger in a dive pair or team.
The Self-Reliant Diver course teaches you:
PADI Self-Reliant Diver Course Content
Two Day Course
Includes a session of theory, and 4 dives, 3 of which are training dives.
You'll learn about Self Rescue, what equipment is required, how to formulate a dive plan, and management of dive emergencies.
When can I Start?
Courses are run on specific trips with prior arrangement. Bookings are Essential.
Course Pricing.
PADI Self-Reliant Diver Course – $ 595.00. (based on small group numbers)
Individual training with an Instructor is $895.00
What's Included?
Three Dives at the Solitary Islands Marine Park aboard our Dive Boat.
Additional Self-Reliant dive at the Solitary Islands.
Knowledge Development and Equipment Set-up Workshop.
PADI Self-Reliant Diver Certification E Card.
Dive Equipment Hire NOT included – $60 extra per day; if required.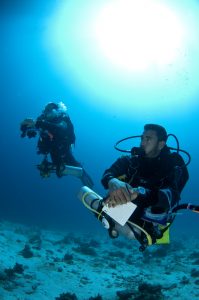 Prerequisites:
You must be a certified Padi Advanced Open Water Diver, and a minimum of 100 logged dives. You must be over 18 years of age to complete this course.
You must successfully complete a dive skills assessment by a Padi Self-Reliant Diver Specialty Instructor.
No Dive medical is required provided you are medically fit, proof of medical fitness is required.
Equipment Requirements:
Standard Dive Equipment (BCD, Regulator, weights, mask, fins)
Surface marker buoy with at least 30metres of line.
Redundant gas source – pony cylinder and regulator. Must be accessible with one hand.
Redundant depth gauge and bottom timer, or dive computer.
Redundant surface signalling devices (Both visual and audible)
Knife/Cutting tool.
Slate & Pencil
Back up mask.
Why take the Padi Self-Reliant Diver Course? Take a look at this blog post on PADI's page.