About us
Welcome to Jetty Dive
Jetty Dive Centre, is a PADI 5 Star IDC Centre ideally positioned at the Jetty Strip in Coffs Harbour, in Banana coast country on the Northern coastline of New South Wales, Australia, virtually halfway between Sydney and Brisbane.
Coffs Harbour is the southern gateway to the Solitary Islands Marine Park, a very unique mix of Tropical and Temperate fishlife, the waters of the Solitary Islands are kept clean and warm all year with the East Australian tropical currents, just like the southern Great Barrier reef.
We specialize in Best prices for Scuba equipment and Scuba gear, online and with that personal touch too! We pride ourselves in our high level of PADI training, from PADI open water courses all the way thru to PADI Instructor.
We love SCUBA diving at the Solitary islands on our daily Dive charters for snorkellers or SCUBA divers, our large and comfortable Dive boats offer the best diving available, using modern Scuba hire gear, our passionate Dive Crew have the knowledge and experience to show you the best of the Solitary Islands.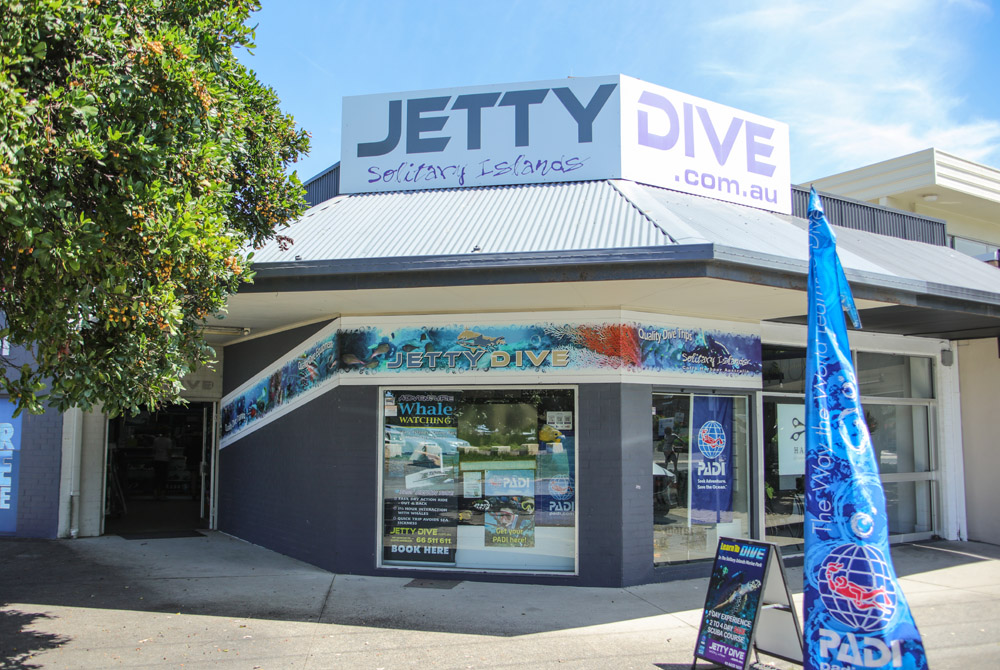 ---
Our PADI 5 Star Instructor Development Dive Centre RATING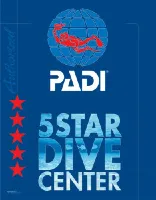 We are the only PADI 5 Star Training and Instructor Development centre on the Coffs Coast. This means that you'll get the highest standards of dive education available. We specialise in Quality training and teach only the Genuine PADI courses.
We are a complete 5 Star IDC Dive Centre, the highest rating of PADI!
Offering:
Diver Education from Beginner to Instructor Level, and 12 Specialties!
Equipment Servicing by Certified Technicians
Air and Nitrox fills with "cleanest air" certificate rating
PADI Aware Supporter and Go Eco Approved Operator
PADI 5 Star statement:
The PADI 5 Star Dive Center membership level is awarded to progressive PADI Dive Centers that excel in providing dive consumers with a full range of diver education programs, equipment selection, and experience opportunities and that actively promote aquatic environmental awareness. A PADI 5 Star Dive Center is active in its community presenting a professional image consistent with, or better than, the norm of the marketplace. These dive centers embrace the PADI System of diver education and are committed to providing customers with quality products, services and experiences.
---
Our Dive Centre
Jetty Dive Centre is proudly a family owned and operated business
With the Shop history dating back more than 30 years in Coffs Harbour! We are the most spacious regional dive store in New South Wales, with no corporate or franchise diving – just personal attention and service from a team who's passion is scuba diving,
Mike and Deb Davey (owners since 1996) have grown the business from a small single charter boat operator, to a major regional dive centre incorporating a well stocked retail and online store, education centre and a 12 metre dive charter boat with some of the best diving on the New South Wales coast all the while maintaining a welcoming and friendly atmosphere.
Our certified technicians service all major brands of scuba equipment (and a few lesser known ones as well!) in our Factory Authorised Service Centre.
Never has the statement, "come as a customer, leave as a friend", been more true. The centre has customers who travel not just interstate, but internationally, to dive again and again with the fun and friendly crew that make Jetty Dive one of the most popular dive destinations on the East Coast of Australia.
Why don't you join us and check out our three P's – Passion, Professionalism and Fun (OK 2 P's and an F).After all, its not just all about the adventure, it should be fun too!
Our retail showroom is well stocked with leading brand equipment and accessories, and our rental department is stocked with modern, well serviced dive and snorkel gear.
Our centre offers:
Dive Charters with complimentary Dive Leaders available on Dives
Education and Travel Centre
Service Workshop
A Kitchenette,and Hot Showers for your convenience
Plenty of Parking(For Cars, Buses, Campervans)
Our Dive Boats, the biggest most comfortable on the Coffs coast
Well Stocked Retail Showroom with ONLINE STORE PRICES
Excellent Spare Parts Inventory – we carry spares for all current Oceanic and Aqualung regs
Workplace acredited First Aid and Administer O2 Programs and Speciaised Scientific Diver course
Certified in Advanced Ecotourism with Ecotourism Australia
Jetty Dive is also a DAN (Divers Alert Network) and TDI Tech Training Centre.
Plus we offer a wide range of products and services to non-divers, from Adventure Snorkeling trips to Whale Watching and Swimming with Humpback Whales.
All on one convenient location near the Sea, Pier Hotel, Restaurants, Shops and Accommodation!
---
Our Boats
Jetty Dive Boats – the most comfortable ride on the New South Wales North Coast.
Cruise in Comfort to over 25 dive sites and 5 islands of the Solitary Islands Marine Park on the Jetty Dive Boats

Jetty Dive has two comfortable Dive boats, "Mega Wild" Fast and so comfortable, and "2 Wild", built for speed, comfort and the diver in mind.
Mega Wild
"Mega Wild" is big enough to have all the comfort, space and facilities you need, while keeping the dive groups small – we take a maximum of 25 Divers plus staff, and then we dive in smalls groups of typically 4-5, with a FREE Dive-master service available for each group.
With the size of this boat, we have complete flexibility and can offer diving for all levels at the respective sites. This means you won't get lumped with students, unless you are one! "Mega Wild" also is equipped and designed to take Charter Whale Watching trips in the Whale season of June to October.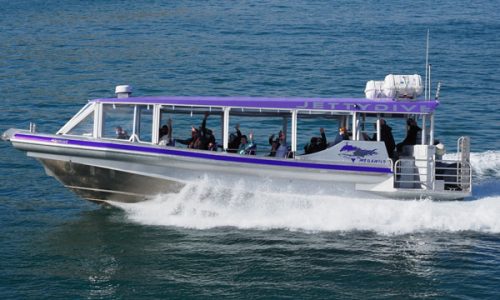 Fast boat with Big Views!
12.5m Alloy Rigid Hull Tourist Vessel
Four 300hp Yamaha 4 stroke Outboards
Cruising Speed up to 30 knots
Super Dry trips- even in rough seas!
Marine Toilet.
Spacious Enclosed Cabin-full roof cover.
Side curtains for total comfort.
Tank rack for 58 tanks
Twin Transom Dive Ladders
Maximum of 25 Divers in 4 groups with 4 Divemasters
2 Wild
"2 Wild" is purpose built for divers. With the power and speed to cruise comfortably to all the Solitary Islands. Designed to run extended trips with ease, "2 Wild" has a comfortable, well thought out tank rack seating to give everyone their own space.
Big boat ride with the new design hull gives a smooth ride, even in rougher conditions. This boat has the convenience of a marine toilet, a creature comfort that is well appreciated! Suited for up to 12 divers and 3 dive leaders, the groups are kept small for maximun enjoyment of the diver.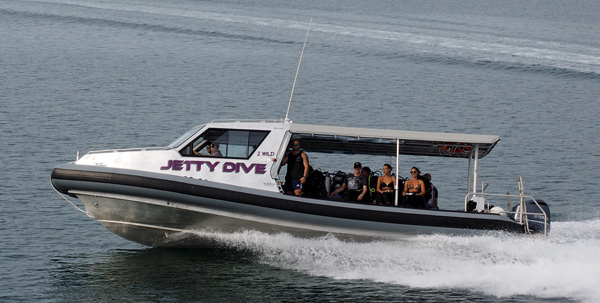 Purpose Built fast and comfortable Dive and Charter boat!
9.8m Alloy Rigid Hull Inflatable Boat
Twin 300hp Yamaha 4 stroke Outboards
Cruising Speed 20-30 knots
Super Dry trips- even in rough seas!
Marine Toilet.
Spacious Enclosed Cabin-full roof cover.
Side curtains for total comfort.
Tank rack for 24 tanks
Twin Transom Dive Ladders
Maximum of 12 Divers in 3 groups with 3 Divemasters
---
Testimonials
Want to check out more of our customer's testimonials? Click here to view our testimonials page.
---
Our Team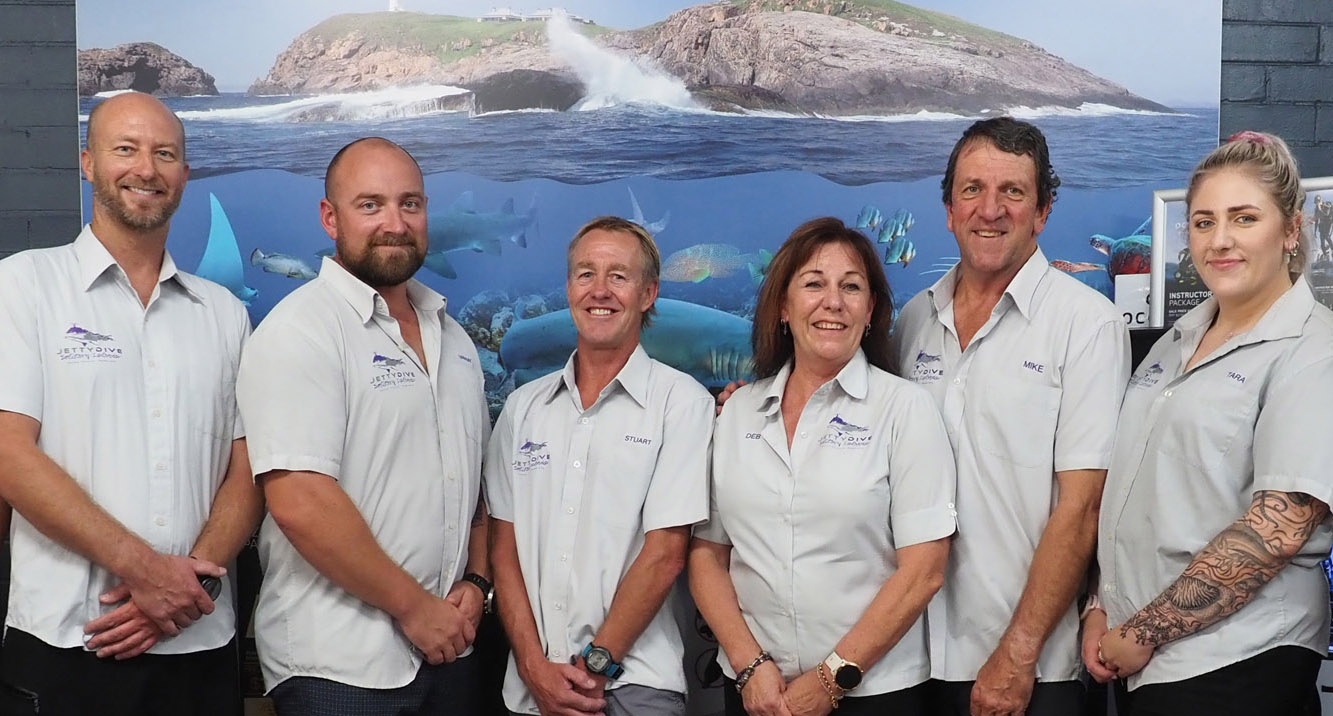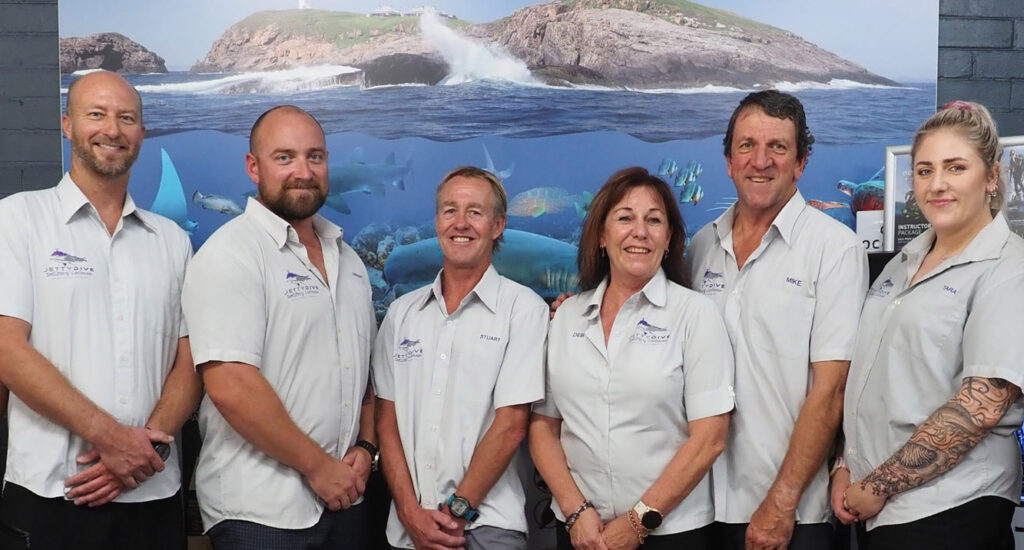 Meet Andrew, Lindsay, Stuart, Deb, Mike, Tara, and the crew that make our tours and courses possible! Check out our team page here
Do you have an accessible shop?
Yes. There is accessible parking directly in front of the dive centre. The entry doors are spacious and the floors in the retail area are smooth and carpeted. There are small inconsistencies in the concrete in the section of the shop used for courses and learning, which we endeavor to repair soon. The bathroom ammenities are not wheelchair accessable.
Are your boats accessible?
Yes!
Our larger boat, "Mega Wild" is a tour boat designed for whale watching and for scuba diving. It has a back entry gate with a small downward step from the floating wharf onto the boat. We estimate the distance of downward step would be 20-30cm depending on the tide. We can assist you in entering and exiting of the boat.
For our Whale Watching Trips or Eco Tours, we require all customers to remain seated whilst the boat is in movement. The boat has space for a stroller or pram to be stored, but due to our requirements whilst the boat is in movement the pram or stroller can not be in use on board.
There is adequate space for a wheelchair to be parked on our boat. This space is of course limited, so get in touch with your wheelchair dimensions and we'll confirm space. We endeavour to make a video to show the space for the wheelchair, and dimensions to make this process easier, it will be updated here when available.
When boarding with a wheelchair we have an alternate arangement that allows for a wheelchair to directly wheel onto the boat. This must be arranged prior with staff. Get in touch – we'd love to have you join us!
Our boat "2 Wild" is a "rigid hull inflatable" this gives us quite the advantage for accessibility. The inflatable sides can be sat on, with one's legs being swung to the inside of the boat to allow boarding. Our staff are more than happy to help out wherever required or desired to assist you. Our boats feature twin ladders for boarding. Our staff can help lift your gear up individually prior to helping you get up the ladders back into the boat if you wish, to save the strain of walking up the ladders with the gear on your back.
Is boarding your boats accessible?
We get you to meet us at Coffs Harbour International Marina for the Whale Watching Tours, which has ample parking (click here to check it out on google maps) and a ramp leading down the floating wharf to where you are to board the boat. We can assist you wherever required or desired.
Advanced Eco Tourism certification 2022
Trip Advisor Traveler's Choice Award 2020
North Coast Tourism Silver Award 2018
NSW finalist Tourism Award "Eco Tourism" 2018
Trip Advisor Award of Excellence 2016
Australian Underwater Products NSW Industry Excellence Award 2016
Oceanic NSW Regional Dive Centre of the Year 2011
Oceanic NSW Regional Dive Centre of the Year 2014
On a regional level, we were finalists in the Tourism Operator of the Year and Winner of the Excellence in the Environment Award for 2006.
Aqualung Outstanding Regional Dealer NSW 2008
Project Aware Fund Raising Award 2007
Coffs Coast Business Awards 2006 – "Excellence in the Environment Award"
Oceanic Regional Dive Centre of the Year 2006
Project Aware Fund Raising Award 2006
PADI Outstanding Customer Service and Professionalism 2005
Oceanic Regional Dive Centre of the Year 2005
Oceanic Excellence Award 2004
Oceanic Excellence Award 2003
Oceanic Excellence Award 2001
PADI Professionalism Excellence Award 1999
Jetty Dive are committed to doing everything we can to help protect the environment, especially the marine environment in the Solitary Island Marine Park that we operate within.
We follow the 10 Tips to Protect the Ocean Planet from Project Aware (which can be found here), including points such as:
Take only photographs, leave only bubbles.
Protect underwater life – Choose not to touch, feed, handle, chase, or ride anything underwater.
Become a debris activist – removal of rubbish whenever found underwater or around the water.
In addition to the Project Aware tips, we:
Educate our customers about the fragility reef ecosystems and the local environment.
Follow all regulations and recommendations in regards to use of the Solitary Islands Marine Park
Using moorings, not anchoring our boats.
Take every possible effort to reduce wastage in the workplace through the use of reusing all paper use, reducing printing amounts, recycling all bottles, cans, and plastics, using re-usable coffee cups.
Using environmentally friendly bathroom products such as air fresheners and hand soaps, along with environmentally friendly dishwashing liquids.
Ordering from suppliers who provide more sustainable packaging.
Reusing packaing wherever possible (padding for parcels, re-using plastics products are sent in)
Maintaining servicing of all vessels and vehicles to ensure they are running efficiently.
Continuing to implement measures to reduce wastage, electricity, and fuel.
Are strong supporters of Project Aware (the environmental initiative of PADI) for many years, Jetty Dive has been recognized for its work leading projects such as "Splash for Trash" as part of International Clean up Day.
We are also very proud to have achieved the status of a "Go Eco" operator rating, ranking Tourism Operators based on their interaction and impact on the environment.
Recommend the use of "reef-friendly" sunscreens (such as Sun Bum!) to help prevent harmful chemicals entering the ecosystem.
Check more of our conservation efforts here.
Climate Change is a major, worldwide concern and we are doing our best to reduce any impacts we have on the environment from our operation. Whilst climate change is a huge concern for a multitude of reasons, it's effect on the environment and the marine world would directly effect how we run our business and how you get to enjoy the solitary islands. We would hate to see the effects of Climate Change reducing the amount of marine life at our beloved Solitary Islands Marine Park.
We recommend looking through EcoTourism Australia's Green Travel Guide to find greener options for your travel, and always remember these tips:
– Turn off taps, lights, and electronics (especially at the powerpoint!) when not in use
– Walk, Bike, or catch public transport whenever possible!
– Reduce (bring reusable coffee cups and drink bottles, you can fill up your water from our kitchen), Reuse and Recycle (we have recycling bins for paper, soft plastics, and bottles and cans in our dive centre for your use)!
– When diving, ensure all of your equipment such as octopus regulators and gauges are secured to your BCD to avoid dragging on the ocean floor or damaging ocean life.
– Follow the AWARE 10 Tips to protect the Ocean Planet.
– Pick up any rubbish you find wherever you are in the water, whether it's scuba diving or walking the beach.
– Turn off all of your electronics at the power point before you go travelling.
-Avoid polluting the oceans. Apply a natural sunscreen 1/2 an hour before swimming to prevent it from harming marine ecosystems.
Want to do more?
– Calculate your footprint here with EcoTourism Australia's handy tools
– Offset your carbon from flights with Qantas
– Contribute to Carbon Offsetting with websites such as https://carbonneutral.com.au/ (Recommended by EcoTourism Australia)
Send us your feedback here!
Where to find us.
OFFICE LOCATION
Jetty Dive Centre Dive Shop is at 398 Harbour Drive, Coffs Harbour, NSW 2450. This is where you begin your experiences with us! All Scuba Dives and Snorkelling must check-in before moving to departure point.
BOATS DEPARTURE POINT
All our boats leave from the Public floating pontoon wharf opposite the "Attitude Burgers " building.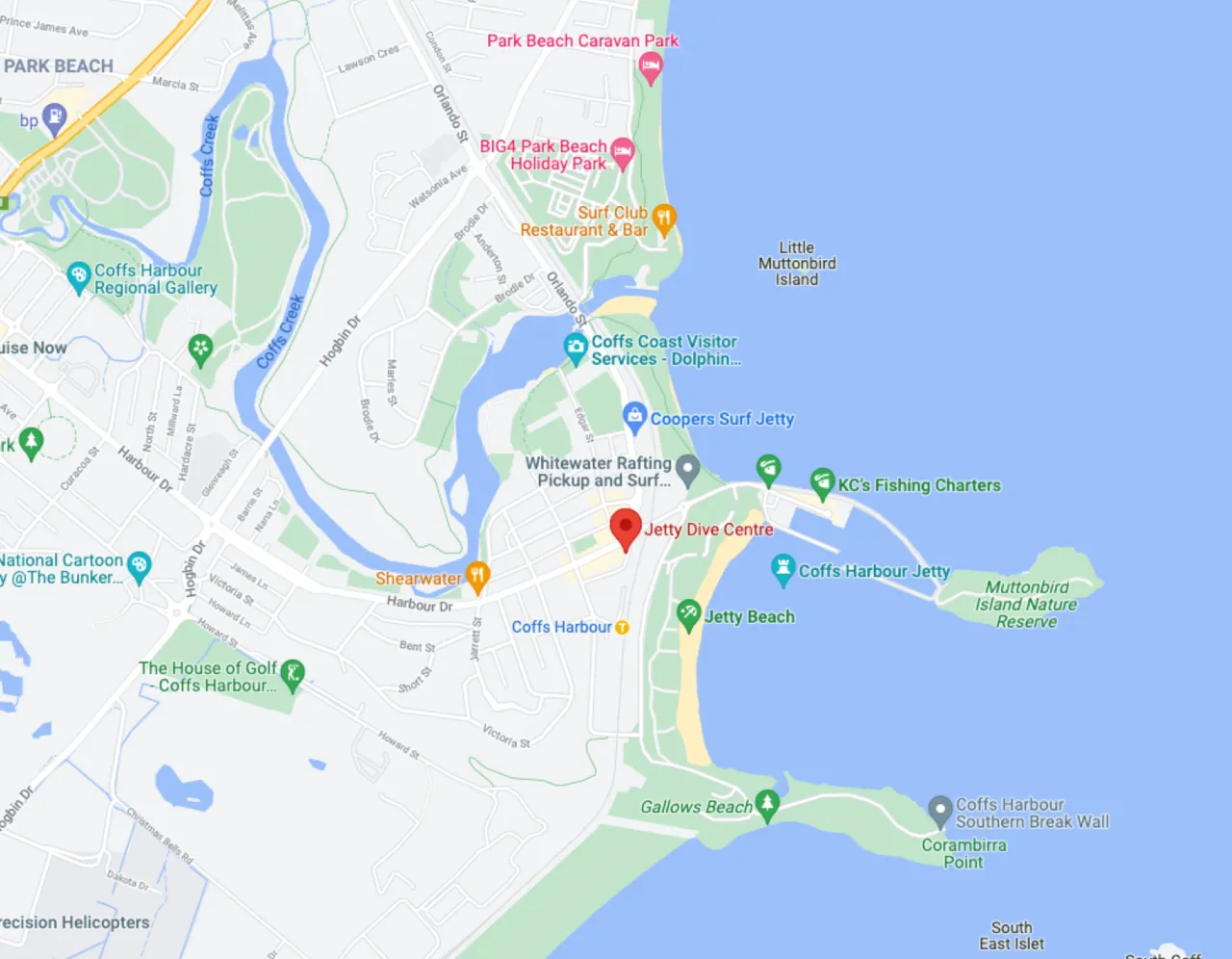 BOOK NOW
BOOK NOW