PADI Scuba Diver Course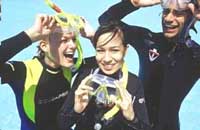 What is the PADI SCUBA Diver certification?
If you don't have time for the PADI Open Water Scuba Course then become a PADI SCUBA DIVER in Coffs Harbour in 2 Days!
The PADI Scuba Diver course is the first part of the full PADI Open Water Diver course. If time is short for you, or you are not sure if you want to dive without a Divemaster or Instructor, this course is for you. You can also continue your training and move on to the PADI Open Water Diver course after you complete this course.
It allows you to dive again and again without any further training sessions but because the training is not a complete Open Water Scuba Diver course, you must be supervised by a PADI Divemaster or PADI Instructor. The depth of your dive is limited to 12 metres only.
How the PADI Scuba Diver Course is completed in Coffs Harbour with Jetty Dive Centre
Day 1.
Complete your online learning componant at home before arrival in your own time. When you arrive at the shop it's time to gear up and head to the pool for a training session with your PADI Instructor. You'll learn the necessary skills for diving safely in open water.
Day 2.
Join us aboard our dive boat to the Solitary Islands' best dive sites. You will enjoy 2 dives with one of our PADI Instructors practicing the basics of diving. You will complete the required skills, but mainly dive the Magnificent Solitary Islands!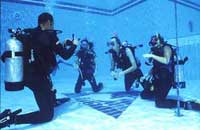 Course Pricing
PADI Scuba Diver Course with 2 dives at the Solitary Island Marine Park –  $495.00 per person (Online e-learning)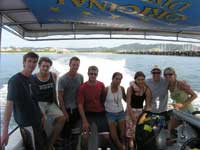 Group deals are available!
What is the advantages of a PADI Scuba Diver Certificate?
You get a SCUBA Certification in just 2 days!
No more training sessions before your next dive!
You will dive with supervision by a PADI Professional!
If you decide before you complete your pool training that you would like to go further, onto the PADI Open Water Scuba Diver course, we can include the required skills and allow you to upgrade at a lower cost than after the course.
When you're ready you can continue your education and complete a further skills training, theory and 2 more Open Water Dives to qualify as a PADI Open Water Scuba Diver!
Medical Considerations: Prior to starting a PADI Scuba Diver course, you are required to complete a Divers Medical questionaire. Let us know if you have any medical conditions that are listed in the Medical Statement.
(IF YOU HAVE ANSWERED "YES" TO ANY QUESTIONS IN THE MEDICAL STATEMENT THEN YOU WILL BE REQUIRED TO OBTAIN A DIVE MEDICAL FROM A DOCTOR USING FORM AS 4005.1).
You can download a copy of AS4005.1 Medical Form here.
These medicals are available from a wide number of selected practitioners. Locally in Coffs Harbour we can assist with locating a Dive Medical Doctor.
Why learn to dive at Coffs Harbour?
The Solitary Islands Marine Park is where the Tropical Fish from the Great Barrier Reef meet the huge schools of fish from temperate waters. You can see

Nemo

and

Dory

along with the friendly Grey Nurse sharks, rare Black Cod and Turtles. There is so much to see!
The Solitary Islands dive sites are offshore. Close enough to be a quick trip and yet far enough to get clean, pristine water that you can't get inshore. In season, you may even see whales on the way.
The Solitary Islands Marine Park is pristine! We have vibrant corals wall to wall fish! We dive in action packed Marine Sanctuary Zones.
It may be just your boat out there! Unlike the Great Barier Reef there are no crowds.
The water temperature is the same as the Southern Great Barrier Reef, not too cold, and with our wetsuits, great for all year round.
Genuine quality PADI courses. We teach in small groups and make sure you have the training and skill to dive anywhere in the world.
What is the Solitary Islands Marine Park?
"Coffs Harbour is the Gateway to the Magnificent Solitary Islands Marine Park. The Islands are magnets for the mixture of fish from the Great Barrier Reef and the Southern Ocean. They all meet here! It truly rivals the Great Barrier Reef for the variety of fish and corals (yes we have them too!) IT BEATS the Great Barrier Reef for the volume of fish that are in the Sanctuary Zones we dive in.
Shore diving is not as spectacular as the Islands so Jetty Dive Centre only offers boat diving at the Solitary Islands for all of our PADI courses. Whilst the cost of a course may not be the cheapest in New South Wales it's great value for boat dives in some of the best diving Australia has to offer. It's worth every cent!
South Solitary Island is our main choice of dive sites and has sanctuary zones protecting it. It offers some of the most prolific fish life in New South Wales. Offering a unique blend of tropical fish, (like Nemo!) and subtropical fish life. During the year we have a shifting population of Grey Nurse Sharks along with huge and endangered Black Cod to amaze the first time Discover Scuba diving to the Open Water Divers. Our courses are typically in small groups, whilst there is some time spent conducting skills, the majority of the dive is spent diving amongst the schools of fish."