PADI Freediver Course
Become a Freediver with our PADI Freediver Course .
Freediving is about inward power, discipline and control. If you've always wanted to enter the underwater world quietly, on your own terms, staying as long as your breath allows, then the PADI Freediver Course is for you.
The Freediver course take two days to complete, along with Self Study theory prior to the practical training. We run them regularly over weekends or on demand in small groups of 2 or more.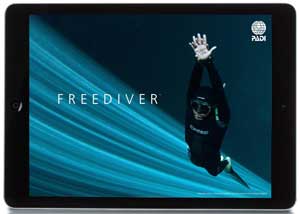 Course content- what's in a PADI Freediver Course?
The Freediver Course contains three phases :
Knowledge Development. Using the PADI Freediver Touch during knowledge development you learn about how your body reacts to breath-holding and how water pressure affects you as you dive down. You also learn about Freediving equipment, important safety rules and buddy procedures.
Confined Water Sessions. In the swimming pool, you learn breathing techniques, then practice breath-holds while floating (static apnea) and while swimming (dynamic apnea). You also practice basic rescue techniques and learn your role as a buddy.
Open Water Sessions. During at least two open water sessions, you practice diving down while breath-holding, either by pulling yourself along a line (free immersion) or duck diving head first while following a line (constant weight). You learn to gradually increase your depths by relaxing and enjoying each dive. Rescue practice is another key part of the open water sessions.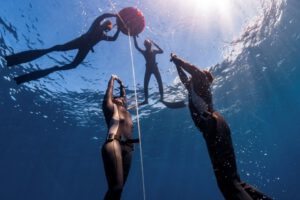 When can I Start?
Start your self study component today!
The two Day PADI Freediver Course runs on demand, usually on weekend dates throughout the year, contact us and find out when the next course is!
Email us for your Freediver Course.
Bookings are Essential to obtain the required minimum of 4 students for the course.
Join a group, or you would like a private PADI Freediver course? You can START TODAY, contact us now!
Course Pricing
If you have your own "Long Blade Freediving Fins" you can deduct $100. These long blade fins are essential for our course.
What's Included in the PADI Freediver course?
Current Edition of the electronic PADI Freediver Touch Course manual
PADI 5 Star Freediver Certification Card.
Classroom Workshops, Pool Session and Ocean Dives
FREE Photos for your certification Card
Equipment
In the Freediver course, you learn to use a mask, snorkel and fins, and also use a wetsuit and weight belt. Using gear designed specifically for freediving is best, however, in this course, you may be able to use some snorkeling equipment you already own. Freediving Fins are a requirement to be a competent Freediver, and that is why we include a set of Pelagic Spirit Freediving Fins in the course cost for you to own!
Prerequisites
To enroll in a Freediver course you must be at least 15 years old. You need adequate swimming skills and need to be in good physical health.
Medical Considerations Prior to starting a PADI Freediver course, you are required to complete a Divers Medical questionaire. If you have any medical conditions that are listed in the Medical Statement (PLEASE NOTE THIS IS NOT THE DIVE MEDICAL THAT WE REQUIRE, THE MEDICAL FORM WE REQUIRE TO BE USED BY YOUR DOCTOR CAN BE FOUND IN THE LINK BELOW) , you are required to complete an approved Scuba Diving Medical Certificate (AS 4005.1) with a Medical Physician.
You can download a copy of AS4005.1 Medical Form here.
These medicals are available from a wide number of selected practitioners. Locally in Coffs Harbour we can assist with locating a Dive Medical Doctor
No prior experience with snorkeling, skin diving or freediving is required.
Younger than 15? 12 year olds and older can enroll in the PADI Basic Freediver and eight year olds and older can enroll in the PADI Skin Diver course.