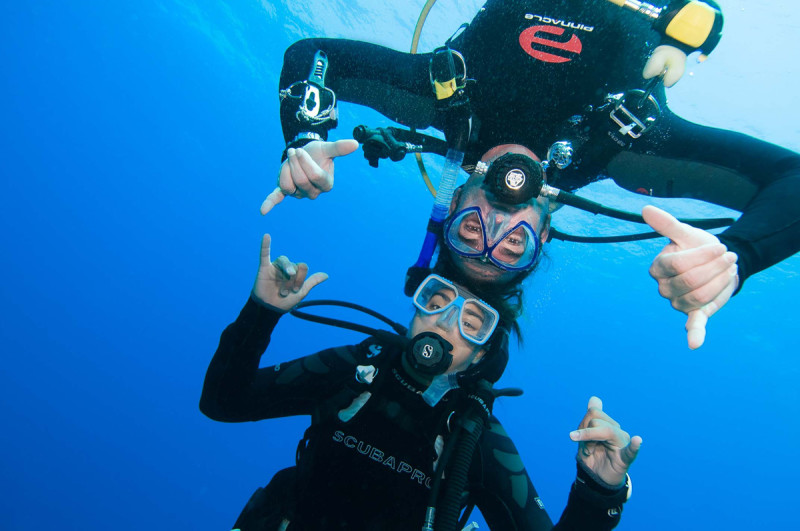 What is a PADI Divemaster?
Becoming a PADI Divemaster is the first step as a professional in the Scuba Diving Industry, as a Divemaster you are a leader, a mentor and a much valued assistant to a large range of diver training.
PADI Divemaster's are respected professionals who gain dive knowledge, management and supervision abilities and be a role model to divers everywhere.
What do I need to start my PADI Divemaster Course?
You need to be a certified PADI Rescue Diver (or equivalent)
At least 18 year old
Have at least 40 logged dives to officially start the course, however we let you assist on the boat and dive until you reach the 40 dives.
A medical statement signed by a physician within the last 12 months
First aid and CPR within the past 24 months
On top of these requirements, to be a good Divemaster, you need to have the desire to help other divers. If you are out to dive for you and you alone, being a Divemaster is not for you!
What will I learn on the PADI Divemaster Course?
The PADI Divemaster course will teach you to be a leader and to take charge of dive activities. With knowledge development sessions, practical assessments and water skills workshops you develop the skill to organize and direct a variety of scuba diving activities. Learning the dive-sites of the Solitary Islands is a part of the fun!
You may also get offered the PADI Search and Recovery and Deep Diver specialty course as part of your training to help meet the requirements you need for the course.
When can I start and how long does the PADI Divemaster Course take?
You can start the PADI Divemaster course anytime!! Although winter for us, at Jetty Dive Centre, is quieter than summer, we do still need Divemaster's all year round. The best time to start would be October or November as this will allow you to have experience by summer when it is the busiest with courses and guided dives at the Solitary Islands Marine Park.
We do not have a set time for how long the course will take due to weather and courses we run, however if you were to do the Divemaster course full time we expect it to take anywhere from 1 ½ – 2 months. The course part-time (weekends only) could take around 5-6 months. Remember these are not fixed times and could change. Your commitment usually determines the length of your course.
What options are there after the PADI Divemaster course?
As a certified PADI Divemaster you are getting FREE dives for as long as you want!! Which is pretty cool, but how would you like to be getting FREE dives and also be getting paid to dive??
You can become a PADI Instructor and dive anywhere in the world and get paid, either for money or free accommodation, meals and lots more depending on the resort you are at.
If you love seeing people succeed and you love to dive then a PADI Dive Instructor is what you want to strive for.
Contact us today for more info – mail@jettydive.com.au or (02)66511611