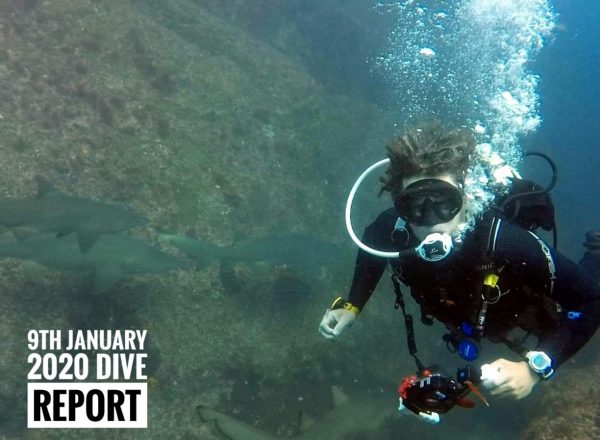 9th January 2020
Today on 9th of January 2020, we had some excellent conditions to spoil our divers and snorkelers!
Dive 1 was at Buchannan's, and was a smorgasbord of life. There were Grey Nurses Everywhere, along with a couple of Green Turtles, and a Hawksbill Turtle swimming past. There was a Baby Crested Hornshark spotted by Nathan, plenty of Nudibranches, and bubble shells. There were fish absolutely everywhere, and we even spotted an octopus.
Dive 2 was from Cleaner Station to The Gantry, and followed in the first dive's suit. There were plenty of Bull Rays, Wobbegongs, Bullseyes and Tarwhine. Today they were joined by some more orangutan crabs at 5m rock, and a porcelean crab, along with some Bannerfish and Blue Spotted Rays. A standout from this dive was the Black Cod we spotted with it's mouth wide open being cleaned by cleaner wrasse! We'll be posting a video of this on our instagram if you'd like to check it out. Today's photo is of our regular Dylan, taken by Steve. Thanks Steve & Dylan!
Conditions Report:
Temperature: 23°
Visibility: 20m