Product Warranty
Why buy in Australia? Sometimes the warranty from international stores can be less reliable as the Australian Warranty.
Be Warned! Some 'Dive Shops Online' are not Authorised.
Some internet stores are "grey marketers", that is, they buy cheap gear second-hand or on store clearances, which has no warranty with the manufacturer. Some "eBay" stores are not Authorised Dealers – which is why it can be cheap! Also, you may have to add import duties of 10% or more. We are Authorised Australian Dealers on all our Products, so you nkow you're safe with us!
Aqualung and Apeks* are no longer FREE parts for 5 years if serviced annually.
OCEANIC has FREE parts for life if serviced annually (like they should be!)
Brands included in the free-parts-for-life program:
– Oceanic
– Oceanpro
– Hollis
– Zeagle
– Atomic
Provided you register your purchase (ask, and we do it for you!)
Then every year within 4 weeks of the aniversary, you return the regulators to us (or if you have moved, another OCEANIC Authorised service centre), you pay for the labour of the service, and the parts will be supplied FREE! (within the warranty period)
Saving lots of $$$ over your diving years! Service Kits for a standard Oceanic regulator cost approx $80. IN ONLY 5 YEARS YOU CAN SAVE OVER $400 on Oceanic Regulators!
Remember, Warranty Service of Australian purchases can be conducted by any Australian Authorised dealer!
Oceanic and Hollis Digital Instrumentation, when purchased in Australia and registered, are covered by an additional 4 years extending the total warranty period to a 5 year Limited Warranty
SUUNTO Computers
Suunto computers have a 2 year warranty, but extended 5 year warranty on the depth gauge.
Shop Local – We are your Local Dive Centre and Charter Boat too!
With the level of service we provide comes costs. We do rely on selling equipment to maintain all the other services we provide. If you like coming for a dive with us and want us to continue it, Please support us! We appreciate you!
Where to find us.
OFFICE LOCATION
Jetty Dive Centre Dive Shop is at 398 Harbour Drive, Coffs Harbour, NSW 2450. This is where you begin your experiences with us! All Scuba Dives and Snorkelling must check-in before moving to departure point.
BOATS DEPARTURE POINT
All our boats leave from the Public floating pontoon wharf opposite the "Attitude Burgers " building.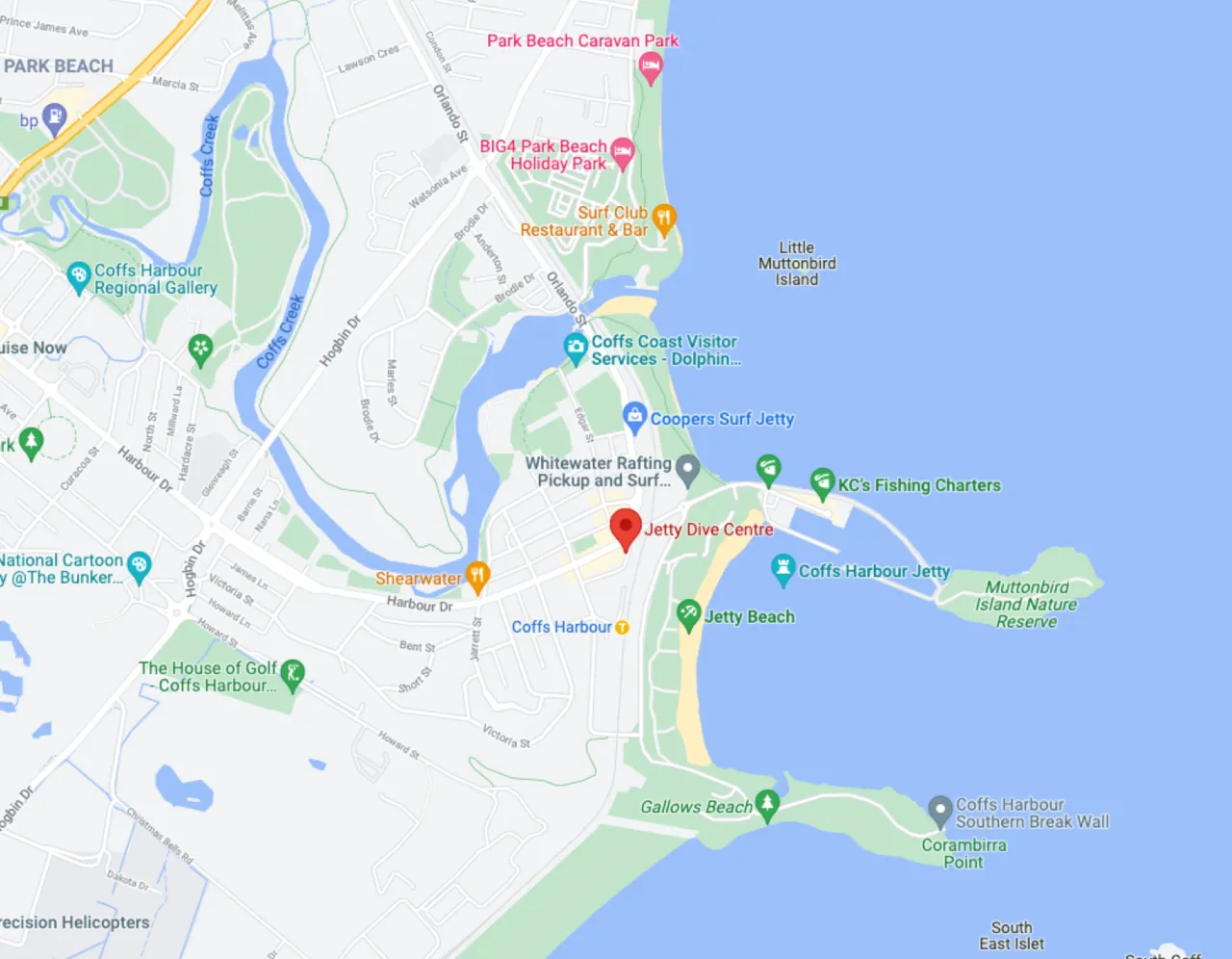 BOOK NOW
BOOK NOW