Diving The Solitary Islands Marine Park – Coff's Harbour
The Solitary Islands Marine Park is located on the NSW north coast and extends north from Coff's Harbour to Sandon River along 75km of coastline. The marine park covers approximately 710 km2 and was established in 1998, however, prior to that, it had been a marine reserve since 1991. With almost 30 years of protection, it offers phenomenal dive sites and stunning marine life.
There are five main islands in the Park, North Solitary Island, North West Solitary Island, South West Solitary Island (Groper Island), South Solitary Island and Split Solitary Island, as well as other significant outcrops such as Muttonbird Island and submerged reefs.

Diving The Solitary Islands: Unique Islands off Coffs Harbour
The Solitary Islands are unique in many ways which make this an unbeatable diving destination – right on our doorstep!
The Solitary Island's Marine Park is home to diverse habitats which include estuaries, sandy beaches, intertidal rocky shores, sub-tidal reefs and open oceans. Habitats as diverse as this mean equally diverse – and abundant marine life. The Solitary Islands are home to more than 550 species of reef fish 90 hard coral species and an astonishing 600 molluscs (shelled animals) species.
North Solitary Island
North Solitary Island (image above) has the park's highest reef fish diversity.  Anemone Bay, at the Island's northern end, is particularly diverse and supports the densest coverage of anemone and anemonefish worldwide. Anemone Bay is one of our favourite dive sites and it rarely fails to impress. North Solitary Island is also home to Fish Soup – an unusual dive site where fish aggregate in one area to feed.
North Solitary Island is around 75 minutes away and we aim to make a three dive trip. When currents are present here, we are able to make some phenomenal drift dives.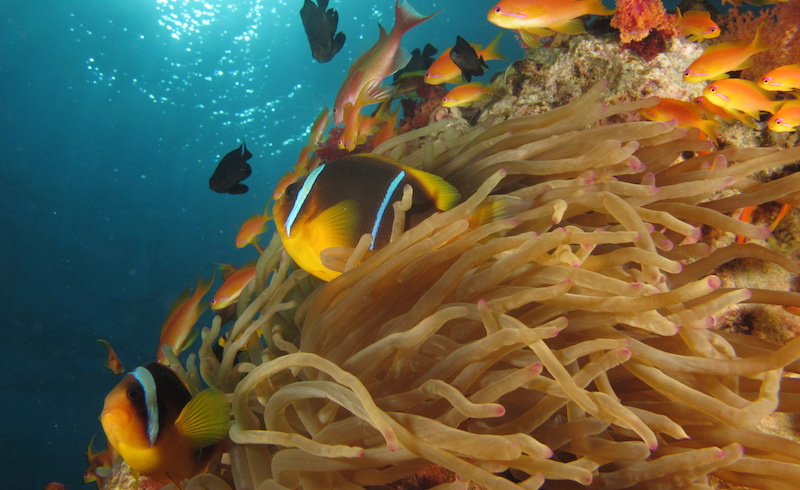 South Solitary Island
South Solitary is located further offshore and is renowned for its large pelagic fish, turtles and is also rich in shelled animals, with many marine snails and slugs, especially on the western side. It is also the northernmost breeding site recorded for the giant cuttlefish!
South Solitary's open ocean location often results in exceptional visibility but also makes the dive sites more susceptible to currents. The collection of marine life that is on show here though make it well worthwhile.
Manta Arch is one of the most iconic dive sites in the Solitary Islands Marine Park – the "arch" is an underwater arch formation among boulders and ridges. It is at this site that we have seen schools of Grey Nurse Sharks in the current – if you want an adrenaline-pumping dive, this could be it!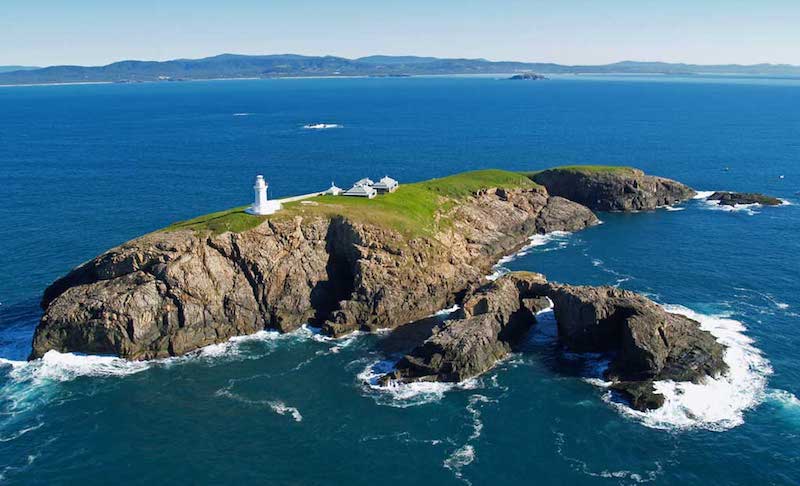 North West Solitary Island
North West Solitary Island offers a very different experience to South Solitary. North West Solitary is located closer to the coastline resulting in cooler temperatures but the unique location of this island means that depending on the time of year we are diving, we can see both temperate and tropical marine species – including manta rays and grey nurse sharks.
It's impossible to discuss the Solitary Islands with any Australian scuba diver without Pimpernel rock being mentioned – this advanced level site showcases pelagics, a huge cavern and often adrenaline pumping currents. This is an epic dive that you won't want to miss out on!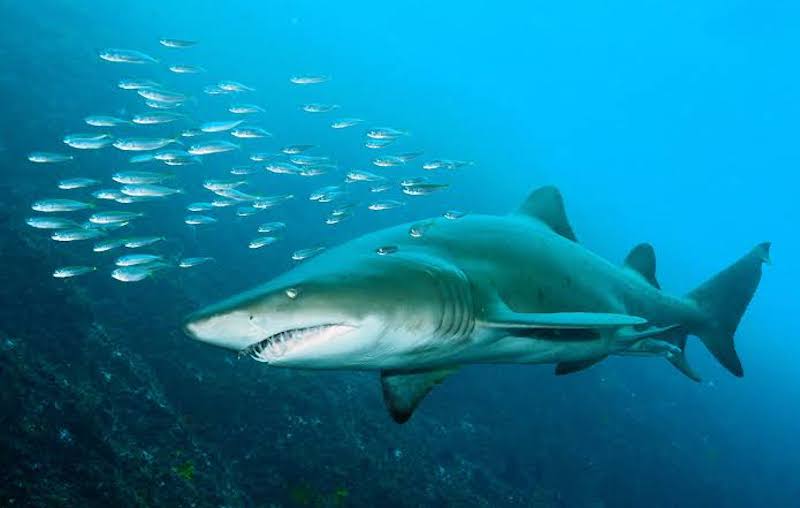 South West Solitary Island
South West Solitary Island is also known as Groper Island and offers stunning coral gardens and a wide array of reef fish. The coral gardens here are not deep and are suitable for all levels of divers. The most prolific coral growth is in the 12 metre to 16 metre range and you'll find all manner of reef inhabitants from tiny critters to jewel-like reef fish glimmering in the sunbeams. Those with a keen eye, or a macro lens, should look out for numerous species of nudibranch and macro life.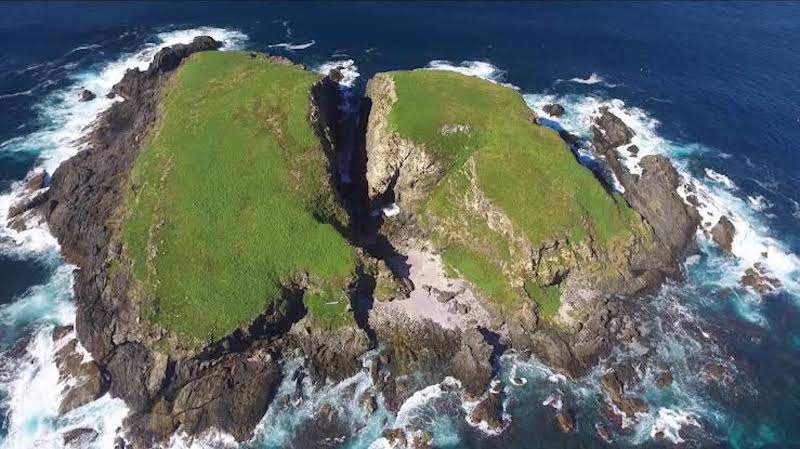 Split Solitary Island
Split Solitary Island, is a rocky island which when viewed from above, appears to have been split into two halves. There are several dive sites here including the famous Turtle Cove, a mooring lying on the eastern edge of a gutter full of life. The gutter starts in deep water and passes all the way along the edge of the island. Turtles, Nudibranchs and abundant fish are highlights to this area.
For more details about the dive sites of the Solitary Islands check here, and to learn more about the Solitary Islands' marine life, check here.
Are you planning to try scuba diving in Australia? Did you know that diving New South Wales has both temperate and tropical species? Did you know that humpback whales are visitors to our waters around Coff's Harbour? Come and join us at Jetty Dive and experience diving in Coff's Harbour – but be warned, it's addictive!
Haven't tried scuba diving before? No problem! Here at Jetty Dive we offer the full range of PADI dive courses, including one day try dive experiences and the PADI Open Water Course so you can get certified or learn to dive in Coff's Harbour with us too.
For more information about diving Coff's Harbour with us, get in touch with us by filling in the contact form below, or send us an email to: mail@jettydive.com.au
We look forward to scuba diving Coff's Harbour with you soon!