Learn to Dive in Coffs Harbour on your next Family Holiday
Why Should Families Learn to Dive?
Children have a natural curiosity about the world around them. They want to know how things work, how creatures live, and especially where they live. They also have an urgent need for exploration. Your child may want to try their hand at scuba diving, or you may be an avid diver and want to share your hobby with your children or you might all want to learn to dive together as a family. All of these scenarios are the beginning of a lifetime of family holidays and adventures underwater – diving in New South Wales is just the beginning!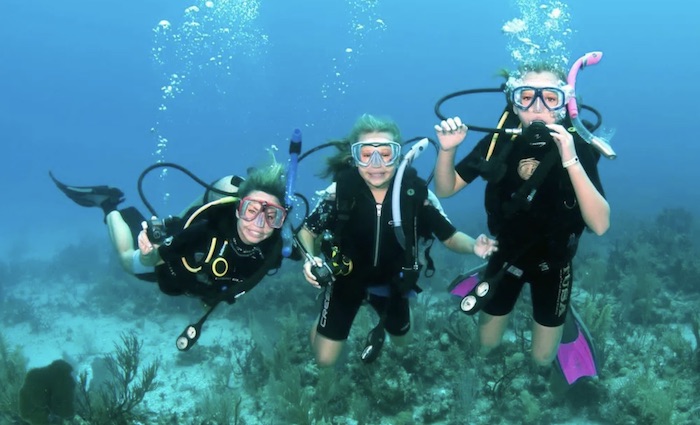 There are many obvious benefits to scuba diving including fitness benefits, holiday opportunities, discovering a whole new underwater world, but there are additional benefits to children and families too. Let's take a look at five facts about scuba diving for kids and families…
1. The younger people are when they begin scuba diving, the more comfortable they are likely to be with it.
2. Diving families can enjoy scuba holidays and share their love of the underwater world together. You'll have an exciting shared interest and be able to bond in one of the most unique ways – you'll be creating memories which last a lifetime, dive after dive. AND, scuba diving in Coffs Harbour is suitable for all levels and all ages!
3. Scuba diving courses take abstract concepts from physics, math, and natural science and apply them to the real world. Having seen many theories in "real life" when diving, your children will become more critical thinkers in the classroom and better able to understand concepts to which they will be able to relate.
4. Diving encourages students to care about the conservation of the natural environment. Once your children see the beautiful underwater world and all that inhabit it, they will strive to keep it a clean, safe place for their new ocean friends. It is likely they will become proactive in their community and teach their friends the responsibility of keeping our planet clean.
5. Diving requires a level of personal responsibility as well as responsibility-sharing with your buddy. Learning how to responsibly manage risk while diving is an invaluable lesson that children will be able to apply in other situations. The buddy system deepens children's understanding of responsibility for others as well as developing their teamwork and communication skills. Together as a family you'll enjoy better communication and have a better understanding of the different ways in which each of you communicates in different situations.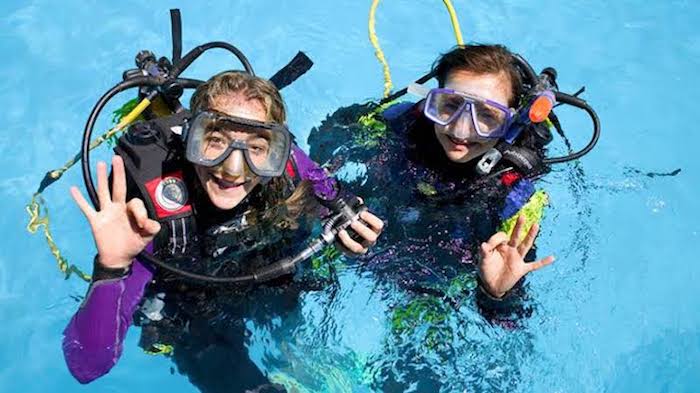 Children and Families Learning to Dive in Coffs Harbour
When learning any new skill, it's important that children do not feel overwhelmed and that's why children who learn to dive in Coffs Harbour with us are made to feel comfortable in the water right away. Your first dives will be in the safe and controlled environment of the pool before venturing out into open water.
Diving in New South Wales, in particular, around Coffs Harbour, we have a multitude of dive sites that lend themselves perfectly to children taking the PADI Open Water Course. Our sites have easy conditions with little to no current, warm water and good visibility. There are large sandy areas that are ideal for practicing the skills you are taught when you learn to dive, without causing worry about making contact with marine life.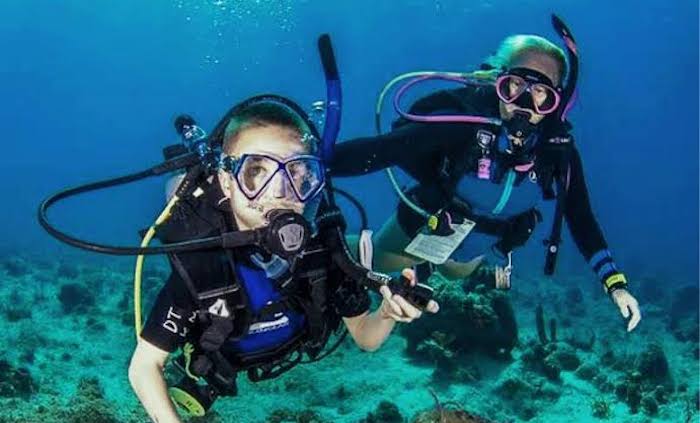 At Jetty Dive we have a highly skilled and professional team of PADI Instructors who are experienced in teaching children and families. They understand the need to make our programs fun and engaging for all ages while maintaining a high regard for PADI standards and safety. At Jetty Dive you can rest assured that you and your family will be well looked after.
We also understand that parents want feedback and involvement in their child's course and that's why if you learn to dive together you'll really be learning together – your theory, pool and open water dives will all be made as a family. If you are already a certified diver, you are welcome to join your child for a variety of elements of the course too – including their open water dives in the ocean.




So are you ready to learn to dive and give your family the gift of scuba diving? To find out more information about our programs for children and families, or to make a reservation, contact us at: [email protected] or fill in the contact form below, and we'll get right back to you.
We look forward to diving in Coffs Harbour, New South Wales, with you soon!
NOTE: To learn to dive (PADI Open Water Course) your children need to be at least 12 years old at the time of taking their course. Children (and adults) need to be in good health and have a reasonable level of fitness. Children aged 8 – 12 years old may take part in a PADI BubbleMaker program in the swimming pool – this is an exciting experience and a lot of fun but it not a certification program.