PADI Project Aware Fish ID Specialty Course
Learn to Identify fish species at the Solitary Islands!
This course is designed to introduce divers to the most common families and species of fish found in temperate and tropical waters. Divers learn basic fish identification and scientific surveying techniques. Through an overview of Project AWARE and other preservation and research efforts, such as the REEF Fish Survey Project, divers also learn the importance of personal involvement in aquatic environment conservation.
Fish ID course content
This course includes 1 half day double dive, and covers the knowledge and techniques for identifying fish common to the local area. To conduct a AWARE – Fish Identification Diver course, include the following:
1. The Project AWARE philosophy about protecting worldwide aquatic ecosystems.
2. Fish family groupings and common characteristics of fish species found in the local area.
3. Fish surveying techniques and strategies for collecting valid data.
4. The planning, organization, and procedures for identifying fish families and species while diving.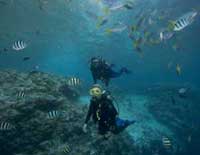 When can we do the PADI Fish ID course?
Anytime the Boat is going with prior booking! The Coastkeepers of NSW have developed a slate kit which we use and have added our own extra varieties of fish common to the Solitary Islands Marine Park