Philippines Puerto Galera and Donsol group
Philipines – Whalesharks at Donsol and Rare Critters at Puerto Galera..Dive Trip May 2010
Dive Report on where we went!
The Whaleshark we saw while diving at Manta Bowl! A great trip was had by all to the Philippines in May.
Flying from Sydney, we were met at the Manila airport and transferred to our overnight Motel. Early next morning we started our first part of the trip with Whalesharks at Donsol, via a short flight to Legaspi. From there we spent another hour and half by minibus transfering to Donsol, where we experienced our first encounter with the Whalesharks of Donsol.
The Whalesharks were fantastic to see, using traditional boats with only six people per boat to find them. The encounter was memorable, but mared by the fact that too many boats targeted the same whalesharks! Our second day with the Whaleshark tour, which was after our diving with mantas, we specified that we didn't want to go where everyone was, and experienced at least some on our own!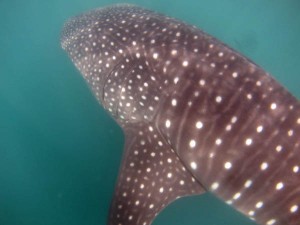 We transferred to Ticao Island Resort and spent two day diving at San Miguel and Manta Bowl, yep! with Manta rays and Whalesharks!
The Diving was great, a little down in visibility, but we saw it all, Mantas and Whalesharks at Manta Bowl. The Manta Bowl area was interesting, however without Manta Rays, it may have been a bit dull. Some small critters with the occassional big fish.
After returning to Manila early on the 5th day, we met more of our group and transferred to Puerto Galera, 3 hours by minibus and then 1 hour by boat.
In Puerto Galera, Staying at El Galleon and diving with Asia Divers was great!
They really couldn't do enough for us, everything was organised and the diving was well run. We spent the next 6 days diving around the local divesites. Our best dives would have to have been Verde Island, and well worth the visit, in fact, we did two trips there!
The area is very easy to dive, water is warm and the variety of Marine Life was great. Countless Nudibranchs and small critters, not a huge amount of big fish, and an over population of Feather stars!
All the group got to know each other and got on really well. A bit of Fun was had at the Point Bar, overlooking the bays of Sebang Beach.
Puerto Galera, Asia Divers and El Galleon resort are well worth another trip back one day!
Pictures by Jeanne, Deb and Mike, and in no real order!