A Great Afternoon for Whale Watching at Coffs
With a boatload of exited Whale Watchers, we ventured out for a Whale Watch off Coffs Harbour yesterday.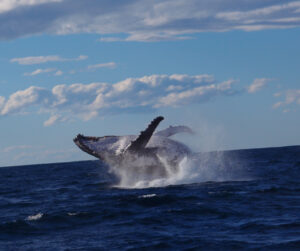 The afternoon was definitely a better choice for Whale Watching. The swell was still obvious, but had settled nicely since the morning. After 10 minutes of running around, we followed a couple of pods of Whales heading North. With at least 10 whales in the area, we had blows coming from all over.
Not only did they turn and come near the boat, we also saw a them jump as well as some from neighbouring Pods.
After enjoying their presence, we ventured home to find another pod with one Whale tail slapping. Could not get much better!