August 2023 – Jetty Dive Debrief
Welcome to the August 2023 Jetty Dive Debrief! This is our newest addition to the blog – the "debrief". Here we are going to let you know how the water has been, what the season showed us, any interesting or noteworthy details, and what we've achieved as a shop!
---
Seasonal Marine Life Activity:
We had not too many dives out throughout August, but had the usual characters like Grey Nurse Sharks, Black Cod, and Turtles.
There were plenty of Grey Nurse Sharks throughout the month, with 10-12 on the 5th of August, and about 12 at Cleaner Station on the 9th of August. On the 26th we saw 10-15 with 5 of them large and pregnant, and then 6 more at "The Gap"! On the 27th we saw plenty of Grey Nurse's, but unfortunately a few with hooks and fishing gear trailing from their mouths. There was also one Grey Nurse that had what appeared to be a genetic abnormality, with a twisted spine – appearing like a type of scolliosis. We posted a reel on Facebook and Instagram of this shark if you're curious.
We saw turtles throughout the month, with 5-6 on the 5th of August. On the 13th we saw 3 different species of turtle! There was a Green Sea Turtle, Hawksbill, and Loggerhead all on the one dive.
We had a few octopus throughout the month, too, seeing them on the 6th, 9th, and 13th.
We had rays throughout the month as well, with a couple of Eagle Rays on the 5th and 6th. We saw 3 Eagle Rays on the 9th, and a Numb Ray and eagle ray on the 13th. On the 26th we also saw some huge bull rays at boulder wall.
Whale Encounters
On the 12th of August, some of our snorkellers got to see a Humpback Whale in the water while they were snorkelling… how lucky are they! Then on the 13th some divers had a Juvenile Humpback swim underneath them while they were completing their safety stop… that's spectacular!
Whale Swimming
This season of Whale Swimming has been record breaking. We have run six sessions of Whale Swimming so far in 2023, and every session has been successful! Check out our Whale Swim Reports for the 23rd, 25th, and 28th if you'd like to read a little bit more!
Otherwise, we have been posting a lot on our social media about the Whale Swims. Check out our Facebook and Instagram!
---
Certifications
PADI Open Water Divers
Congratulations to our newly certified PADI Open Water Divers: Anna, Courtney, Kristal, Luis, Olivia, Ruby, Riley, Tom
– Good work, divers!
PADI Advanced Open Water Divers
Congratulations to our newly certified PADI Advanced Open Water Divers:
– Congratulations!
And our Enriched Air Divers: Tyron
Conditions
Visibility
We had some beautiful visibility in some of the early days this month! And it continued strong as we carried through. Take a look at our graph below for a more detailed and visual look at the visibility.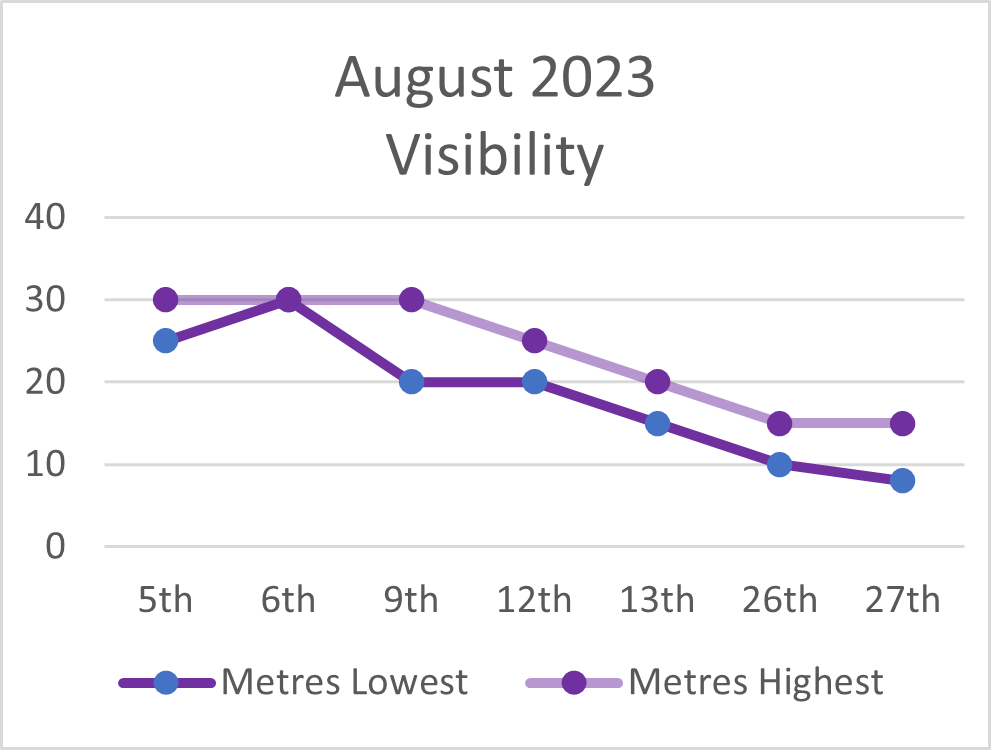 ---
Sustainability and the environment
This section we are dedicating to showing what steps we are taking to reduce our environmental impact. It might include incentives we have implemented or tried through the month, or programs we have participated in. We intend to expand upon our conservation efforts page with everything we have implemented in store – as we are doing much more than this page shows!
On the first weekend of August, we were out for a dive and found some fishing rods in the water. They were likely on the border of the Sanctuary Zones when lots, but (obviously) it is still not ideal to have them in the water, so we removed them.
We also reported a Grey Nurse Shark with rope on it's tail to DPI after sighting it on the weekend of the 12th of August. Unfortunately under regulation we are unable to assist the shark ourselves, and if the rope is not removed it will rub against the shark as it swims, causing wounds, infection, and later death.
---
Photo of the Month
Want to be featured in our photo of the month? Send your submissions through to [email protected], with "Photo of the Month Submission" as your subject and I'll pick the best one for our debrief and email newsletter.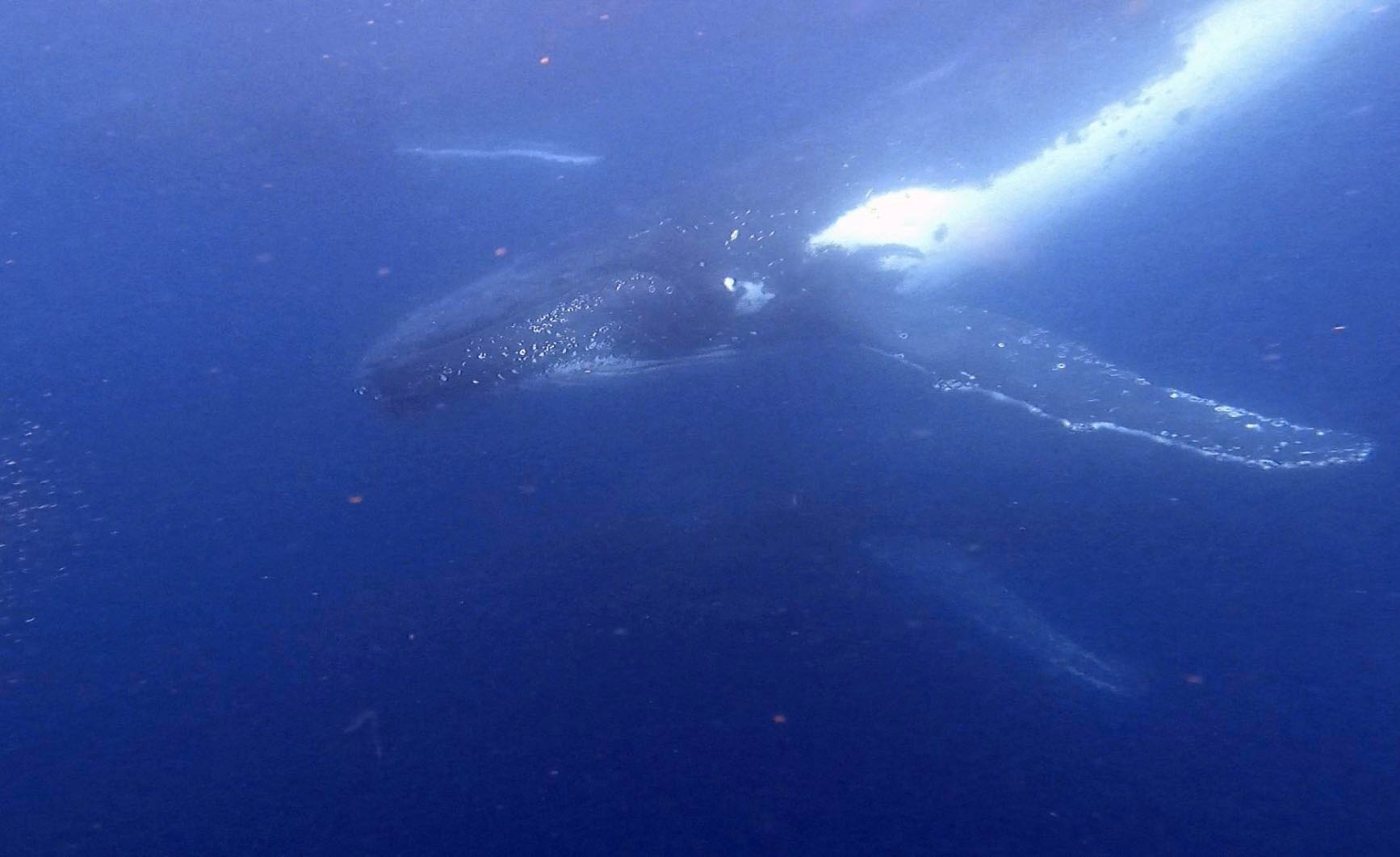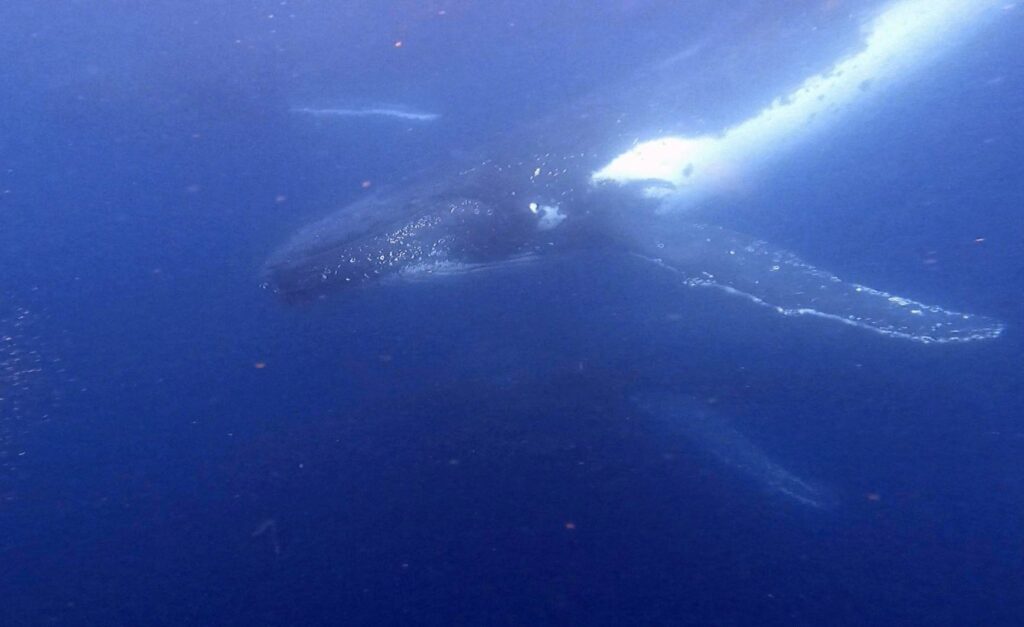 ---
The Month Ahead!
September! Still running our Whale Swims up until the last week of September, we also still have Whale Watching into October! Scuba Diving is stilll magnificent, with so many Grey Nurse Sharks around throughout the colder months!
Mike and Deb will begin preparation for their trip to Raja Ampat with a group of divers in November, and the rest of us will start preparing for them to be away!
School holidays are coming up at the end of September and we are always busy with Whale Watching over these holidays, so make sure you book in early to secure your spots!
---
Newsletter
We have a monthly newsletter with updates similar to this blog post, but a little bit more😉. Some of our favorite customer pictures, new product releases or favorite products. If you want to hear from us (we wont spam you, I promise!) sign up here, and click "Newsletter".
If you have anything you would like to hear about in this debrief, or in our newsletter, or even any suggestions for another name for this debrief, please contact us and let us know!
---
Thanks for reading the August 2023 Jetty Dive Debrief! We appreciate you 🙂
---
About the Author
Tara is Jetty Dive's Office Manager and IT Lady, Social Media Queen, Crazy-Fish-Lady, and as she likes to say – "Self-Appointed CEO". You'll find her sitting at her desk surrounded in pink, but happiest either on or under the water.