Jetty Dive Gold Club Membership
The Best Value for diving at Coffs Harbour! The Jetty Dive Gold Club Membership is now by invitation only. This means we are not offering it to the general public, as the intention of membership of this club it to reward our local divers who support our business. It is great value to those who dive regularly, and whilst we are not limiting the club membership, it is something that we are not advertising on our Website. If you are a member, we welcome you back for another year, if you have been invited to join, it is because we would like you to benefit from the membership.
Become a Gold Club member of Jetty Dive and get great deals for the whole year!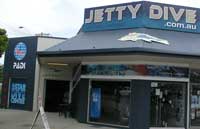 Gold Club 2016 Membership runs July 2016 to June 2017 !
The Gold Club Membership for 2016 has risen a bit, but is still great value, your costs are covered in just over two trips!.
What we are offering here, is a membership of a 'Special Customer Club' and receive offers that encourage you to come diving more Often!
Here it is:…. Jetty Dive Gold Club Member Receives:
$50 DISCOUNT on Double Dive Trips! (excluding Christmas to New Year, and Easter weekend) Based on normal price, any other discounts are not applicable at the same time.
$25 DISCOUNT on Night Dive Trips
$5 Air fills on Dive Charters
Free Digital photo session
Priority preference on Adventure trips
Discount on equipment unless already offering discounts. The Online store prices are heavily discounted, so no further discounts will apply on those prices.
There is a cost of only $150 per year!
The year starts every July 1st so Become a Gold member now for the coming year!
We think this is a great offer, ideally suited to local divers who wish to dive alot, and with this, we hope you can enjoy more diving, more often!
Please follow us on our Jetty Dive Facebook page  and check out our not so regular Newsletter and Overseas Group Holidays.