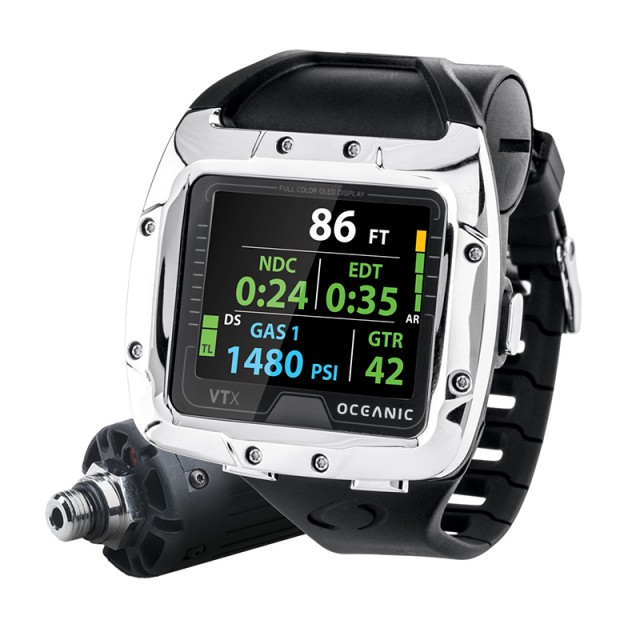 Oceanic VTX Dive Computer product review by Mike Davey.
When it was time to upgrade my Oceanic VT4 dive computer, I jumped at the opportunity to get the Oceanic VTX Dive Computer. After 10 months of use, I love the easy to use features and find it simple to understand, and yet I have a great full featured Wrist Computer.
It's colour OLED screen is the first thing that makes it easy to use. Clear information in Colour just makes it simple to follow. It has a battery saving feature that dims the screen, so it is not bright in your face when you don't want it. A simple press of a button and it brightens up to show all the information. This is a great computer if you are finding it is getting harder to read without Glasses!
The Oceanic VTX is air integrated, so using a transmitter on my Regulator first stage, my VTX gives me air pressure at a glance, and remaining air time as well. It has the ability to swap transmitters simply too. I also use the VTX as a back-up computer for my Hollis Explorer Re-breather. A push of two buttons and it's done, I love that!
Nitrox is not a problem either, easy to set and use. You can also gas switch from mix to mix if you want to.I have found that great when using 50% Nitrox as a deco mix.
The VTX computer has user replaceable batteries, which is needed as the OLED screen does use a bit of battery power, using the battery saver settings works well to reduce that use a lot. I recommend adjusting the settings to do that. After the dive, you can Bluetooth your dive log to your smartphone too, using the Diverlog  program
Click here for more details and prices from Jetty Dive on the Oceanic VTX Computer
Please note: The picture above has imperial settings shown. It is adjustable to Metric!
Extended VTX information also from Oceanic website