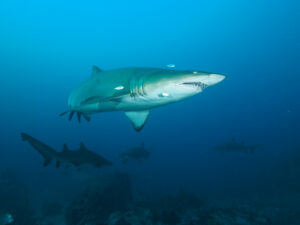 18th May 2018 – Fishy Friday at South Solitary Island!
After a few days out of the water due to rough seas, we were all itching to go diving today. Manta Arch was today's first port of call. Plenty of Grey Nurse, Black Cod, Lionfish, Trevally and Tarwhine were some of the highlights on our first dive. Taking advantage of the slight current, today's second dive…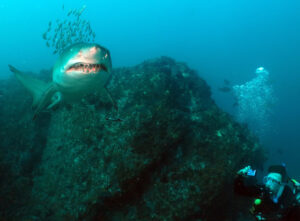 10th May 2018 – Samuel getting Certified amoungest Grey Nurse Sharks
After a smooth ride out it was decided Manta Arch would be the first dive site, you could see some of the Grey Nurse Sharks on the bottom so we knew the visibility was good. Two groups of divers descended down the mooring line one group headed down the trench to 30 metres to do some…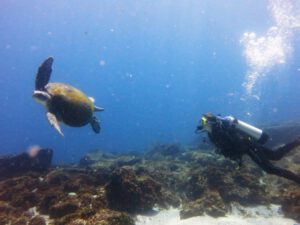 9th May 2018 – Blue Water At Manta Arch
After a challenging ride out we were greeted with clear blue water. Dive one was Manta Arch and soon as we dropped down the mooring line you could see the bottom and a couple of Grey nurse sharks were spotted hanging around the bottom of the line, The arch didn't disappoint a big school of Silver…
8th May 2018-Nice day at South Solitary Island
The trip to South Solitary Island was a bit bumpy, but once we arrived we had some calm conditions in the shelter of the island. Diving up Boulder Wall from South Boulder mooring the group found two Giant Cuttlefish , heaps of our normal fish-life and a Turtle cruising. The Navigation divers played with a Mantis…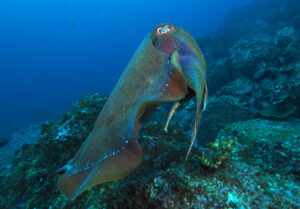 7th May 2018-Monday dive has Many Fish.
The Visibility dropped back slightly but brought all the fish with it at South Solitary Island today. With a milky look about it, Shark Gutters had loads of fish just floating about, seeming to block your view by the amount of them. We had everything from two Nudibranchs mating to Giant Cuttlefish at the Gantry. With…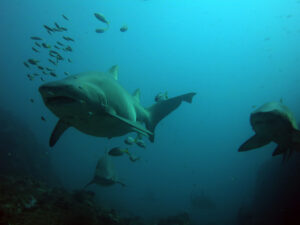 6th May 2018 – All the Critters at South Solitary Island
Up the northern end of South Solitary Island was by far the best location for both dives and protected from the southerly wind and swell. Dive one had everyone descend down Manta Arch and get amongst the Grey Nurse Sharks!! There was about 6-8 different Grey Nurse spotted with a few being very small juveniles, big…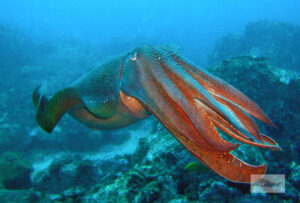 4th April 2018 – Certified Students Mix with Sharks and Turtles and Giant Cuttlefish
We had both Open Water and Advanced Open Water students on the boat today completing the last dives of their courses and with a steady northerly wind the surface conditions made things a little choppy but everyone handled them with ease. Buchanan's Wall was the first choice followed by a split drift dive on the second…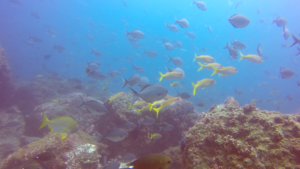 3rd May 2018 – Crystal Clear Water at South Solitary Island
After seven days out of the water divers were keen as to get out to South Solitary Island. We were greeted with Clear blue water, First dive was Manta Arch where at least ten Grey Nurse Sharks were sighted around the arch and down the trenches. Also an Eagle Ray glided passed Deb. After morning tea…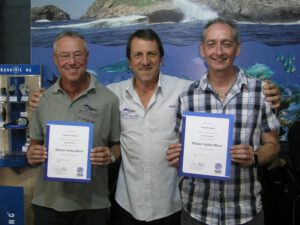 Highest PADI Recreational Qualifications go to Coffs Harbour Locals
Well after a crazy amount of completed PADI courses and hours of time underwater two Coffs Harbour locals Stephen Rayson and Brian Nilsson have achieved the highest PADI Recreational qualification that you can get and being named as PADI Master Scuba Divers!!! Stephen and Brian both started from the bottom and become PADI Open Water Divers…