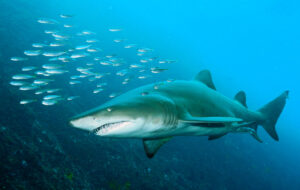 30th April 2017 – Perfect End To The Month!
It was a perfect end to April. After the recent strong southerly, the day opened up to our surprise. Both dives were at the northern end of South Solitary Island, first being Manta Arch where over a dozen Grey Nurse Sharks were sighted. The following was at Cleaner Station, spotting our resident Juvenile Clown Trigger Fish,…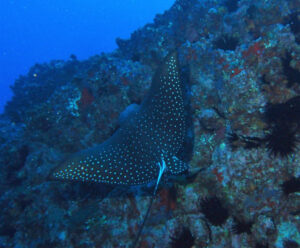 Tuesday 25th April – Wow! What a day of Diving at South Solitary!
Again we had great conditions for diving at South Solitary Island today. Manta Arch was full of Grey Nurse, plus two huge Eagle Rays! The Boulder Wall was today's highlight. Schools of Tarwhine, Goatfish, Bullseyes and Pomfrets by the thousands. Turtles, Black Cod and loads of Wobbegongs hanging out here too! Vis 15-20m, temp 23c.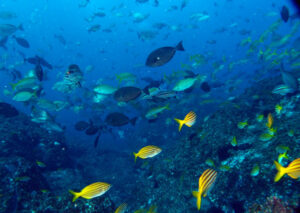 24th April 2017 – Fish Soup at South Solitary Island
South Solitary Island turned it up another notch today with two amazing dives! Our Divers jumped in at Manta Arch for the first dive of the day where they were lucky enough to get up close and personel with a handful of Grey Nurse Sharks. Two monster Wobbygongs were also spotted sitting on the ledge where…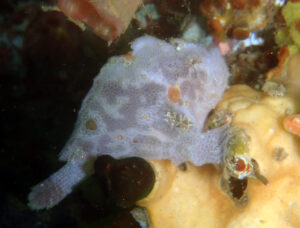 23rd April 2017 – Frog Fish Marching at Cleaner Cleaner Station!
Wildfin and 2 Wild set out for South Solitary Island this morning, filled with students and certified divers. The highlights from today's dive included Grey Nurse sharks aplenty at Manta Arch. Divers on both boats could not stop talking about the amount of fish life on Boulder Wall, schools of Barracuda, Sweetlip and Kingfish ruled the…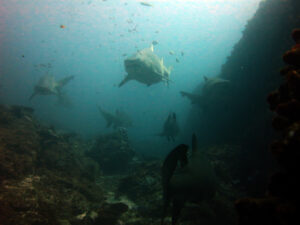 22nd April 2017 – Fish Soup on the Boulder Wall!
Once again, the diving at South Solitary Island was nothing short of impressive. The Grey Nurse Sharks at Manta Arch seem to be multiplying as our divers counted nine on their first dive. Dive two was spent exploring the Boulder Wall which seems to be hot property at the moment. The fish life here is simply incredible,…
21st April 2017 – Sharks Patrol Manta Arch!
Our divers were all smiles after two very awesome dives at the lighthouse today! Grey Nurse Sharks, Eagles Ray, Black Cod, Turtles, Barracuda, plus schooling fish everywhere! Vis 10m, temp 23c.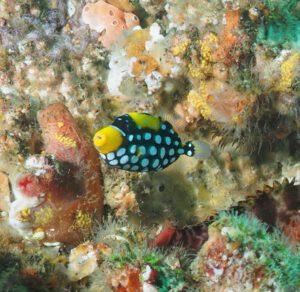 19th April 2017 – Certified Open Water Divers!
It was yet another great day at South Solitary Island! Certified divers were dropped in live at Manta Arch seeing a dozen Grey Nurse Sharks, then swam around to Cleaner station where our CHEC and Jetty High School kids were completing their last few dives as part of their PADI Open Water Course. Still loads to…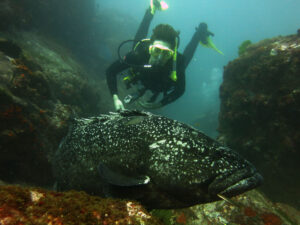 18th April 2017 – More Great Diving!
With a drop in swell, conditions were right for the Norther end of South Solitary Island. South Boulder Wall was the highlight today! We have never see that much marine life before! Visibility had improved, seeing over a dozen Grey Nurse Sharks, a Leopard Shark cruising, Orangutan Crab, Turtles, Eagle Rays, Giant Black Cods, swarms of Schooling fish,…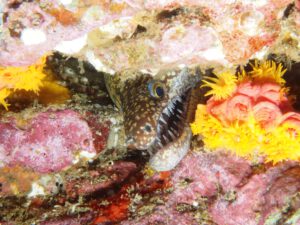 17th April 2017 – Easter Monday!
It was a perfect sunny day to end our Easter long weekend at South Solitary Island. With the current swell rolling around the Island, there were plenty of fish out and about feeding. First dive was at Buchanans Wall seeing a dozen wobbygongs swimming around, Moray Eels, Turtles, Trumpetfish, Painted Crayfish, Groupers, Black Cod, Blue Spotted Stingray,…