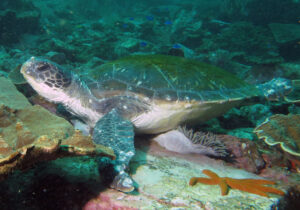 12th December 2016 – Turtle Mania at South Solitary Island
Calm seas and blue skies made for a magic day of diving at South Solitary Island. The visibility was quite patchy today, varying from 5-15m in some areas. Plenty of Turtles, Grey Nurse, Bullrays, Black Cod and schooling Jewfish were just some of the highlights! Temp 19c. Congratulations to Helena and Elsa on completing your PADI…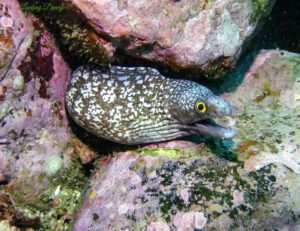 11th December 2016 – Certified divers thankful for clear water
Heading out to South Solitary Island there were a few of us were expecting limited visibility but Buchanan's Wall had a pleasant 10-15 metres, divers saw a few turtles, Black Cod and a very curious Numb-ray!!! Dive two had the certified divers descend on to 4-6 Grey Nurse hanging around Shark Gutters mooring before making a…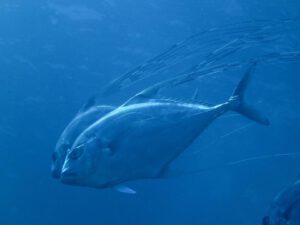 10th December 2016 – Bizarre looking Travelly visits South Solitary Island
We ended up going to both South Solitary and South West Solitary Island today in search of clear water. Dive one was at the northern end of South Sol, the amount of marine life there today was truly amazing with schools of Travelly, Pomfreds, some very odd looking Travelly and one big make Grey Nurse Shark,…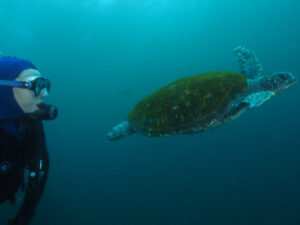 8th December 2016- Patchy water produces lots of variety.
Today looked like it could be great diving and clear water when we first arrived at South Solitary Island. Water looked blue at the Gantry in the gloomy overcast conditions. However the story changed when we descended, with patches of murky brown water mixing in with clearer warm water. Whilst the clarity of the water was…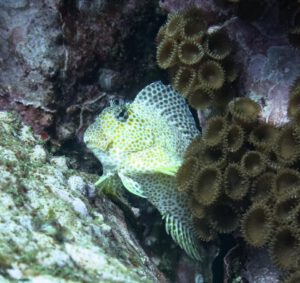 4th December 2016 – Divers enjoy blue water at South Solitary Island!
After a smooth ride out to South Solitary Island, we were excited to discover that the visibility had improved since yesterday. Jumping in at Manta Arch and Shark Gutters, our divers enjoyed a great first dive spotting Grey Nurse Sharks, schooling Kingfish, Tarwine, Goatfish and this little Leopard Blenny! Taking advantage of the current, dive two…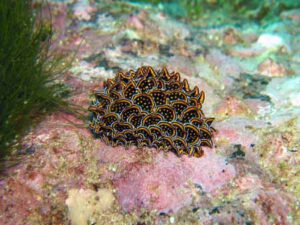 Saturday 3rd December – Escaping the heat at the Solitary Islands!
No better way to spend a Saturday then under the water at South Solitary Island! Both dives were great with our divers spotting Grey Nurse and Wobbegong Sharks, Black Cod, Moray Eels and two of these, very cool Nudibranches! Vis 10-12m, temp 19c.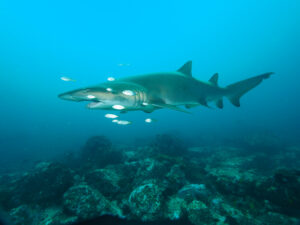 30th November 2016 – Wednesday Specials!
Divers had a jolly old time Under the sea today. The northern end of South Solitary was the pick of the day, jumping into Shark Gutters for some Grey Nurse Shark action, also a little Hawksbill Turtle, a Loggerhead Turtle, Wobbys, Nudis, huge groups of Schooling Fish, Black Cods, Eastern Blue Devil, Orangutang Crab, Bull Rays,…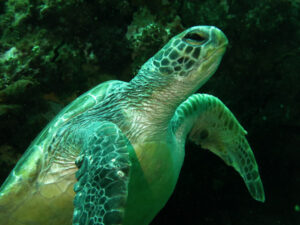 27th November 2016 – Two Islands in Two Dives!
Sheltered at Buchanans Wall, our divers dropped down for some close encounters with Barnie the Loggerhead Turtle, also more Turtles, Lionfish, Nudibranchs, Wobbygongs, Gropers, Moray Eel, Schooling Fish and many more. After the surface interval we decided to change Islands and head from South Solitary to Split Solitary Island, entering at Mike's Mooring, seeing baby Cuttlefish,…
26th November 2016 – Get Your Dive On!
Beyond the milky water South Solitary Island was full of life, from Grey Nurse Sharks to Turtles, Nudibranchs, Black Cods, Wobbygongs,Gropers, Schooling Fish, Eels, Orangutan Crab and many more sea critters. First stop was Cleaner Station, then moving from Cleaner to South Boulder for the second descend. Vis 8m Temp 20c