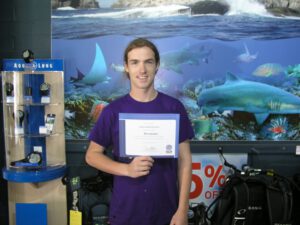 13th October 2016 – Callum becomes a PADI Dive Master
We would like to congratulate Callum Peutrill on becoming a PADI Dive Master today!!! Callum has been with us from day one back in September 2014 where he signed up for the PADI Open Water Course, then the PADI Advanced Open Water and the PADI Rescue Diver. Callum is also a Ski Instructor so he went…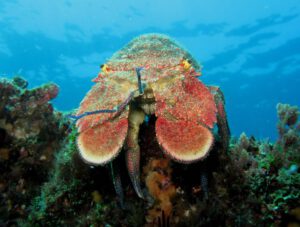 12th October 2016 – Whale Swims Within Meters of Divers!
After some windy conditions, the sea was calm enough for a sneaky mid week trip out to South Solitary Island. Shark Gutters was our first choice, where our divers had a Humpback Whale swim only meters away from them on the surface. We also saw Slipper Crays, Grey Nurse Sharks, Blue Gropers, Black Cods, Lionfish, Wobbys, Turtles…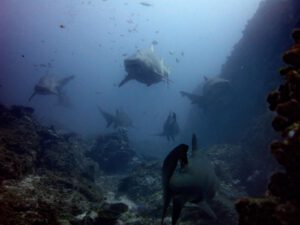 8th October 2016 – Sunny Saturday diving South Solitary Island!
Under a blue, sunny sky, we shot out to South Solitary Island this morning for two very amazing dives. Lots of Grey Nurse Sharks, schooling Tarwhine and Goatfish, Black Cod, Lionfish, Turtles and the list goes on! Vis10-15m, temp 19c. Still plenty of spots left available on tomorrow's dive. Give us a call to book on.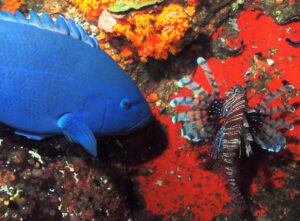 7th October 2016 – Hammerheads, Cow Nose Rays & so much more!
South Solitary Island put it on again today with more unusual sightings. First Dive was at Manta Arch and Cleaner Station, with a few Grey Nurse sharks at both. The first unusual sight was very close encounter with the large Fever (school) of Cow-nose rays at Manta Arch! Another unusual sight was a lone Hammerhead Shark…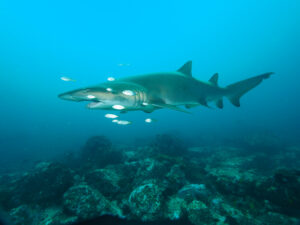 5th October 2016 – So Many Grey Nurse Sharks!
Despite the slight chop on the surface, our divers had two amazing dives at South Solitary Island. To hide from the wind, both dives were at Shark Gutter, where we were surrounded with Grey Nurse Sharks, 'Barnie' the Loggerhead Turtle, Schooling fish, Blue Groper, Black Cods, Nudis, Wobbys, Moray Eels and the list goes on. Conditions…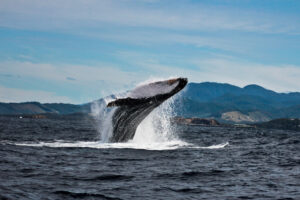 4th October 2016 – Windy conditions make Humpback Whales jump
We are not sure why but the Humpback Whales off the Coffs Coast love to jump when its windy. Our trips today had them Breaching, tail slapping, pectoral slapping and they came so close to the boat you could hear them breathing!! Very special to see these beautiful creatures so close, only a few weeks left…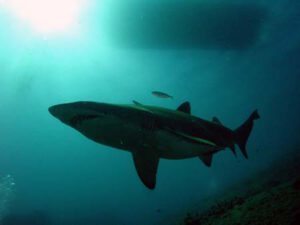 3rd October 2016 – Grey Nurse Sharks keeping in the shallows
We bounced our way out to South Solitary Island this morning for 2 brilliant dives. Dive one was a live drop from the southern end of the island around to Buchanan's Wall, there was a few big Wobbygongs and a large Green Sea Turtle near the line. Dive 2 was an amazing drift dive from Shark…
2nd October 2016 – Hammerhead Sharks & Cownose Rays!
Today was another great day of diving at South Solitary Island. The clam sea made for a smooth trip out, also spotting a couple of Humpback Whales splashing about on the surface. Our first dive of choice was at Manta Arch where Hammerheads and a fever of Cownose Rays were seen. Also loads of Grey Nurse…
2nd October 2016 – Hammerhead Sharks & Cownose Rays!
Today was another great day of diving at South Solitary Island. The clam sea made for a smooth trip out, also spotting a couple of Humpback Whales splashing about on the surface. Our first dive of choice was at Manta Arch where Hammerheads and a fever of Cownose Rays were seen. Also loads of Grey Nurse…