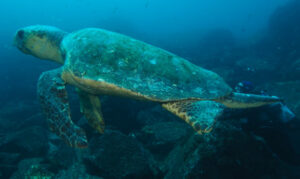 18th July 2016 – Grey Nurse Sharks loving the winter waters
Yet another superb day out at South Solitary Island today with a about 20 Grey Nurse Sharks sighted at Manta Arch. The certified divers spent their entire dive getting up close with these docile animals while the Open Water students were at Cleaner Station doing exactly the same because there were 5 Grey Nurse sharks in…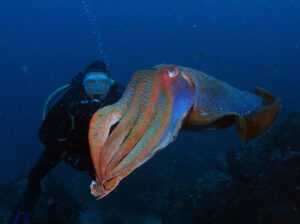 17th July 2016 – Giant Cuttlefish at South Solitary Island
We were finally back out getting amongst the Grey Nurse Sharks at South Solitary Island! Dive one had the first time divers get in at Cleaner Station and the Advanced divers go a little deeper at Manta Arch, both sites had loads to see with good numbers of Grey Nurse Sharks in Cleaner Cave and under…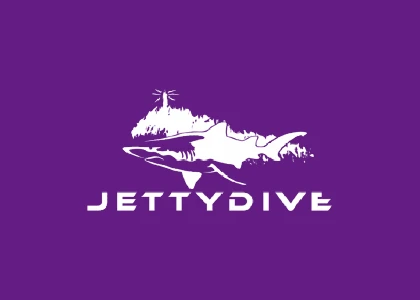 15th July 2016 – Winter Diving at it's best!
Enjoying the big boat comfort of "Wild Fin", we shot out to South Solitary Island for two amazing dives. First up was Manta Arch. Descended down the mooring, our divers could see 6 or so Grey Nurse schooling on the bottom. Black Cod, schools of Trevally and our good friend Barney the Loggerhead were all out…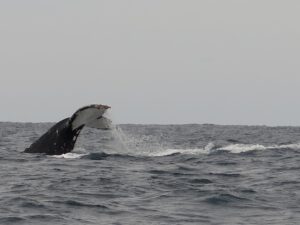 Plenty of Humpback whales heading north up the Australian East Coast
We managed to get an 11am Whale Watch out today although it was a little cold and bumpy the whales still put on a show with a pod of 5 whales heading north, splashing around and enjoying the cool breeze. This photo was taken today of a Humpback Whale about to go for a dive!!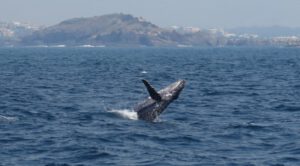 Baby Humpback Whale born on the Coffs Harbour Coast!!
Yesterday we ran three Whale Watching trips with every trip getting up close with some Humpback Whales. Although not all the trips had breaches there was plenty of tail slaps, pectoral slaps, and one spy hop!! Our 2pm trip was very lucky to see a newly born Humpback Calf, this little guy was first seen as…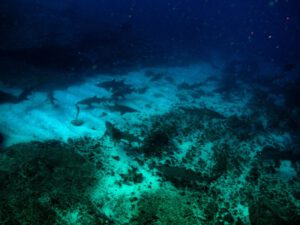 4th July 2016 – Gaggle of Grey Nurse call South Solitary home!
Excited by the blue water, our divers jumped in at Manta Arch for the first dive of the day. Descending down the mooring we could see the Grey Nurse in large numbers patrolling the bottom. Dive two was a leisurely swim from the Cleaner Station to South Boulder Wall. More Grey Nurse, some big Black Cod,…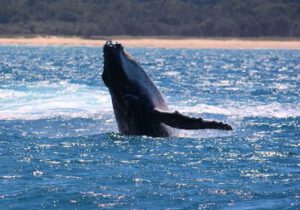 3rd July 2016 – Amazing day of Whale Watching with Jetty Dive!
This afternoons whale watch was nothing short of amazing! After a short steam east of the harbour we arrived next to a pod of two Humpbacks who were sun baking their bellies in the winter sun. Following these guys north, we watched them jump, tail slap and spy hop for the next hour!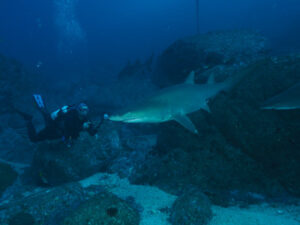 3rd July 2016 – Grey Nurse Sharks cover the bottom at South Solitary Island
Today's dives at South Solitary Island were amazing, there was plenty to see on both dives and the visibility was about 15-20m, making up for the cooler 19C water temp. Dive one had a carpet of Grey Nurse Sharks covering the bottom as everyone descended which looked awesome!! Mike and Deb counted around 30 of them. Dive…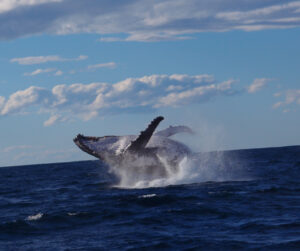 2nd July 2016 – Breaching Whales off the Coffs Coast
It was a beautiful day for watching whales out off the Coffs Harbour Coast. Our 2pm trip was full of excited customers keen to see some Humpback Whale action!!! We had lots of breaches, tail slaps, pectoral slaps and tails rolls, Everyone was lucky enough to see a very large whale fully clear itself from the…