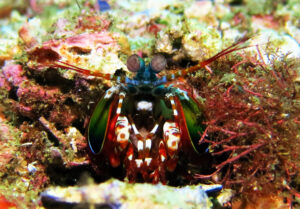 17th April – Mantis Shrimp out and about!
With the weather on our side, our first stop was at Manta Arch mooring where we dropped off some of our more experienced divers to swim to Cleaner Station. Grey Nurse Sharks were spotted around the arch, along with a playful Mantis Shrimp, a rare Leaf fish, Blue Angle Fish, Turtles and many more. The second…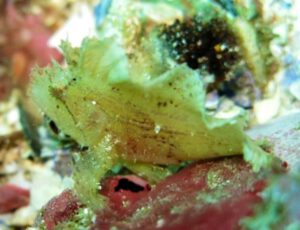 16th April -Rare Leaf fish seen again at South Solitary Island
With Calm conditions and a slight swell, South Solitary Island did not disappoint today. Manta Arch had a small number of Grey Nurse Sharks and Cleaner Station showed a vast amount of fish schooling. The tops of the diving was Boulder Wall with it's masses of fish including Tarwhine, Pomfreds and the odd Huge Black Cod.…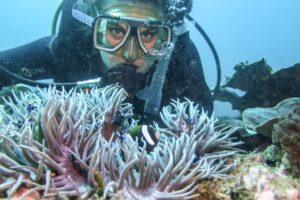 14th April 2015 – SW Solitary Island with 15m visibility
The swell having shifted around to a more easterly, made it very limited to where we could dive, we put our bets on South West Solitary Island and it was a good one. We jumped in at Surprise mooring for both dives and it did not disappoint! While the Advanced Open Water students did their Navigation…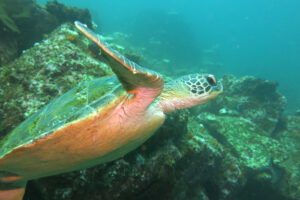 13th April 2014 – Turtles and Wobbygongs roam the bottom
Yet another great morning diving at South Solitary Island. The visibility had improved slightly from yesterday but so had the wind unfortunately, although that didn't effect our divers exploring underwater. Dive one had the Advanced students and the certified divers at Manta Arch while the Open Water Divers jumped in at Cleaner Station. Dive two we…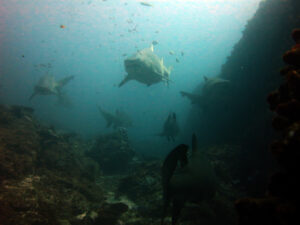 12th April 2016 – Grey Nurse Sharks crowd Manta Arch gutters
Wildfin was loaded with some keen divers this morning as we went out to South Solitary Island for a couple of dives. We jumped in up the top end of the island for both dives to hide from the cool southerly winds, there was so much to see including Mantis Shrimp, Numbrays, Lionfish, Octopus, Spanish Dancers,…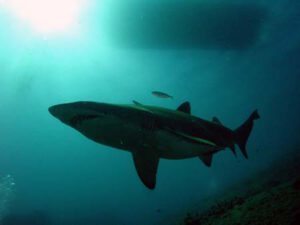 10th April 2016 – Cool water brings back the Grey Nurse Sharks
After a long time with water too warm for our beautiful coral to handle we have finally got some cooler water to bring things back to normal. Both dives today were great with loads to see including Wobbygongs, Abbots Moray Eels, Lionfish, Turtles and Blue Tangs, also big schools of Pomfreds, Tarwhine and Stripeys at Cleaner…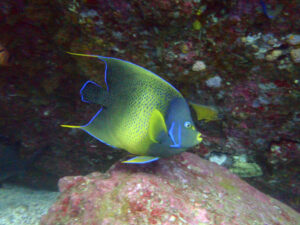 9th April 2016 – South Solitary humming with life!
After two days out of the water it was great to be diving once again at South Solitary Island! Although the vis was a little basic, it didn't deter the amount of marine life spotted by our divers. Shark Gutters was humming with life, Black Cod, Kingfish, schooling Surgeon Fish, lots of Turtles and plenty of…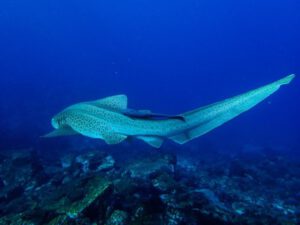 6th April – Happy Birthday Mike!
It was another great day out at South Solitary Island. With a small group on the boat and Mike and Deb out for mike's birthday, we started the first dive at Buchanans Wall where we were sheltered from the northerly winds. Our divers saw schools of Fusiliers, Barracuda, Shovel-nose Shark, Eagle Ray and plenty of Turtles.…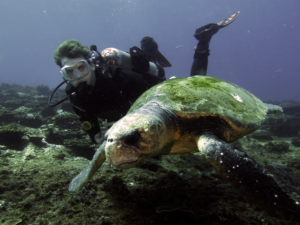 3rd April 2016 – Sunday Funday Dives at South Solitary
South Solitary Island put on an extra special show for us today! Sheltered from the southerly breeze the northern end of the island was the place to be! Grey Nurse Sharks, Black Cod, Bullrays, Jewfish, Turtles, Yellow Box Fish and a very friendly Remora were just some of the highlights on dive one. After a pleasant…