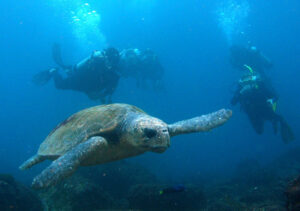 25th February 2016 – Plenty of Turtles at South Solitary Island
The dives today at South Solitary Island were awesome, Buchanan's Wall was the first dive followed by a casual swim on the second dive from Buchanan's Wall to The Gantry. So much to see on both dives including Nudibranchs, Lionfish, Spotted Sting-rays, Kingfish, two Guitar Rays near The Gantry and lots of Turtles throughout dives one…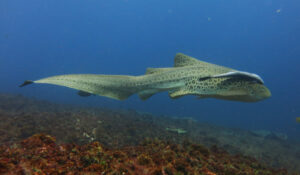 21st February – Grey Nurse and Leopard Sharks at South Solitary Island!
Today our divers experienced South Solitary Island at it's best! From Grey Nurse Sharks to Leopard Sharks the certified divers dropped in at Manta Arch, then swimming through the gap and ending at the Gantry where our Discover Divers were experiencing their first underwater dive. We also uncounted Moray Eels, Eagle Rays, and Turtles. For our…
20th February 2016 – "Spot" the friendly Leopard Shark swims with divers!
Today's dives at South Solitary Island were nothing short of amazing. Hiding from the NE breeze our divers enjoyed their first dip at Buchanan's Wall. Lots of schooling Kingfish, Amberjack, Cobia and even a few Bronze Whalers were spotted on this dive. Cruising around the shallows of Buchanan's Wall, our divers discovered the friendliest of Leopard…
19th February – East Australian Current (EAC) at South Solitary Island
With some big swell and northerly winds Wild Fin braved the seas to dive South Solitary Island today. After assessing the conditions we decided to dive Buchanans Wall first, where our Open water Advanced students completed their deep dive as part of their course. Plenty of fish were seen including a Shovel nose Ray aka 'Scooter',…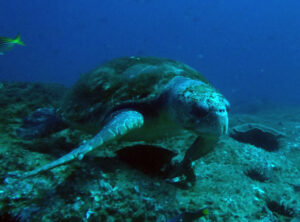 18th February – Loggerhead Turtle Feeding at South Solitary Island
With a small group of divers we were able to cruise on out to South Solitary Island, following the warm blue water. Over the past couple of days the swell had stopped us from diving the northern end of South Solitary, however today we were able to dive cleaner station for our first. The highlight of…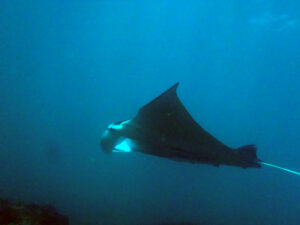 16th February – Manta Ray at Split Solitary Island
What a day! It doesn't look like this warm blue water is going anywhere fast. To protect us from the rolling swell we decided to dive at Buchanan's Wall for our first. Our divers saw plenty of fish including a Cuttlefish, Octopus, Painted Lobster, Turtles and schools of Bullseye. For our surface interval we made way for split…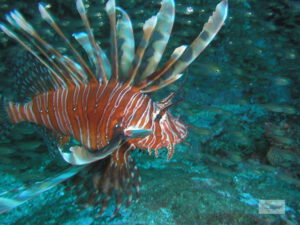 14th February – Sunday Fun Day at South Solitary Island
It was another Beautiful blue day out at South Solitary Island. Buchanans Wall was full of life for our first dive, including Lionfish, Eagle rays, Sweep, Snapper and Tarwhine. Over the past couple of days we have had a raging current, however today it was non-existent. The second dive was at Cleaner Station where our divers…
13 February 2016 – East Australian Current at our back door step
The big southerly pumped through last week which pushed the EAC (East Australian Current) really close to the Coffs Coast. The water today at South Solitary Island was amazing!! Crystal clear 25m Visibility and a toasty 25C, loads to see on both dives with some large schools of Tarwhine and Travelly up the top end combined…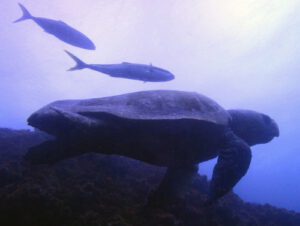 12th January 2016 – Warm Blue Water at South Solitary Island
After a week of strong winds and big swell, we were keen to get back into the water. With blue water on the trip out to South Solitary, we were exited to jump in at Buchanan's Wall for our first dive. Buchanan's had plenty of action under the water, seeing Turtles, Rays, Lionfish, Wobbys, Snapper, Eels,…