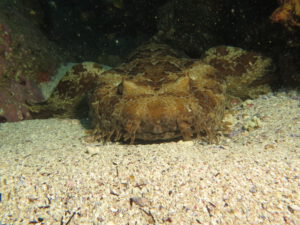 9th December 2015 – Australian Army Men are PADI Open Water Divers!!!
With a double run out to South Solitary in the morning and Split Solitary in the afternoon all hands were on deck at Jetty Dive Centre!! The morning and afternoon dives were both really good with plenty to see, although the visibility at Split was not as good as South Solitary everyone had a blast on…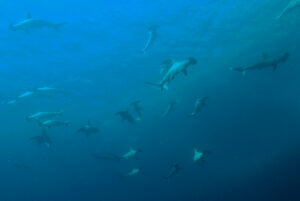 8th December 2015 – Over 100 Hammer Head Sharks at South Solitary Island
Hammer Head Sharks!!! What a day out at South Solitary Island, along with the 100+ Hammer Head Sharks the clear water off the coast at the moment is magic and the water temperature at South Solitary Island was 23.8C on the surface. Both dives had a range of different things to see including Turtles, Wobbygongs, Blue…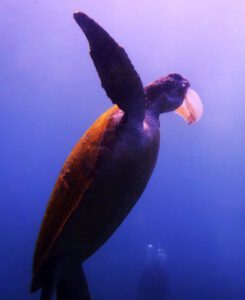 7th December 2015 – Grey Nurse, Turtles and so much more!
There is no better way to kick off the week than with a dive at South Solitary island. Swimming through Manta Arch, our divers spotted half a dozen Grey Nurse Sharks and a school of Cow Nose Rays. A small group of Hammerheads could also be spotted in the distance. Buchanan's Wall was the hang out for…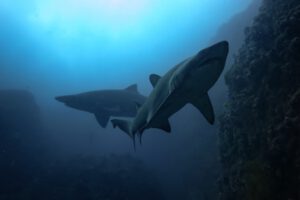 6th December 2015 – 25m Visibility @ South Solitary Island
What a day to go diving! South Solitary Island put on an amazing show for us today. Swimming through crystal clear water, our divers spotted Grey Nurse Sharks, Schooling Cow Nose Rays, Black Cod, Jewfish, Mangrove Jack and a pack of Hammerheads patrolling the boulder wall! Congratulations to Cameron and Elizabeth on completing their PADI Open Water…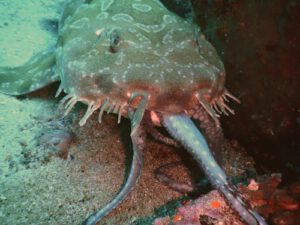 5th December 2015 – Clear waters of the Coffs Harbour Coast
We were treated to beautiful blue water at South Solitary Island today. Both dives were on the northern end, although the surface was a little lumpy once underwater it was amazing!! The Cleaner Station gutter was inhabited with half a dozen Grey Nurse and plenty of Nudibranches hanging on the wall. Our divers also spotted schooling Bullseyes,…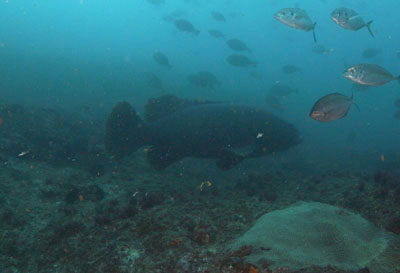 28th November 2015 – Grouper at Groper!
After a bumpy ride out to South Solitary Island, we slipped in at Buchanan's Wall for our first dive of the day. Descending down the mooring, our divers spotted "Barney" the Loggerhead Turtle swimming with another Loggerhead, maybe she has found true love. Searching for calmer seas, we decided to head to Groper Island for dive…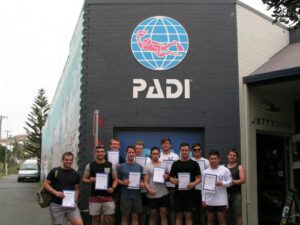 27th November 2015 – Aussie Soldiers now open water divers!
A select group of Soldiers from the Australian Army's 8/9th Battalion, the Royal Australian Regiment took the week off from their normal duties to complete the PADI Open Water Diver Course. Today was their final day of training which included 2 dives at Muttonbird Island. Though the visibility was a little basic a lot of marine…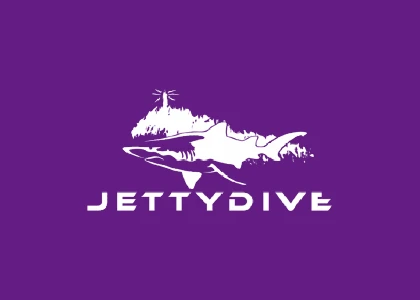 26th November 2015 – Plenty to see at Split Solitary Island!
Hiding from the northerly breeze, Split Solitary Island was our pick for today's dives. Our divers spotted a Grey Nurse Shark which was a pleasant surprise as these guys are not commonly seen at this Island. Today's other highlights included a sleepy Green Turtle, Lionfish, Crested Horn Shark, some big Wobbegongs and a variety of beautiful…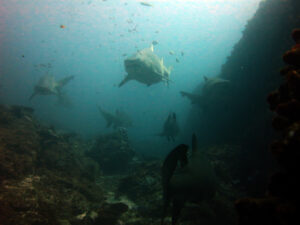 24th November 2015 – Grouper, the place to be for grey nurse!!
Today "Wildfin" cruised out to Southwest Solitary Island for our trip. both dives were at Coral Gardens mooring. For the first dive, the open water course dived the gutters in the shallows and advanced course did their navigation dive further to the west. over the course of the dive over 11 grey nurse were seen, mostly…