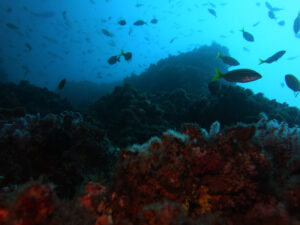 30 March 2015 – Pimpernel Rock!!!!!! Manta Ray!!!!
[vc_column width="1/2"]Today we took Wild Fin all the way to Pimpernel Rock for the Solitary Island Marine Park to do some research on Black Cod, Fish, Grey Nurse Sharks and Debris in the Marine Sanctuary Zone that is there. During the first dive we counted around 10-12 Black Cod and one MONSTER Queensland Groper which had…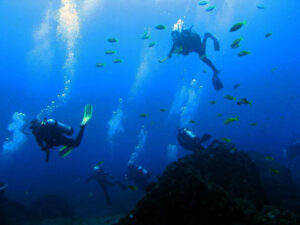 29 March 2015 – Improving visibility everyday!!
[vc_column width="1/2"]We did not think the visibility or conditions could of got any better than yesterday but South Solitary Island was spectacular today!!! Mike dropped half of the happy customers at Manta Arch and Half at Shark Gutters where they seen about 6 Grey Nurse Sharks, Turtles, Eagle Rays, and Wobbygongs roaming the bottom everywhere. Once…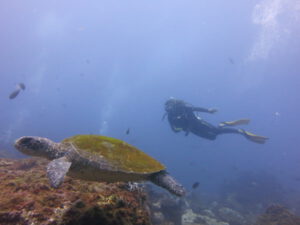 28 March 2015 – 30 m Visibility, 26 degrees at South Solitary Island
[vc_column width="1/2"]Yet another outstanding day blowing bubbles!!! South Solitary Island treated us with amazing visibility and a balmy 26C water temperature!! Dive one was at Manta Arch and the divers could clearly see the bottom (26m) from the surface, roughly 6 Grey Nurse Sharks were seen under the Arch, Black Cod, Sweet-lip, and a baby Lion…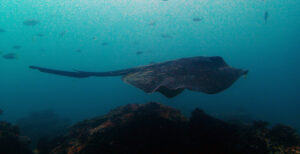 26 March 2015 – Snorkel trip to South Solitary Island
[vc_column width="1/2"]This morning was a lot calmer than the last couple of days we have had, there was 8 Snorkelers on the boat and only one scuba diver!! We tied up to Shark gutters mooring for the first Snorkel/Dive the surface was a little lumpy and we had a couple of sickies but under the water…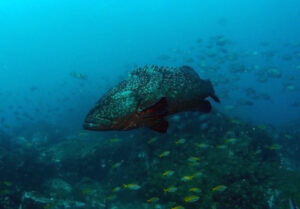 23 March 2015- Magic Monday! Fish Everywhere
[vc_column width="1/2"]After a rainy and bumpy start to the day, the sun came out and everyone had two great dives. With Sharks at Manta Arch, and Black Cod out in big numbers, it was certainly a Big Fish day. Loads of fish all around both dives with a Big Shovel-nose Ray and Eagle Rays on the…
Sunday 22nd March – 30 m Visibility sticking around at South Solitary Island
[vc_column width="1/2"]With the hope that the 25-30m visibility was still around we steamed out to South Solitary Island for a double dive!! The surface conditions were not flash at all but under the water was beautiful!! Dive one the certified divers done a one way swim from Manta Arch to Shark Gutters, around 6 Grey Nurse…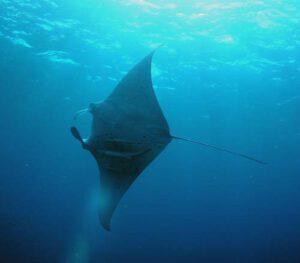 20 March 2015 – Manta Spotted @ South Solitary Island!
[vc_column width="1/2"]MANTA RAY!!!!! Yes our divers were lucky enough to spot a small Manta Ray cruising around the crystal clear waters of South Solitary Island today. Apart from the Manta, our divers swam with another Leopard Shark, Grey Nurse Sharks, Black Cod, a HUGE Shovel Nose Ray and a squadron of Eagle Rays! Nice on top today. Temp…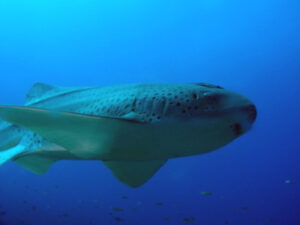 19th March 2015 – Another Leopard Shark @ South Solitary
[vc_column width="1/2"]After a few days out of the water it was great to get back out diving today. Arriving at South Solitary Island our divers were pleasantly surprised with the crystal clear 26 degree water. Turtles, Black Cod, Lionfish, Eagle Rays, Grey Nurse Sharks and even a Leopard Shark were spotted today! Lovely on top today!…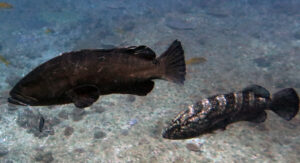 15 March 2015 – South Solitary has 30m plus vis and 26 degree water temp
[vc_column width="1/2"]30m plus visibility and 26 degree water temp says it all!!! Apart from the warm, clear water the other highlights of today's diving at South Solitary Island were the amount of marine life spotted by our divers. Eagle Rays, Lionfish, Trevally, Turtles, Black Cod and so much more. This photo taken today is of a…