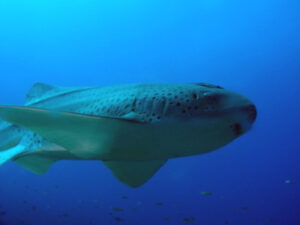 19th March 2015 – Another Leopard Shark @ South Solitary
[vc_column width="1/2"]After a few days out of the water it was great to get back out diving today. Arriving at South Solitary Island our divers were pleasantly surprised with the crystal clear 26 degree water. Turtles, Black Cod, Lionfish, Eagle Rays, Grey Nurse Sharks and even a Leopard Shark were spotted today! Lovely on top today!…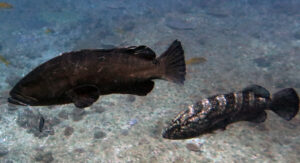 15 March 2015 – South Solitary has 30m plus vis and 26 degree water temp
[vc_column width="1/2"]30m plus visibility and 26 degree water temp says it all!!! Apart from the warm, clear water the other highlights of today's diving at South Solitary Island were the amount of marine life spotted by our divers. Eagle Rays, Lionfish, Trevally, Turtles, Black Cod and so much more. This photo taken today is of a…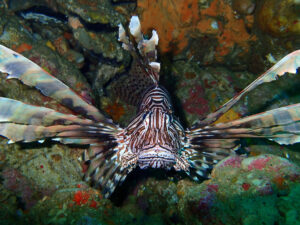 9th March 2015 – Cool waters in at Split Solitary Island
[vc_column width="1/2"]South Solitary Island today did not have the best surface conditions but everyone made the most of the relaxed conditions under the water. Dive one was at Buchanans Wall due to the massive current up the top end. Our divers seen a few Wobbygongs, Stingrays, and some big Black Cod. Dive two we headed into…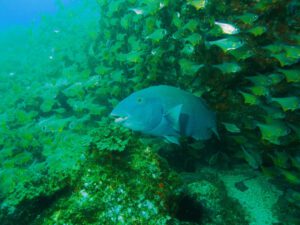 8th March 2015 – So many fish!
[vc_column width="1/2"]Today the visibility was a little down, but the fish life was Up at Manta and Cleaner Stn.! 6 Grey Nurse at the Manta Arch with two very pale males, almost albino in colour. Myriads of other fish hugging the rocks, hiding from the roaming Kingfish. Dive two saw another Nurse around Cleaner Station and 5 Black…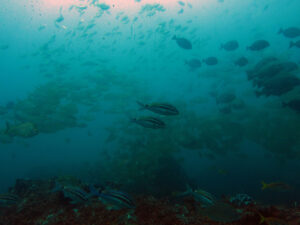 7th March 2015 – South followed by Split Solitary Island
[vc_column width="1/2"]With no more than 4 knots wind this morning it made a pleasant trip out to South Solitary Island!! Dive one took us to Manta Arch which we have not dived in about 4 weeks. There was about 6 Grey Nurse Sharks in the Arch, Large Black Cod and a beautiful Lion-fish near Cleaner Station…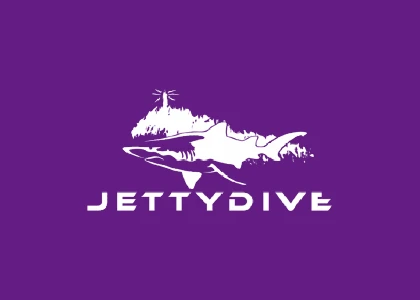 1st of March 2015 – Fish soup on Boulder Wall
[vc_column width="1/2"]Yet another great day out at South Solitary Island!! Dive one today was at Buchanan's Wall where our divers seen plenty of Moray eels, Big Blue Groper, Black Cod, Turtles and much more. Dive two was a ripping drift dive from Sharks Gutters around to The Gantry. Visibility up the top end wasn't the best…
28th February 2015 – 25m Vis, 26 Degrees at South Solitary Island!
[vc_column width="1/2"]What a day of diving! Soooo much to see at South Solitary Island! Eagle Rays, Turtles, HUGE Black Cod, Moray Eels, Kingfish, Trevally and much much more! Vis a massive 25m at the northern end of the island! Temp a toasty 26C on the bottom! Lovely on top today Temp 26C Vis 25m [vc_column width="1/2"]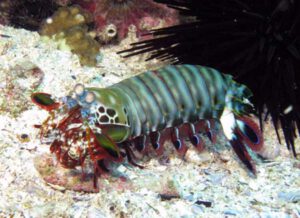 27th February 2015 – Divers enjoy Blue Water @ South Solitary!
[vc_column width="1/2"]Calm seas made for smooth sailing aboard "Wildfin" to South Solitary Island this morning. Buchanan's Wall made for a great first dive. All the usual suspects were out and about including Lionfish, Black Cod, Green Turtles, Moray Eels and even a small Mantis Shrimp! Shark Gutters was our second port of call. More Turtles, schooling…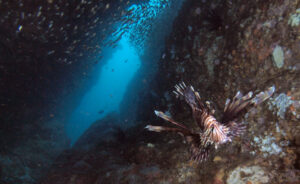 26th February 2015 – Back in the Water @ South Solitary Island
[vc_column width="1/2"]After a week of no diving due to poor weather we were all itching to get back in for a dive today! Buchanan's Wall was today's first dive site. Turtles, Black Cod, Lionfish, Moray Eels a cheeky Octopus and a Dart Goby were the highlights on this dive. Everyone's favorite drift dive from Cleaner Station…