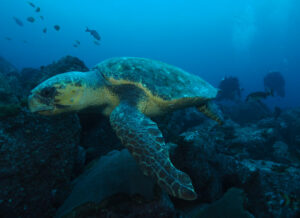 Saturday 1st December – Summer Is Here!
The first day of Summer did not disappoint as the conditions at South Solitary were amazing today. The water temp is now up to 23 degrees and the visibility 20-25 meters! Turtles, Grey Nurse Sharks, Black Cod and another Hammerhead sighting were the highlights on dive one! Dive two was spent enjoying the Boulder Wall. Lots…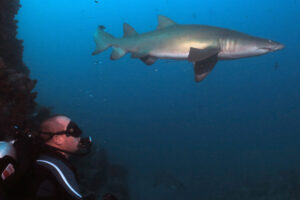 25th November 2018 – Lonely Hammerhead watches over divers!
With "Wildfin" loaded with excited divers, we shot out to South Solitary Island. Dive one was at Shark Gutters. The mild current seemed to attract plenty of life including one lonely Hammerhead Shark which swam high above our divers. Lots of Grey Nurse, Turtles, Black Cod and Lionfish added to the highlights. Taking advantage of the…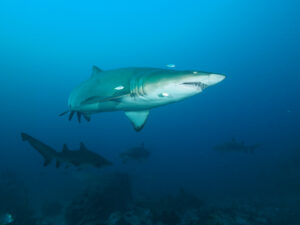 24th November 2018 – Grey Nurse Sharks out in numbers
The endangered Grey Nurse Sharks were defiantly the talk on the boat today as most of them were very interested in our divers and some coming in for a much closer look!!! Both of the dives today were up the northern end of the island as this was the most protected location from the increasing swell.…
23rd November 2018 – South and Split Solitary Island Dives
We had 2Wild venture out to South Solitary Island with certified divers and Advanced Open Water Students while Wildfin went to Split Solitary Island with the Open Water Students and some snorkelers. Once the westerly picked up it made the surface a little choppy but the visibility at both islands was still 15-20m. Plenty to see…
20th November 2018 – Hammerheads!!!
We had a slight feeling that Hammerhead Sharks were going to be in the area at South Solitary Island and some divers were lucky enough to see a school of 20 at Manta Arch on dive one!! We also had Black Cod, Octopus and about 15 Grey Nurse Sharks around the back gutter (we think hiding…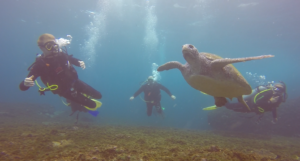 19th November 2018 – Open Water Students Mix with Turtles
South Solitary Island still had beautiful, warm, clear water today and plenty to see!! Dive one was at Buchanan's Wall for the certified divers while the Open Water Students jumped in the shallows at The Gantry, Wobbegongs, Turtles, Blue Tangs, Nudibranchs and Lionfish were just some of the marine life spotted. Dive two was a drift…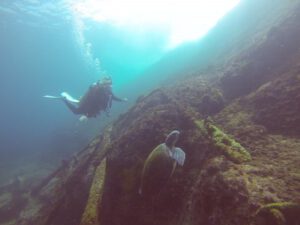 17th November 2018 – 30m visibility and 24C
The Blue, warm water has arrived!!! We had some amazing conditions today at South Solitary island as we could see the Sharks on the bottom at Manta Arch and a much needed 24C water temp. Dive one was at Manta Arch which had about 10 Grey Nurse Sharks, One lonely Hammer Head Shark a huge Bull…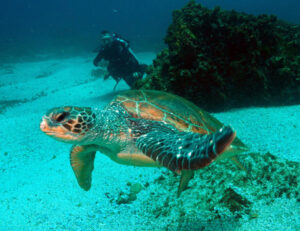 16th November-Another great day of action at South Solitary Island
With students of Christian Community School and certified Divers, we had to great dives with plenty to see. Dive 1 at Shark Gutters was with around 10 Grey Nurse Sharks in the shallows and the gutters of the northern end. Our Anglerfish is still just hanging around as well as a great oversized nudibranch, all in…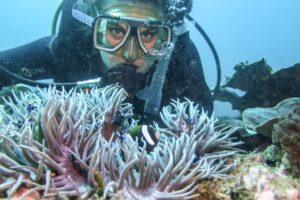 15th November 2018 – Awesome Conditions at South Solitary Island
Again the diving at South Solitary Island was spectacular today! Blue water has flooded the island and along with it has come lots of life! Eagle Rays, Grey Nurse Sharks, Bull Rays and Turtles were just some of the highlights. Lenny the Blenny also made an appearance! Vis 20-25m, temp 21c