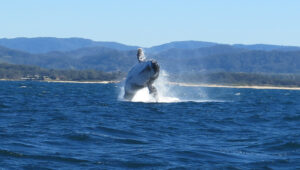 22nd July 2018 – Breaching Whales for both Wildfin and 2Wild
We had a brilliant day today Whale Watching on the Coffs Coast!! over the day we saw a number of different Humpback Whales migrating north and even the odd one heading south already. All three trips today had plenty of action with Tail Slaps, Pectoral Slaps, Spy hopping and some huge full body breaches!!
21st July 2018 – Grey Nurse Sharks Crowd Manta Arch
It was great being out at South Solitary Island again getting amoungest our amazing marine life!! Dive one was at Manta Arch where we had plenty of Grey Nurse Shark action with roughly 25 Sharks cruzing in the depths and a chilled out Loggerhead Turtle finding a place to nap. Dive two we decided to head…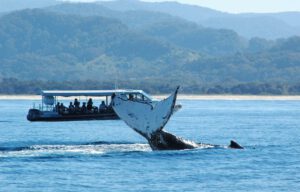 18th July 2018 – Happy Humpbacks in the Winter Sun
We had a magic day today with amazing surface conditions and Humpback Whales everywhere. Wildfin and 2Wild both ran three trips today and we spotted at least 8 Whales on each trip. We had lots of tail slaps, Pectoral Slaps and some breaches on the 2pm trip. Photo taken today by Raquel with Wildfin in the…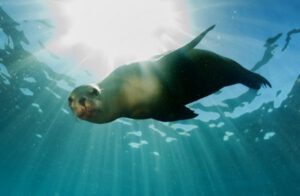 14th July 2017 – Fur Seal Swims With Divers
We had a great couple of dives today at South Solitary Island!!! Dive one had everyone amazed as they got to the bottom of the mooring line to have a Fur Seal swim with us for about 2-3 mins!!! We also had a school of Eagle rays, swimming Wobbegong Sharks, Lionfish, Green Sea and Hawksbill Turtles,…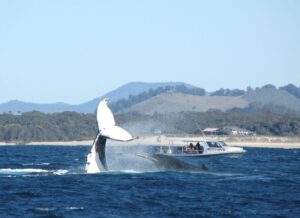 13th July 2017 – Six Whale Watching Trips to start the Weekend
With the combination of the Humpback Whales annual migration north to warmer waters and the NSW school holidays we were super busy today with both our boats Wildfin and 2Wild running a total of six trips!! Every trip had its special highlights including the Humpbacks swimming under the boat, Breaching, Tail and Pectoral Slapping, Spy Hopping…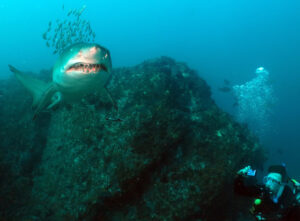 Thursday 12th July 2018 – Great Vis and Plenty to See!
Today's conditions were epic! Crystal clear water and calm seas made for great diving at South Solitary Island. Fifty or more Grey Nurse Sharks could be seen around Manta Arch and the northern end! Loggerhead Turtles, Giant Cuttlefish, Eagle Rays, Spanish Dancers, Octopus, lots of Black Cod, schooling Trevally and so much more! Vis 25-30m, Water…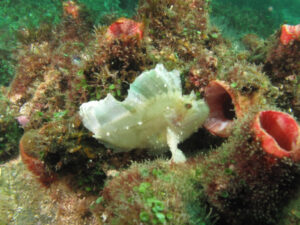 11th July 2018 – Leaf Fish becoming local at South Solitary Island
We had another great day at South Solitary Island today with Dive one at Manta Arch and dive two was from Cleaner Station down to South Boulder. These dives had plenty to see including Eagle Rays, Giant Cuttlefish on Boulder Wall, 15 Grey Nurse Sharks at Manta Arch, Loggerhead Turtles, Nudibranchs and Bubble Shells, Lionfish and…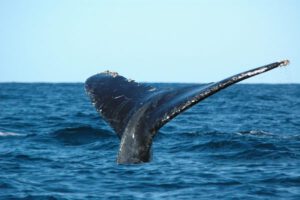 8th July 2018 – Show us Your Tail Whale
With the ocean being a lot calmer than expected we ventured off the Coffs Coast in search of Migrating Humpback Whales!! Once out of the Harbour we found some straight away that were steaming north. Throughout the day we had saw roughly 30-40 different whales!! We had no Breaches but plenty of the Humpbacks showing off…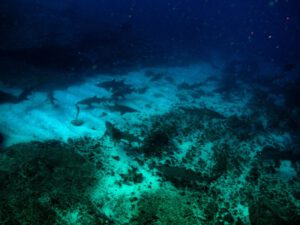 7th July 2018 – Grey Nurse Sharks Galore at South Solitary Island
We had an awesome day today at South Solitary Island with loads of Grey Nurse Sharks at both dive sites. While dive one at Manta Arch had plenty of Grey Nurse Sharks and a monster Giant Cuttle Fish!! Dive two had schools of Trevally, Kingfish, Wobbegong's on the move, Grey Nurse Sharks around the Sanctuary marker…