Wednesday 22nd November – Midweek Snorkel to the Solitary Islands
South West Solitary Island was the ideal site for this mornings snorkel and dive. The Snorkelers were inundated with schooling Sweep, Tarwhine and Mado while the divers hung out with Wobbegongs, Blue grouper and a Grey Nurse Shark! Vis 10-15m, temp 20c.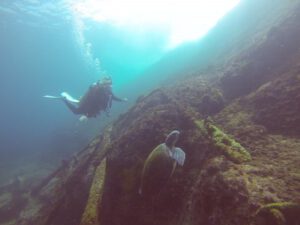 19th November 2017 – Turtles Everywhere!
We were lucky to get today's dives in before the wind and swell picked up. Upon arrival, South Solitary Island held the nice blue water for our first dive at The Gantry seeing so many Turtles, including a Green, Hawksbill and Loggerhead. For the second dive we took advantage of the current and drifted from Shark…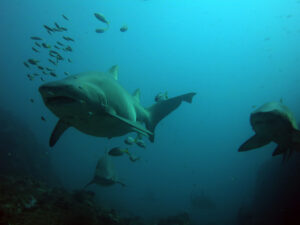 18th November 2017 – Huge Female Grey Nurse Surprises divers
Once we punched through the NE chop to get to South Solitary Island Buchanan's Wall was the first choice, our divers saw a very sleepy Green Sea turtle, Blue Gropers, Nudibranchs and Blue Tangs. Dive two was a drift around to The Gantry, everyone loved this dive and raved about the marine life on Boulder Wall!…
17th November 2017 – Turtle Central at South Solitary Island
Buchanan's Wall was the first choice today for diving and it did not disappoint!! Our divers found lots of Wobbygongs, Nudibranchs, a Turtle eating a huge Jellyfish and a rare Blueringed Octopus. Dive two was a awesome drift dive as the current was raging around from Shark Gutters to The Gantry, lots to see including Grey…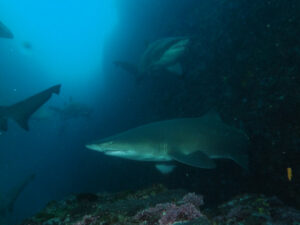 15th November 2017 Grey Nurse Gutter Full of sharks!
Another great day on the water at South Solitary Island with Dive 1 at Manta Arch area, where we found over 15 Grey Nurse Sharks sheltered in the gutter. All the divers had a great dive with the sharks cruising close by two at a time! Dive two saw the two small groups drifting from Shark…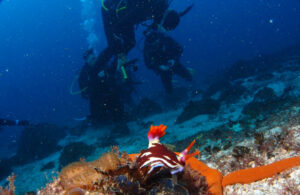 14th Dec November 2017 Fun at Manta and Nudi's galore!
A couple of great dives at South Solitary Island today with the divers getting a good look at heaps of Grey Nurse sharks around the shallows of Manta Arch area. Also on that dive we saw a Nudibranch which we have not seen in this area before (Photo by Deb shown here), right where we conducted…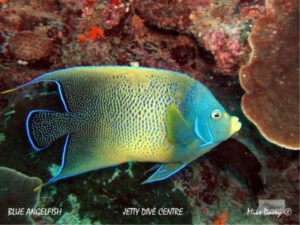 13th November 2017 – Blue Day All Round!
South Solitary Island lit up underwater today! The water was blue and so was the day. Cleaner Station and Shark Gutter were the first sites to be explored, then followed by a drift around to The Gantry. Grey Nurse Sharks were in abundance at the northern end, Turtles everywhere, Nudibranchs, Blue Grouper, Black Cod, Semicircle Angelfish,…
Sunday 12th November- Clean Water at South Solitary Island
Today we saw the surface conditions settle down to be quite nice at South Solitary Island today. Despite a bit of rain and cloud cover the visibility was great, pushing to 25 metres and would have been 30 metres plus with a bit of Sun! Grey Nurse Sharks were at Manta Arch and Shark Gutters along…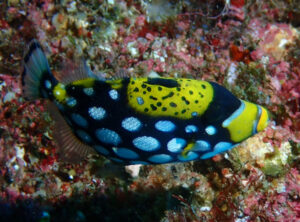 Saturday 11th November – Clown Trigger Poses for Camera!
Despite a fresh south west breeze making surface conditions a little bumpy, the conditions underwater were spectacular today! Lots of black Cod, schools of Tarwhine and Sweep, Turtles, Nudibranches and our beloved Juvenile Clown Triggerfish. This photo was taken today by Stephen Vaughan who was completing the Digital Underwater Photography Dive of his Advanced Open Water Course!…