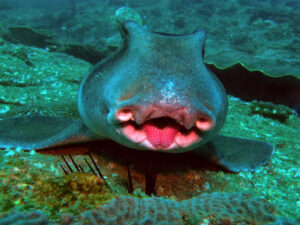 4th August 2017 – CHEC students complete PADI Open Water Course in time for Heron Island trip.
2 Wild was full of students from Coffs Harbour Education Campus excited to finish their PADI Open Water Course. Conditions were a little choppy so Split Solitary was the Island of choice where students had a couple of great dives seeing Green Sea Turtles, Numb rays, Crested Horn Shark, Coral Shrimp, Wobbys, Nudis, Porcupine Fish and…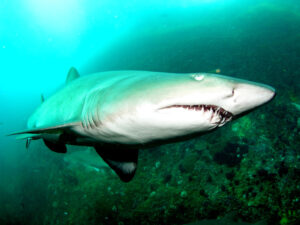 30th July 2017 – A Sunny Winters Dive
It was another calm sunny morning out at South Solitary Island. Divers at Manta Arch and students at Cleaner Station encountered half a dozen Grey Nurse Sharks, a school of Cownose Rays, Bat Fish, Groupers, Lionfish, Black Cod, Turtles, Wobbys, Nudis, Half-circled Angelfish and an array of Schooling Fish. Congratulations Camila in completing the PADI Open…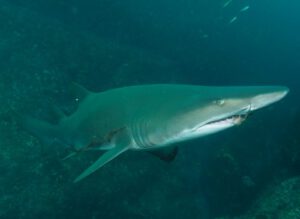 29th July 2017 – Whales Getting Frisky At South Solitary Island!
After some time out of the water, we were all eager to explore the depths of South Solitary Island. Divers experienced a rare encounter of four Humpback whales swimming back and fourth between our boat "2 Wild" and the Island on our surface interval. We believe the whales were in pursuit of one female, and she…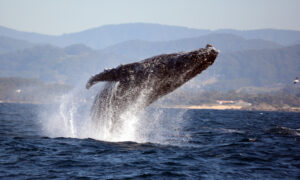 Friday 28th July 2017 – Humpback's Breaching off Coffs Surf Club
This mornings 9am Whale Watch was nothing short of amazing! This beautiful Humpback, and one of her friends, put on a great show for all of our guests! Stay tuned for the video!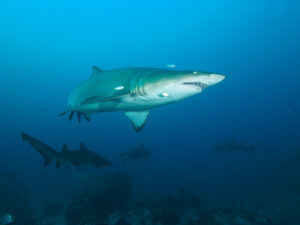 15th July 2017 – International Women's Dive Day!
In celebration of International Women's Dive Day, we scooted out to South Solitary Island for a couple of amazing dives. Grey Nurse Sharks and Barney the Loggerhead Turtle were the highlights for our first dive at Manta Arch, followed by three separate encounters with Giant Cuttlefish! Also, more Turtles, Lionfish, Nudibranchs, Bullrays, Black Cod, Blue Groupers…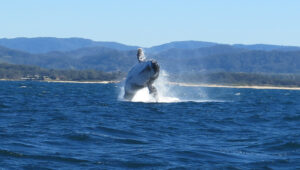 11th July 2017 – Full Body Breaching
Today was yet another magic day for whale watching off the Coffs Coast! We had plenty of active whales on all trips! Check out this photo taken by Dan of a breaching whale on our 11am trip!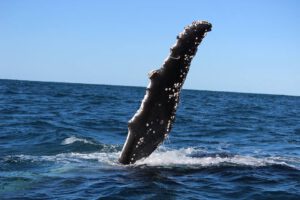 10th July 2017 – Waving Humpbacks on the Coffs Coast
We had another very special day today interacting with these amazing mammals, all three trips today had some good whale action and some close encounters including coming up within metres from the boat!!! Breaching, tail rolls and pectoral slaps were just some of the displays the Humpback Whales had to offer. Photo today was taken by…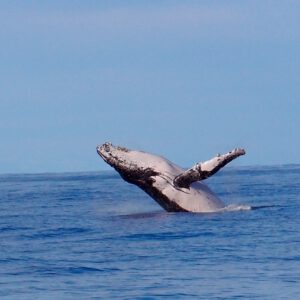 8th July 2017 – Whales galore
We had an amazing day whale watching today and in total we ran five trips out with full boats. All day we had breaching, tail slaps, pectoral slaps, big tails rolls and some pushy behavior from a few male whales fighting over a female. We have six trips fully booked for tomorrow and word is that…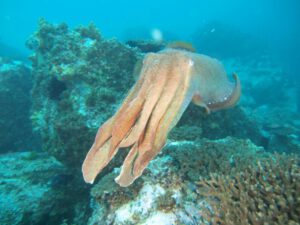 8th July 2017 – Giant Cuttlefish, Grey nurse Sharks and Whales!
Today's dives at South Solitary did not disappoint. Divers were greeted with three Giant Cuttlefish around South Boulder, and loads of Grey Nurse Sharks at the Arch and Cleaner Station. Also, Turtles, Eagle Rays, Bull Rays, juvenile Trigger Clown Fish, Moray Eels, Octopus, Black Cod, Blue Groupers, Nudibranchs, Lionfish and so many Schooling Fish. Congratulations Logan, Wayne…