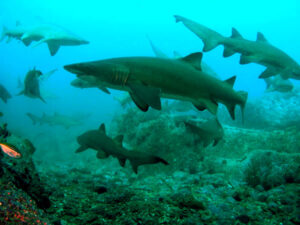 7th July 2017 – Grey Nurse Sharks Everywhere!
Today's action included over a dozen Grey Nurse Sharks at Manta Arch and multiple pods of Whales singing and splashing about. Also, Turtles, Bull rays, Moray Eels, juvenile Clown Trigger, Blue Gropers, Black Cods, Wobbygongs, more Grey Nurse Sharks, and loads of Schooling Fish. Congratulations Huw in completing his PADI Scuba Diver Course and Olly for completing…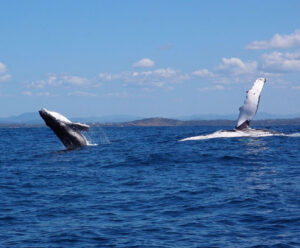 4th July 2017 – Mother and calf heading north
We had a steady NE wind this morning but that didn't stop us from getting out and and finding some whales. Both our trips were a little slow at the beginning but ending with Humpback Whales leaping from the ocean!! We had a mother and calf travelling along together doing some pectoral slaps and breaching.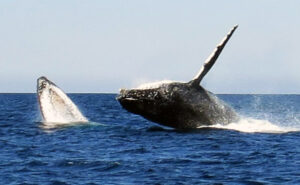 29th June 2017 – Breaching Whales finish with Bird Rescue
We managed to get out one trip today before the weather change came in. Just out of the harbour we had whales breaching everywhere and were spoiled for choice on what and where to look!! We had about 15 breaches in the time we were with the whales along with some tail and pectoral slaps. On…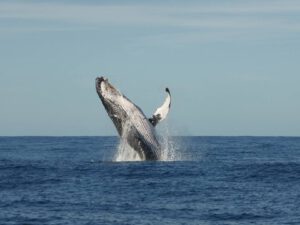 28th June 2017 – Breaching Humpbacks put on a show
We had a beautiful morning with Humpback Whales breaching and showing off there skills. Our 9am and 11am trips were full and everyone was very keen to get up close with the migrating whales, both of the trips had the whales turn and go straight under the boat, while the 11am had plenty of Breaches and tail…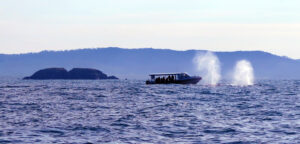 27th June 2017 – Record Humpback numbers on the Coffs Coast
We had yet another amazing day Whale Watching with both our boats out early at 9am and one trip at 11am. All the trips today had some awesome encounters with breaches, tail rolls, pectoral slapping and some aggressive behaviour from some excited male Humpbacks chasing a female!!! We can defiantly see the Humpback Whale population on…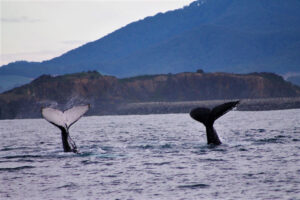 26th June 2017 – Migrating Humpback Whales in full swing
We had another great afternoon out Whale Watching!! The 2pm Trip was very popular so we had both Wildfin and 2Wild head out in search of the Migrating Whales. Just out from the harbour we come across a large pod of about six whales who done a few splashes and tail rolls, then out a little…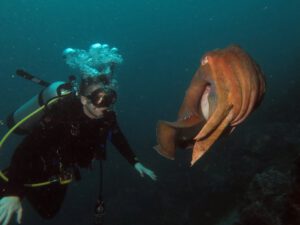 Sunday 25th June – Giant Cuttlefish Patrol Boulder Wall
Loaded with excited divers, we shot out to South Solitary Island for two very awesome dives today! The Island was buzzing with life! Our divers swam with Grey Nurse Sharks, Black Cod, our Juvenile Clown Triggerfish, Eagle Rays, two Giant Cuttlefish, huge schools of Tarwhine and Goatfish, plus Green and Hawksbill Turtles! Vis 15m, temp 21c.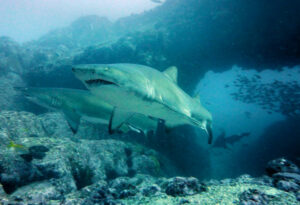 Saturday 24th July – Divers enjoy whale song!
Making the most of a beautiful winters day, our divers enjoyed two great dives at South Solitary Island this morning. Manta Arch was up first. Our divers were all smiles as they made their way though the Arch which was packed with Grey Nurse and schooling Trevally. Dive Two was spent exploring the Cleaner Station and…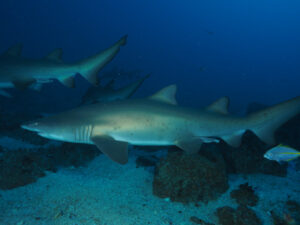 23rd June 2017 – Shark Days Are The Best Days!
Conditions improved significantly, making Griffith Uni's Dive Club last day memorable at South Solitary. Manta Arch and then Shark Gutters and South Boulder were today's dive sites, with over a dozen Grey Nurse Sharks, Bull Rays, Black Cod, Lionfish, Groupers, Turtles, EagleRay, Giant Cuttlefish, Clown Triggerfish and loads of scooling fish. Visibility 20m Temperature 20c