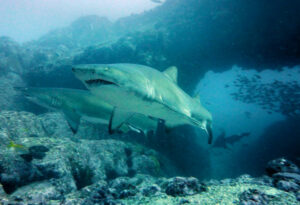 3rd March 2017 Grey Nurse Sharks at Manta Arch
Grey Nurse Sharks were cruising Manta Arch on our first dive and gave us some great close encounters! A least 10 sharks were in that immediate area and stayed around and gave a show to our group of Divers. A milky 12-15 mtrs visibility kept had them cruise in and out of the range of view.…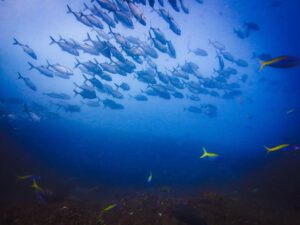 2nd March 2017 – Blue Water at South Solitary Island
The talk of the day was definitely still on the 5m Whale Shark sighting from the day before but unfortunately there was no sign of this majestic beast. Our divers still had lots to talk about on both dives with plenty of Wobbygongs, schools of Travelly, Nudibranchs, Turtles, Emperor Anglefish, Eagle rays, and a Giant Guitar…
26th February 2017 – The Big Blue!
Yet again today's dives were amongst the Solitary Islands best. Students and Certified divers explored all of Buchanans Wall to Cable Trail for the first, then taking advantage of the current for a drift from Cleaner Station to South Boulder, seeing a Half-circled Angelfish, Blue Groupers, Turtles, Moray Eels, Bull Rays, Anemone fish, Schooling Fish, Pipefish,…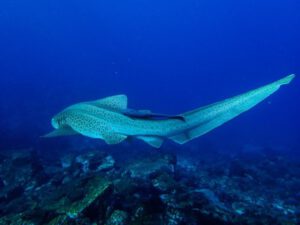 25th February 2017 – Leopard Sharks and Dusky Whalers at North Solitary Island!
Warm and Blue were just some highlights today. Despite the bumpy ride 2 Wild ventured to North Solitary to explore Anemone Bay, seeing a couple of Leopards Sharks, a Dusky Whaler, Eagle Rays, Turtles, Barracuda, Clown Trigger fish, Black Cods and Anemones for days. Wild Fin also had a boat full of students and divers headed for…
23rd February 2017 – Great Dives despite the vis!
In search of blue water, "2 Wild", took us to South, South West and Split Solitary Island's today. Jumping in at South West Solitary first, our divers spotted Morays, Octopus, Wobbegong Sharks and lots of different Nudibranches. Split Solitary Island was our next pick. Lionfish, Crested Horn Sharks, schools of Sweep and a friendly Green Turtle…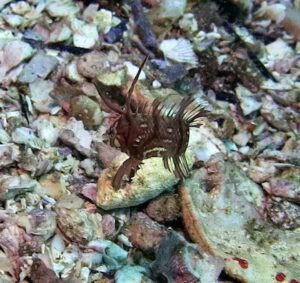 22nd February 2017 – Solitary Island Duo
Although today's visibility was a little basic, our divers made the most of today's dives. Moray Eels, Wobbegong Sharks, Lionfish, two monster Bullrays and our resident juvenile Clown Trigger were all spotted at Buchanan's Wall. Seeking clearer water, we ventured to Split Solitary Island for today's 2nd dive. Lots of schooling Pomfrets, Trevally, Nudibranches and an…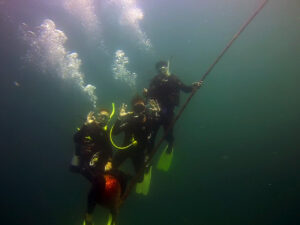 20th February 2017 – Congratulations To Our New Certified PADI Open Water Divers!
Our small crew of divers and snorkelers enjoyed a smooth trip out to South Solitary Island. The southerly change in wind placed our dives around Cleaner Station to South Boulder Wall, enjoying an array of marine life including a Shovel nose Ray, several Bull Rays, Turtles, Spotted Stingrays, Groupers, Black Cod, Crayfish, Nudis, Orangutan Crab, and so…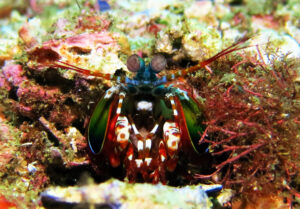 19th February 2017 – More Drift Diving!
With a calmer sea, our divers had a pleasant trip out to South Solitary Island today. Buchanan's Wall displayed an abundance of life for our divers, including a couple of Giant Bull Rays, Turtles, Wobbygongs, Moray Eels, Abbotts Moray Eels, Nudibranchs, Octopus and loads of schooling fish. We then took advantage of the current, drifting from…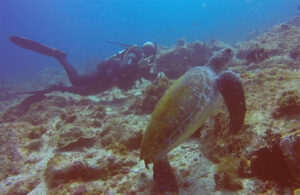 17th February 2017 – East Australian Current reaches South Solitary Island
We had another amazing day out at the Light house today with warm blue water up the northern end of the island and plenty to see. Dive one we dropped in at Buchanan's Wall to find our cute little Clown trigger, a monster of a Wobbygong and a very shy Octopus. Dive two was a spectacular…