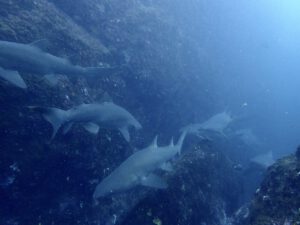 18th November 2021 – Back Gutter Packed
The swell today had dropped off a lot which made it doable to do the back gutter and get amongst some Grey Nurse Sharks. There was about 16 to 20 Grey Nurse shark's in the back gutter with a few schools of Fusiliers and Trevalley around the mooring. Dive two was a drift from cleaner station…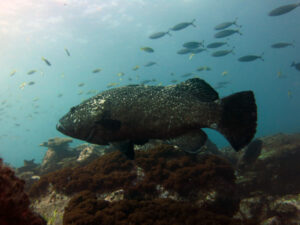 17th November 2021 – Returning Blue Water
We had only a small boat load today so 2Wild was the choice of transport to South Solitary Island. Dive one was at Manta Arch and we only saw a handful of Grey Nurse Sharks as the swell was quite big and we think they had ventured to deeper depths. Dive two was a much better…
16th November 2021 – Visibility on the improve!
With only a small crew of divers we made our way to South Solitary Island for two great dives today. Plenty of action at Shark Gutters on dive one! Twenty plus grey nurse sharks were spotted along with some big black cod, lionfish, moray eels, schooling surgeon fish and tarwhine. Dive two was spent enjoying the…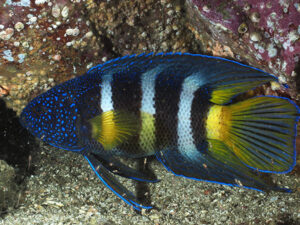 15th November 2021 Double Dive At Split Solitary Island
With only a small group of divers and snorkelers "2Wild" made its way to Split Solitary Island this morning hiding from the north east wind which had been forecasted. Turtle Cove was decided for dive one, marine life seen on this dive were wobbegong sharks, schools of tarwhine, Sweep, Pomfreds, and a cute little Banded Coral…
14th November 2021 – Scuba and Freedivers explore the Solitaries!
With Mega Wild loaded with excited divers we shot out to South Solitary Island for today's first dive. Although the visibility was basic on dive one, our divers still enjoyed themselves, spotting grey nurse sharks, black cod, schooling tarwhine and mado. In search of clearer water we ventured to Split Solitary Island for dive two. Turtle…
13th November 2021 – Two Island Duo
Protected by the strong westerly breeze we jumped in at Manta Arch for our first dive of the day. Our divers were able to get up close and personal with plenty of friendly grey nurse sharks as both the arch and back gutter were full of sharks! Round two saw us make our way to Split…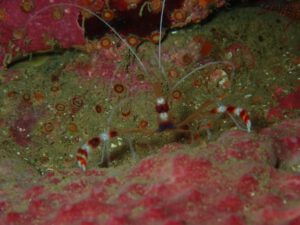 12th November 2021 – Fun Friday at South Solitary!
Although the visibility was a little basic, the diving at South Solitary Island was fantastic today! Buchanan's Wall was a hit with our divers as it was covered with macro life including lots of colourful nudi's and a pair of banded coral shrimp. Dive two was spent enjoying the shallows of the Gantry. Plenty to see…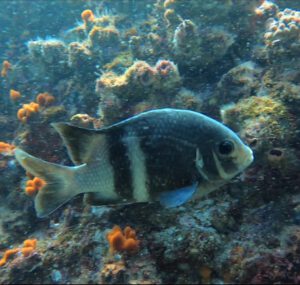 Tara's Fave Fish Friday – Girdled Scalyfin (Girdled Parma)
Welcome to Tara's Fave Fish Friday! Where we explore one of Tara's favorite fish from the Solitary Islands Marine Park. Today's fave fish is the Girdled Scalyfin, which we know more commonly as Girdled Parma – Parma unifasciata These fish are actually not a favorite of mine at all, but "Tara's most annoying fish friday" doesn't…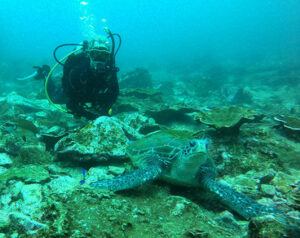 10th November 2021 – Divers Delight at South Solitary Island!
Protected from the northerly breeze today's first dive was spent enjoying the marine life on Buchanan's Wall. Wobbegong sharks, black cod, octopus, moray eels and lots of colourful nudibranches made up just some of the highlights. Ready for some big fish action our divers slipped in at Shark Gutters for a drift to the Gantry for…