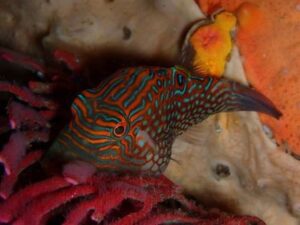 22-2-22 – Two Dives at South Solitary for Two'sday!
A beautiful rainbow over Coffs Harbour waved us on as we cruised out to South Solitary Island. We tied off to Shark Gutters for dive one where the highlights included large Marbled Rays, QLD Grouper, Netted Toby, Harlequin Tuskfish, Leopard Shark, Orangutan Crabs, Nudibranchs and many flatworms. A nice cleansing rain shower washed us off as…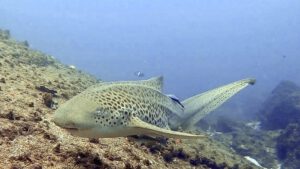 20th February 2020 – Lazy Sunday Leopard Sharks
The conditions at South Solitary Island were magic this morning and everyone onboard Mega Wild could not wait to get in and blow some bubbles. On dive one the experienced divers started at Manta Arch for a swim around to Cleaner Station where they met with the remainder of the divers exploring the top end and…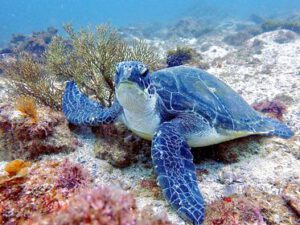 19th February 2022 – Turtally Wild Diving!
With a brief break in the wind and swell today MegaWild & 2Wild both loaded up and ventured out to South Solitary Island for today's diving. First up Megawild's divers dropped in at Cleaner Station, whilst 2Wild's divers descended on Shark Gutters. Highlights of the dive included Nudibranchs, Boxfish, Morays, Blue Groupers, a Leopard Shark and…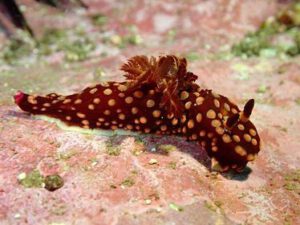 17 February 2022 – Nembrothursday!
With surface conditions easing further, 2Wild loaded up and steamed out to South Solitary for today's diving. First up our divers descended at Manta Arch, despite finding no Grey Nurse Sharks in or around the arch our divers encountered a Plethitude of fish life, Wobbegongs, Rays, Pygmy Leatherjackets and a Scorpion Leaffish. After the surface interval…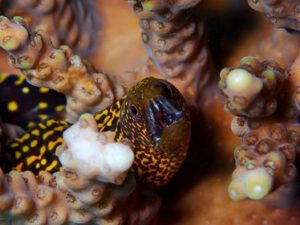 16th February 2022 – Turtle-y Awesome!
With the sun shining and a boat full of keen divers we steamed out to South Solitary Island. For dive one we descended on Buchannan's Wall. Our divers were treated to free swimming moray eels, Duncker's pipehorse, heaps of wobbegong, and juvenile lionfish. On dive two we dropped in at Shark Gutters for a drift down…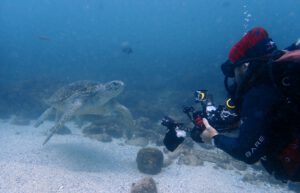 15th February 2022 – Spectacular South Solitary!
With the wind and swell finally abating MegaWild loaded up and steamed out to South Solitary Island for today's diving. First up our divers descended on Buchanan's Wall highlights included lots of Pelagic life, an Orangutan Crab, Wobbegongs, Old Wives, Abbotts Moray and an an unnamed Nembrotha Nudibranch. After the surface interval our divers dropped in…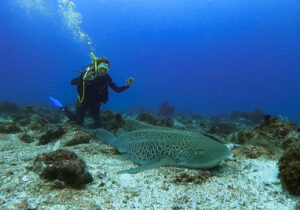 10th February 2022 – Calm sea and great visibility at the Solitaries!
After the last few days of rough seas we were pleased to get back on the water today. Arriving at South Solitary Island this morning we were greeted with great visibility and ideal surface conditions. Dive one was spent enjoying Manta Arch. Grey Nurse Sharks, Turtles, Black Cod, schools of Tarwhine and Trevally, and one lonely…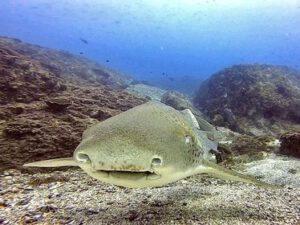 2nd February 2022 – Divers Swim with Leopard Sharks!
Dive one saw our intrepid adventurers roll in at Manta Arch for a swim through the gap to South Boulder. Around 15 Grey Nurse Sharks were seen in the arch itself, with none in the Back Gutter; a Leopard Shark was seen cruising around the western side of the gap along with several Green and Hawksbill…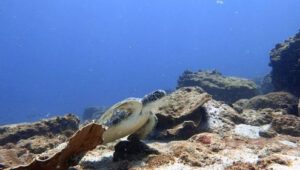 31st January 2022 – Aquarium Like Conditions at South Solitary!
With conditions remaining ideal 2Wild cruised out to South Solitary Island for today's diving! First up our divers rolled in at Cleaner Station, seen during the dive were a large Queensland Grouper, Wobbegongs, Flutemouths, Trumpetfish, Nudibranchs, Gold Crown Sleeper Gobies and an Orangutan Crab. For our second dive our divers again descended on Cleaner Station for…