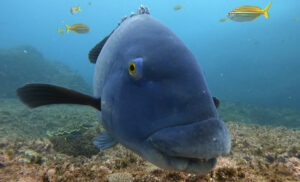 27th February 2021 – South Solitary Saturday
We had both boats out today diving at South Solitary Island. Dive one for 2wild was at Manta Arch while Wildfin got the students in at The Gantry. The dives were spectacular with Grey Nurse Sharks, Turtles, Travelly and a cute little octopus in the Back Gutter. During the surface interval Mike and Josh got in…
26th February 2021 – Back Blowing Bubbles!
After over a week out of the water due to bad conditions, conditions improved, allowing Wildfin out to South Solitary for a double dive. First dive we rolled in at Manta Arch where we had surprislingly warm blue water. Highlights from the dive include; Grey Nurse Sharks in and amongst the arch, Lionfish, Black Cod, Nudibranchs,…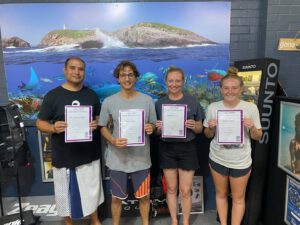 21st February 2021 – PADI Rescue Divers
The weather has not been nice this past week and we could not get out to the Solitary Islands,  it was perfect for some rescue training in the marina!! We had the Rescue theory session yesterday morning followed by the pool exercises in the afternoon. This morning we got geared up and used 2wild as our…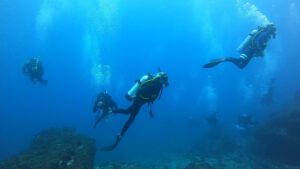 13th February 2021 – 35m Visibility at South Solitary island
South Solitary Island again had spectacular conditions and a huge abundance of marinelife! Dive one saw both Wildfin and 2Wild put their divers in at Buchanan's Wall, where there was swimming pool visibility and plenty to see including; Blue Angelfish, Marbled Rays, Nudibranchs and Green Sea Turtles. After our surface interval 2Wild steamend around to drop…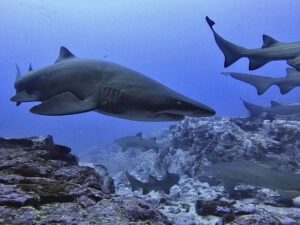 12 February 2021 – Manta Arch Packed with Grey Nurse Sharks
We had a NW wind this morning which made Manta Arch the pick for dive one. Our divers were welcomed with beautiful water and 30 Grey Nurse Sharks in the Arch!! There was Bluespotted rays around Cleaner Station, Black Cod and some big Eagle Rays out in the deeper water. Dive two was at Buchanan's Wall,…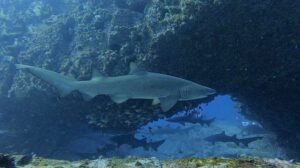 11 February 2021- Bright Blue Water Is Back!!
After a few days of windy weather we loaded up 2Wild and headed back out to see what the weather had brought us... and it didn't disappoint: crystal clear blue water!!! First up our divers rolled in at Manta Arch, ~31 Grey Nurse Sharks were hanging out in and around the arch, our divers also saw…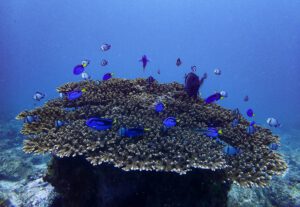 7th Febuary 2021 – Blue Tang Sunday
The Surface conditions this morning were magical and with 15-20m visibility, it was what we call a Cracker Day. Dive one had "Wildfin" put divers in at Buchanan's Wall while "2Wild's" divers had a good look around Cleaner Station, lots to see on the first dives including Turtles, Eagle Rays, Black Cod, Schools of Bullseyes and…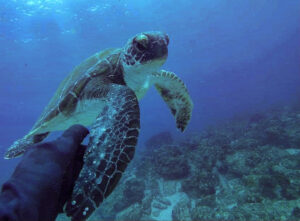 6th February 2021 – Scratch is back!
Once again the weekend calls for both of our boats to head to South Solitary for some diving action! First up we had one boat roll in at Buchanans Wall, and the other boat dived in at Manta Arch. Highlights from these dives include Marbled Rays, Green Sea Turtles, Wobbegong Sharks, tonnes of Grey Nurse Sharks…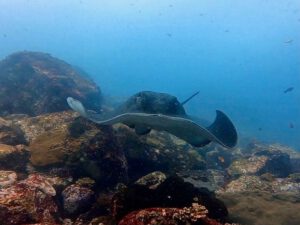 5th February 2021 –
With the blue water setting in, 2Wild steamed out to South Solitary for some solid diving!! First up our divers dropped in on Buchanan's Wall, a Blubber Jellyfish was seen near the surface while descending, then Turtles, Blue Grouper, Nudibranchs, Dwarf Lionfish, a small Sawtooth Pipefish and a juvenile Yellow Boxfish were seen during the dive.…