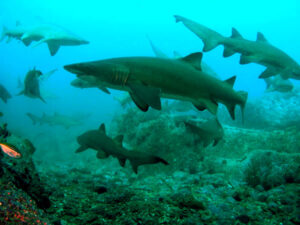 2nd December 2020 – "Sharks Galore" At South Solitary Island
"Wildfin" headed out this morning full of socially distanced divers eager to get in the water. Manta Arch was decided for dive one, after a quick dive brief all divers descended down the mooring line and made there way to the back gutter, all though the vis was down a little, Grey Nurse Sharks everywhere you…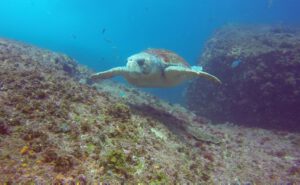 1st December 2020 – "Summer Diving At South Solitary island."
After a couple of days out of the water due to the weather  "2 Wild" headed out to South Solitary Island for a double dive this morning. Manta Arch was decided for dive one, all divers dropped down and made there through the Arch, divers were greeted by four Grey Nurse Sharks going in and out…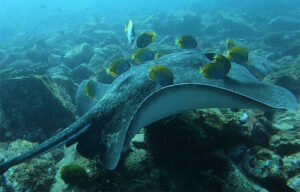 27th November 2020 – South Solitary Island
 Both " Wildfin" and "2 Wild" headed out this morning to South Solitary for a double dive, the wind came earlier than expected so the trip out was a little longer than normal. Both boats did there first dive at Buchanans Wall, down the wall three Green Turtles were seen and one very large Loggerhead Turtle,…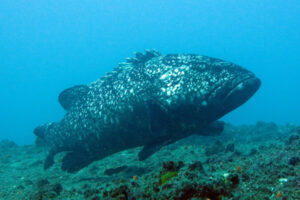 27th November 2020 – Black Cods for Black Friday (And Hammerheads again!)
Both Two wild and Wind fin headed out to South Solitary for a double dive today. On the first dive Wild Fin dropped in at Manta Arch, while divers were descending a large school of 20+ hammerhead sharks cruised past! In the arch at least 6 Grey Nurse Sharks were seen too! The Divers on 2…

26th November 2020 – Great day out at South Solitary!
Today we took divers and snorkellers out on both 2 Wild and Wildfin to South Solitary Island. 2 Wild had the majority of the divers, and the choice for the first dive was Manta Arch for one group, whereas the other group stayed at Cleaner Station. At Manta Arch we had Grey Nurse Sharks, Wobbegongs, Black…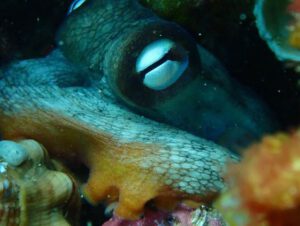 23rd November 2020 – Mike's Mooring Monday
Due to the wind conditions that were forecast to pick up throughout the day, we picked Split Solitary for today's Dive so we could hide from the breeze. Here at Split Solitary we completed two dives at Mike's Mooring, where the visibility had dropped a little. There was plenty to see here with heaps of small…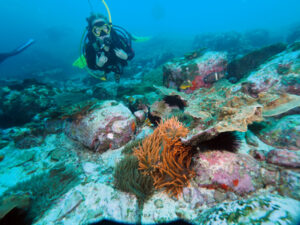 22nd November 2020 – Sunday Sesh at South Solitary
With plenty of student and certified divers, we took both 2 Wild and Wildfin to South Solitary for a double dive. 2 Wild, who had most of the student divers, dived Bucannans Wall for their first dive. One group of student divers were lucky enough to see 4 Hammerhead Sharks just on top of the wall.…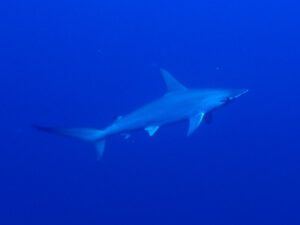 21st November 2020 – HAMMER TIME!
After conditions improved dramatically in comparision to yesterday, we managed to take out out 2 Wild out to South Solitary for a double dive. Shark Gutters was the decision for the first dive, as conditions out at South Solitary were much better than expected allowing for an enjoyable dive for all. Divers saw Grey Nurse Sharks,…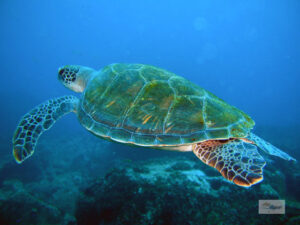 19th November 2020 – STOP!….. Turtle Time
After a few days being dry, we took 2 Wild out to South Solitary Island for a double dive. Manta Arch was the choice for the first dive, as all divers were greeted by Grey Nurse Sharks at the arch followed by a large friendly Hawksbill Turtle who wouldn't leave our divers alone. One group of…