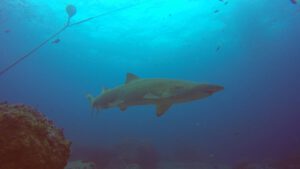 3rd May 2021 – 20m+ Vis at South Solitary
With the swell and wind dropping from previous days, Wildfin travelled out to South Solitary with student and certified divers to be greeted by clear blue waters. First up we checked out Buchanans Wall, where we saw large Green Sea Turtles, Wobbegong Sharks, Blue Groupers, Lionfish, Moray Eels, plus tonnes of great fish life including, Anenome…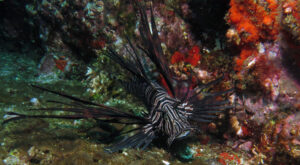 2nd May 2021 Clear Water At South Solitary Island.
2Wild had another slow trip out to South Solitary Island this morning due to the easterly swell still pumping. Buchanans wall was decided for dive one, visibility had improved overnight, lots of marine life was seen down the wall and around Cable Trail. Green Turtles, Black Cod, schooling Blue Fusiliers, pomfreds, Nudibrancs, and some huge Wobbegong…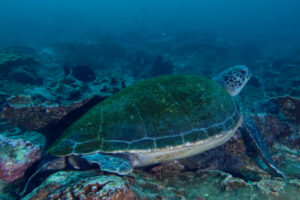 1st May 2021 – Green Sea Turtles at South Solitary Island
It was a slow trip out to South Solitaty Island due to the Easterly swell this morning but underwater was place to be. Dive one was at Buchanan's Wall we had schools of Bulleyes, Yellowback Fusiliers and Black Cod. Once morning tea was dished out we decided to do dive two at South Boulder as this…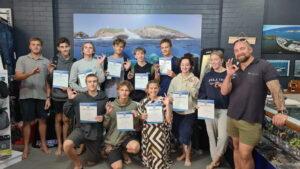 30th April 2021 – Student divers get amongst the Sharks!!
Today we had marine students from Coffs Harbour Education Campus finish off their PADI Open Water Course at South Solitary Island. First up we rolled in at Shark Gutters and completed all the required skills with students in addition to spotting a Grey Nurse Shark, Black Cod, Blue Groupers, along with great fish life throughout…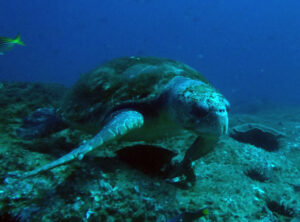 29 April 2021 Flat Seas At South Solitary Island.
Sea conditions made for a quick trip out to south solitary island this morning. All divers drop in on Manta Arch for dive one, three Grey Nurse Sharks were guarding the entrance to the Arch and lots of schooling fish above the Arch including Tarwhine, Sweep, and Silver Trevely. All the action was in the back…
26th April 2021 – Marine Science Monday!
Another great day on and under the water was awaiting Wildfin along with a boat load of SCU students studying Marine Science and other certified divers. Dive one some divers rolled in at Manta Arch, and got up close and personal with approximately 10-15 friendly Grey Nurse Sharks, plus Green Sea Turtles, and tonnes of schooling…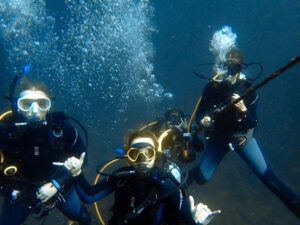 25th April 2021 – ANZAC day Dives!!
Once again we were blessed with another cracking day for diving, as both of our boats crusied out to South Solitary Island. Divers on 2 Wild dived Shark Gutters first up, whereas Wildfin rolled in at Manta Arch. During these dives we saw Juvenile and full grown Grey Nurse Sharks, Moray Eels, large schooling Travelly, along…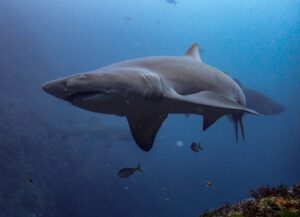 24th April 2021 – Student Saturday!
Today we were greeted with a flat sea, which allowed 2 Wild and Wildfin to fly out to South Solitary Island with student and certified divers. For dive 1 we had divers roll in at Manta Arch and at Shark Gutters. Highlights from these dives include Green Sea Turtles, 10-12 Grey Nurse Sharks, Wobbegong Sharks, Moray's,…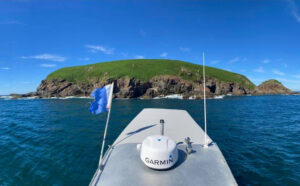 23rd April 2021 – Goods at Grouper!
Today we had Wildfin travel out to South West Solitary ("Grouper Island") with marine studies students from CHEC, who were completing their first 2 dives as apart of the PADI Open Course, along with other certified divers who travelled out to South Solitary on 2 Wild. Conditions on the surface and underwater at Grouper were surprisingly…