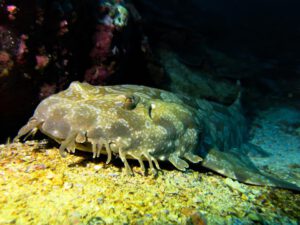 20th April 2021 – School Snorkel Trip!!
Wildfin and 2 Wild weren't used for blowing bubbles today, but instead was loaded of school kids from MacKillop College Port Macquaire, and what better way of starting the day than a snorkel trip to the Solitary Islands. South Solitary Island was the destination for the first snorkel, where students saw Green Sea Turtles, Hawksbill…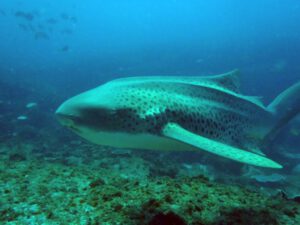 17th April 2021 – Wild Weather Brings Underwater Wonderland
We were a little touch and go on the trip today as the weather was not playing its part, once we got in and under the water the marinelife was spectacular. Dive one we all dropped in at Manta Arch and explored the Arch and the Back Gutter. There was about four Grey Nurse Sharks under…
16th April 2021 "Great Diving At South Solitary Island"
After a quick trip out to South Solitary "2wild" made its way to the northern end of the Island to get protection from the southerly wind which was forecasted. For both dives we explored around Cleaner Station and Shark Gutters. Dive one, all divers rolled in and were greeted by a Leopard Shark, Eagle-rays, a Yellow…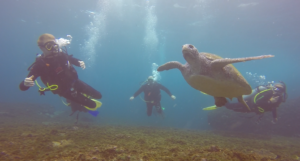 15th April 2021 – Conditions improving at South Solitary!
Both boats flew out to a sunny South Solitary this morning, with surface and underwater conditions playing nice for all student and certified divers. First dive we had divers in at Manta Arch and at Shark Gutters. Highlights from these include; a dozen Grey Nurse in and around Manta Arch, Black Cod, Anenome Fish, Green Sea…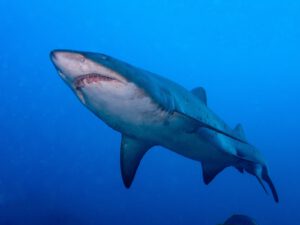 14th April 2021 – PADI Open Water Students Done and Dusted
We had a brisk NW wind this morning which made our first dive at Manta Arch the best option. The Back Gutter had 7-10 Grey Nurse Sharks and they were not shy!! The Open Water Students got up close and personal with a few very inquisitive big fish and a very colourful Mantis Shrimp near the…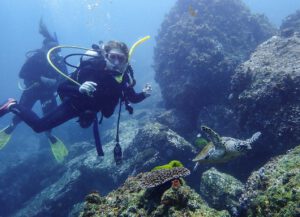 13th April 2021 – Students mix with Grey Nurse Sharks and Turtles
We had Wildfin loaded with Open Water Students today and 2Wild had a handful of certified divers. Mike dropped the certified divers off at Manta Arch while the students got in at Shark Gutters. Lots to see underwater today with huge schools of Tarwhine and Travelly. Manta Arch had 10-12 Grey Nurse Sharks, even the students…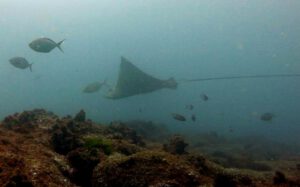 11th April 2021 – Eagle Rays and Grey Nurse Sharks
Surface conditions today were magic, with the sun beaming down, little to no swell and wind it made a beautiful morning. Dive one we dropped the certified divers at Manta Arch and the students got in at Shark Gutters. Visibility was down a little but still lots of life and action under water. There was about…
10th April 2021-Sunny Saturday with Grey Nurse Sharks
Condition on top, improved considerably today, with the swell dropping overnight. Visibility had not improved at all although it was cleaner at the Arch compared to the other side of the island. Again a dirty layer of water is over the top of cleaner, deeper water. On Dive 1, "2 Wild" with the certified divers, dived…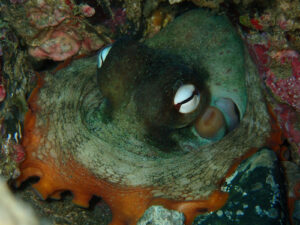 9th April 2021 – Double boats to South Solitary Island
With some swell still around we made our way out to South Solitary Island to blow some bubbles. Wildfin had dive one at Buchanan's Wall and dive two around South Boulder and The Gantry. We had lots to see including Eastern Blue Groupers, Wobbegongs, Fiddler Rays, Nudibranchs Turtles and A huge Octopus near Five Metre Rock.…